Detroit Red Wings 2 Truths & a Lie: Simon Edvinsson Edition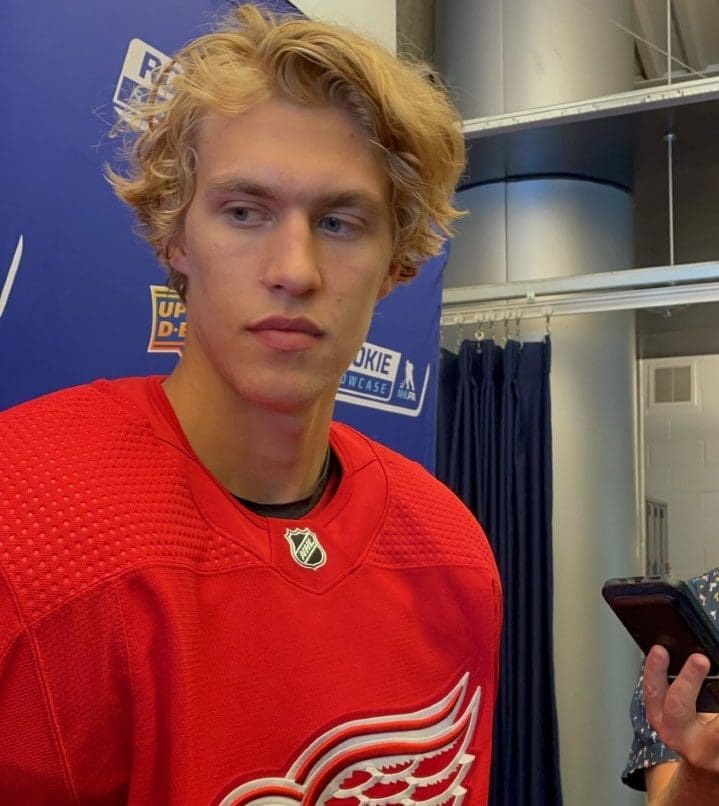 The dog days of summer, especially in the hockey cycle, are melting away. This week kicks off the Traverse City prospect tournament, which starts the eight month hockey journey for the Detroit Red Wings.
A year ago, Moritz Seider and Lucas Raymond captivated everyone's attention through the preseason, and proved they belonged with the big club. Seider would go onto to win the Calder Trophy as the league's best rookie. Raymond would hold his own, scoring 23 goals and 57 points in a full season's worth of work.
So far, so good for Steve Yzerman and the front office hitting on its first round picks from 2019 and 2020.
The next in line is 2021 first round pick Simon Edvinsson. When Yzerman spent in free agency, the roster became more and more crowded, muddling the certainty of Edvinsson carving out a spot on the team.
Like Seider and Raymond before him, he'll need to earn his place and hold onto it. Here's a closer look, reading into what pundits and even Yzerman himself have said. It's two truths and a lie about Edvinsson.
Truth: It's Edvinsson's Job To Lose in the Preseason
Sure, Yzerman went out and signed Ben Chiarot, Robert Hagg, and Mark Pysyk, all of whom add to the blue line. Chiarot stands to be a first or potentially a second pairing guy. Where does that leave Edvinsson?
If you take into account what Yzerman said back in July, maybe he's in a pretty good spot. Especially now that he signed some depth.
"His skating his excellent. We're optimistic," Yzerman said. "We'll give him an opportunity. If he's ready to play and play a regular role that would be great for us. We'll just kind of let the whole thing play itself out, but the World Juniors will be a great stepping stone coming into training camp to try to make an impression and earn a spot on the team."
More on that World Juniors comment later.
Yzerman's goal beyond filling the team with premium talent is making sure that his young and upcoming prospects are surrounded by the right players. Though Nick Leddy's numbers weren't eye-popping in Detroit, his experience in the league was able to help Seider along the way. Marc Staal's mentoring also factored into another season with Detroit.
The same is being applied here, though Seider is now in the fold and likely an early front runner to have an A sewn onto his sweater. Seider might be an anomaly in that sense, but Yzerman has now in Seider what they need. Edvinsson will continue to build onto that.
But outside of Seider, Filip Hronek, Chiarot, and Olli Maatta, there's still a couple openings there. Jake Walman and Gustav Lindstrom are fighting for those final spots, while one shouldn't sleep on Albert Johansson, who could also impress. Hagg and Jordan Oesterle could also enter into the conversation.
Truth: Edvinsson Could Also Challenge for the Calder
This is absolutely true. Not only is he sporting +1500 odds to win – the same betting line that oddsmakers saddled Seider with this time last year, Edvinsson's got more talent on the roster to ease him in. What made Seider's Calder win so impressive is that he stood out as one of the organization's best players right out of the box. In fact for a large stretch of the season, it was debated whether Raymond or Seider would ultimately win the Calder.
This is ultimately if he does make the roster. It is a little more crowded than it was with Seider and beyond that, there could be hiccups along the way because at the end of the day, he's still only 19.
DraftKings Bet $5 Win $150
All States Where Legal
GET THE APP
SIGNUP BONUS
BET $5, WIN $150


New Player Bonus
BET NOW
But the Detroit Red Wings knew they were getting a strong defenseman with a huge upside. With every step of the way, Edvinsson has gotten better, though not always coming with the eye-popping hits Seider was dishing out along the way.
As Yzerman pointed out, they're certainly different players. But if that upside does indeed continue, there's certainly a chance he could be in the Calder conversation, too.
Lie: Seider's Successes Put More Pressure on Edvinsson To Step Up
With all of the successes Seider experienced, what if Edvinsson isn't as good? Or in another way, what if Edvinsson doesn't live up to expectations? Some pundits, analysts and fans are almost betting on a Seider-Edvinsson blue line of doom to be punishing other teams.
Mo Seider last year.
Simon Edvinsson this year.

The @DetroitRedWings have a pair of pillars on defense as their blue line seems to be in great shape for years to come. @JamieHersch | @Rupper17 | #NHLTonight pic.twitter.com/2XXJ0VMJ93

— NHL Network (@NHLNetwork) September 9, 2022
All being said, is too much pressure already being heaped on the young defenseman? After all, his experience in the "men's league" isn't as robust as Seider's. Beyond that, his World Championships were a little less than where expectations were set at. Injury saw to a short sample size, too.
Simon Edvinsson came to the World Juniors ready to play, here's a little bit of what he got up to in just 2 games #LGRW pic.twitter.com/refXELOnj7

— IcehockeyGifs (@IcehockeyG) December 29, 2021
So will it ramp up the pressure on Edvinsson succeeding? Probably not. At this point, Edvinsson has hit every mark in his young career. Perhaps it won't be at Seider's speed, but Edvinsson has shown plenty already that buoys the optimism Yzerman and others in the organization have in his abilities.
At the end of the day, Edvinsson is a year younger and played one season less than Seider from a professional standpoint. But the comparisons can be tossed out once camps begin. Ultimately, that's what will be the deciding factor for Edvinsson cracking the opening-day lineup.
Certainly, Seider and Raymond are a good start. But it's more likely that Edvinsson continues the forward momentum. If that's the case, the Detroit Red Wings are sitting in a pretty good spot heading into the season.