The Breakdown: Tage Thompson Tricks Beat Detroit on Halloween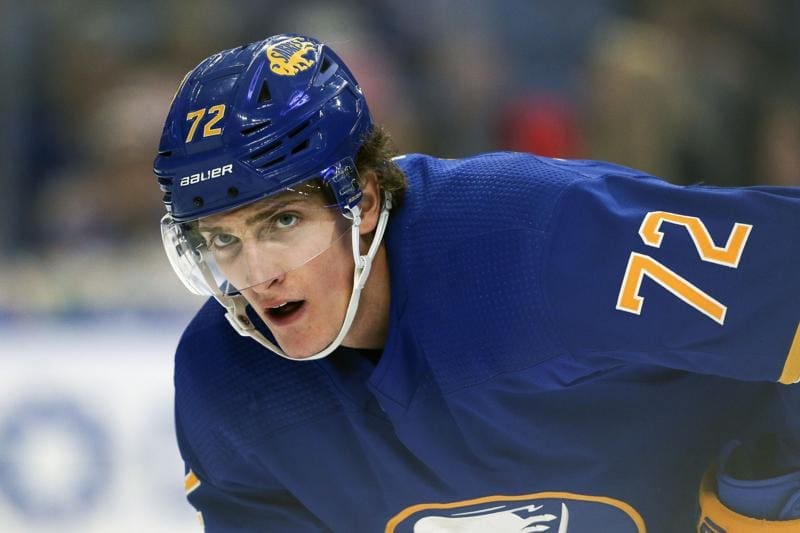 On Halloween Night, Tage Thompson was scary good.
The 6-foot-7 center was a monstrous force, registering six points,  to help the Buffalo Sabres overwhelm the Detroit Red Wings in every offensive category to post a 8-3 triumph in Buffalo. The Sabres outshot the Red Wings 46-18
It was another failed Atlantic Division test for the Red Wings.  They lost to the Boston Bruins 5-1 on Thursday. The loss to the Sabres may be harder to swallow. The Bruins are a legitimate Stanley Cup contender. The Sabres are a rebuilding team like the Red Wings.
But the Sabres looked much stronger in this game.
"We didn't show up and they showed up," Detroit captain Dylan Larkin told the media in Buffalo. No matter what level of hockey you play, if you don't show up it will be embarrassing."
Thompson took over offensively with three goals and three assists. The man is on fire. He has nine points over the past two games and 25 shots on goal over the past three games. Thompson had nine shots on Detroit  goaltender Alex Nedeljkovic.
Sabres Night
The Sabres managed 73 shot attempts against the Red Wings who had 33 attempts. Buffalo was two-for-five on the power play.
"It felt a little bit like Boston where we spent too much time in the box," Detroit coach Derek Lalonde said. "…we just have their skill too many touches, too many looks."
And yet the Red Wings were able to whittle away at a 4-3 lead. Larkin's shorthanded goal made it a 4-3 game with 15:41 left in regulation. But a Joe Veleno penalty leads to a power play goal by Rasmus Dahlin that restores Buffalo's two-goal lead. Then the floodgates opened.
"Probably a bad penalty," Lalonde said. "We are 200 feet from our own end and take a holding penalty. That goal was ultimately that started the downfall."
Facts and Observations
1.Michael Rasmussen sat out the second game of his two-game suspension for high-sticking David Krejci. Rasmussen will be back in Detroit's lineup on Thursday against Washington. Oskar Sundqvist is still out day-to-day with an undisclosed injury. His status for Thursday is unknown.
The Red Wings have lost 5 games in regulation or overtime this season, and have given up four or more goals in all five of those losses.  They ranked 25th out of 32 teams with a 3.56 goals-against average.

Defenseman Moritz Seider picked up his second assist of the season. He has no goals. His scoring rate is below his scoring rate of his rookie season. It's early.
4.  Lalonde offered this about how the Red Wings have to play: "It's gotta be tight, we gotta defend. It's more about keeping it out of the net than putting it in the net."
The Red Wings rank 28th in the NHL with a 44.3% faceoff percentage. But they managed to win 51% of draws against the Sabres.