Several Teams Should Be Interested if the Red Wings Trade Bertuzzi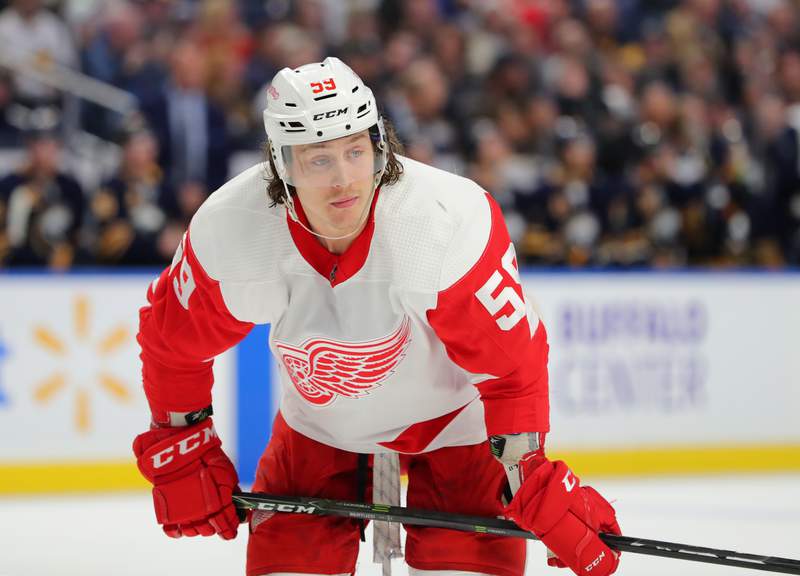 Once the Vancouver Canucks were sure that they couldn't re-sign Bo Horvat they solicited trade offers and took the deal that worked the best for their needs. The Canucks didn't want Horvat signing elsewhere as an unrestricted free agent this summer and not getting anything but cap space in return. The Detroit Red Wings will likely follow that script with Tyler Bertuzzi if they don't get him signed in the next 30 days.
It's possible the Red Wings could still work out a deal with Bertuzzi. A month is a long time in contract negotiations. But as the days click by toward the March 3 trade deadline, the Red Wings will have to see what they can get for him in the trade market. A rebuilding team like the Red Wings can't afford to lose assets without a return.
Tyler Bertuzzi = #LGRW Twitter Tonight pic.twitter.com/z3dXlvnnZV

— Red Wings Rant (@Red_Wings_Rant) January 27, 2022
It's hard to know what Bertuzzi's value is in the market because he has been hurt most of the season. He's played 35.4% (17 of 48) of Detroit's games. He only has one goal in those 17 games. Will NHL teams see him as the belligerent, 30-goal scorer he was last season? Or, will they consider him a risky buy because Bertuzzi has had three separate injuries? It would certainly bolster his value if he comes out scoring after the NHL All-Star Break.
Could Red Wings Land a First?
At the start of the season, you could make an argument that the Red Wings could probably get a package that includes a first round pick for Bertuzzi. Now the first-round pick seems less guaranteed, although there is a certainly a romance with Bertuzzi's blend of offense and spunk.
Bertuzzi feisty playing style seems perfect for the postseason. Plus, his $4.75 million salary is easier to move than some of the other big-name salaries. Yzerman could make Bertuzzi more attractive by eating half of the salary/cap hit. If a team can get a player they think can fit into the top six forward group for a $2.375 million cap hit, they might sweeten the offer.
Here are five teams that might be interested in Bertuzzi:
Toronto Maple Leafs
The Maple Leafs were rumored to be interested in Bertuzzi last season. He can give them more bite for the playoffs and might be nice fit playing with John Tavares. Bertuzzi's hard-to-play-against style should work well in a playoff series, although he has not gotten any playoff experience wearing a Detroit jersey.
Edmonton Oilers
Think about the impact Evander Kane had last season with his combination of physical play and offensive skill. Bertuzzi isn't Kane, but could also make the Oilers more playoff ready.
GM Ken Holland drafted Bertuzzi. He knows what he can bring.  Holland and Yzerman are friends. They should be able to get a deal done.
Tampa Bay Lightning
The Lightning don't have enough cap space, but if Yzerman retains salary they might be able to make it work. This could be a way for the Lightning to add some help without moving a critical player.
Lighting assistant Jeff Blashill knows Bertuzzi from Detroit and Grand Rapids. He has plenty of trust in Bertuzzi's ability to have impact.
DraftKings Bet $5 Win $150
All States Where Legal
GET THE APP
SIGNUP BONUS
BET $5, WIN $150


New Player Bonus
BET NOW
Florida Panthers
The Panthers have just about enough cap space to add Bertuzzi (if Yzerman retains salary). He could give the Panthers another annoying player up front for the playoffs. He's perfect for the way the Panthers want to play.
But here's the one issue: the Panthers aren't sure they are going to make the playoffs. They aren't going to give up future assets unless they expect to make the postseason. They are three points behind the Pittsburgh Penguins for the final wild card spot, and the Penguins have three games in hand.
Dallas Stars
The Stars like their team and believe they can make a run. Bertuzzi can add pluckiness to the offense. As Detroit fans know, Bertuzzi isn't shy about going to the net. Dallas general manager Jim Nill, of course, knows Steve Yzerman well. The Stars have some desirable prospects. This could be a match if the Stars want it to be.