The UFA no one's talking about: Red Wings must sign Walman
Seider and Walman an effective top D pairing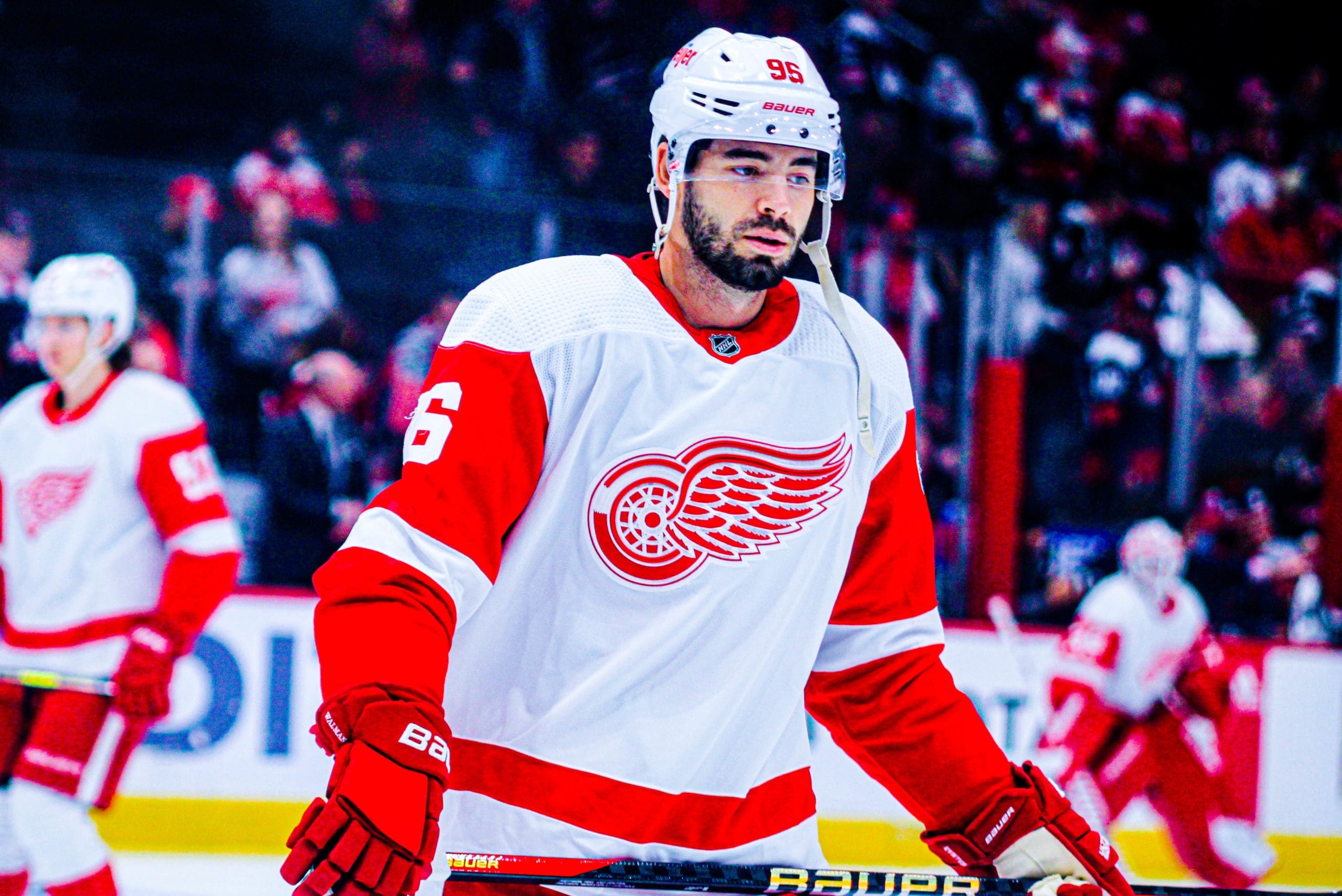 The uncertain future status of captain Dylan Larkin and frequent linemate Tyler Bertuzzi is drawing most of the attention among the plethora of impending unrestricted free agents currently populating the roster of the Detroit Red Wings.
While that's certainly understandable, there's another UFA in Red Wings colors who is an absolute must sign for the club.
That would be defenseman Jake Walman.
Enjoying a breakthrough season as an NHLer, Walman is performing with poise and confidence. He's competing and battling between the boards, an aspect of his game that's been crticized in the past. His strong and consistent play is earning Walman top-pairing work alongside reigning Calder Trophy winner Moritz Seider.
Jake Walman is elite. #LGRW https://t.co/Ng489VDUwa pic.twitter.com/Drp5ConQGG

— Nathan "Grav" (@NathanGraviteh) January 23, 2023
"He's a really strong skater," Seider said of Walman. "Very talented. Can outskate everyone in the league. That gives him confidence and I think he's been playing with that a lot lately.
"You see that he's hard to defend in the O zone. We've been doing a really good job of shutting the top line down."
There's a mutual admiration society when it comes to the Seider-Walman pairing.
"Obviously he's a world-class player," Walman said of his D partner. "I love it. He doesn't get enough credit for D zone, too.
"It's real easy playing with him. He can break the puck out on his own. He's a one-man wrecking crew back there. It's fun playing with him."
The seamless way these two are working as a duo is just another reason why the Red Wings must get Walman's signature on the dotted line before he becomes a UFA on July 1.
Career Campaign For Walman
Already, Walman has hit a career best with five goals this season. He's two points shy of his personal high of 10 points in a season, set during the 2021-22 campaign. As well, Walman is a team-leading +13.
"The eye test was there, his underlying numbers were there," Detroit coach Derek Lalonde assessed of Walman's campaign. "There's some nights we leave here it feels like he was one of our better defenseman."
Lalonde is equally effusive about how well Walman and Seider have meshed in tandem.
"Both are really playing at a really good level," Lalonde said. "They've taken some pride in defending and they're both able with their feet and their stick to get out of the zone with some exits at times.
"They've been good together and will hopefully continue going forward."
Walman's Game Maturing
With the St. Louis Blues, Walman was either up and down between the NHL and AHL, or in and out of the lineup. In Detroit, he's found a steadiness to his game that Lalonde thinks is partially due to Walman's maturity as a player.
"I think so, maturity, and hopefully a little growth in his game," Lalonde said. "I credit (Detroit assistant coach and former NHL defenseman) Bob Boughner a little bit."
Clearly, the issues the Blues took with Walman's play – inconsistency and a seeming unwillingness to battle in the defensive zone – looks to be things of the past.
"He's taken out huge mistakes in his game," Lalonde said. "You don't see the high risk in his game. His compete has been great. He's winning battles.
BetMGM Sportsbook
States: All States Where Legal
GET THE APP
SIGNUP BONUS
UP TO $1,000!


Up To $1000 Paid Back in Bonus Bets
BET NOW
"He is the reason we're getting some good exits and stops in our D-zone. The puck's coming out. He has some good offensive instincts on the rush. He's able to help us create some offense from the offensive blue line, but I'll take some of those battles he's won in our zone and has got us out successful."
Add it all up and the outcome of the equation is straightforward. The Red Wings can't afford not to pay Walman to stay put. Equally, though, from Walman's viewpoint, after finally finding an NHL home in Detroit, why would he want to go elsewhere and start over again?
Putting both aspects together, common sense would suggest that the two sides ought to be able to find common ground on a new contract.