Red Wings Stock Index: Will They Stay or Will They Go?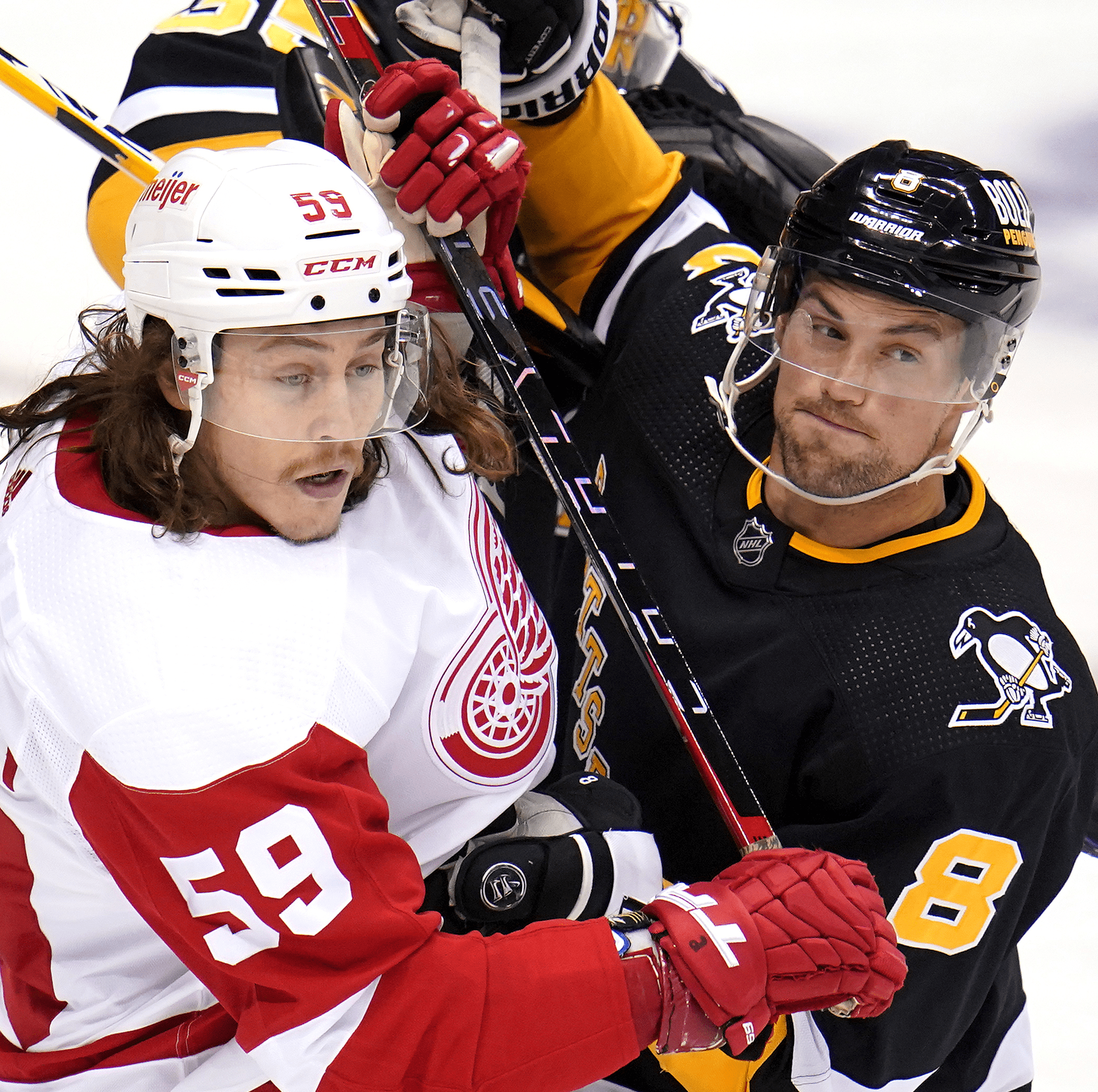 It wasn't too long ago that the Detroit Red Wings were being mentioned in the Connor Bedard sweepstakes.
What a difference one week makes. Just two points out of the final playoff spot, and with several games in hand, the Red Wings fan base is abuzz at the chance of snapping a postseason drought.
In that same course of time, several players have created some cognitive dissonance in Hockeytown. Foregone conclusions have become befuddling.
Here's a look at three Red Wings who saw their stock shift and potentially create a pause.
Olli Määttä
We'll start with Määttä, the easiest of the three, who recently inked a two-year extension with Detroit this week. The 28-year-old has five goals on the season, none bigger than a snap shot in the 5-4 win over Edmonton Wednesday night. This season alone, Määttä has produced more than his last two seasons combined, and has his highest goal total since the 2017-18 season.
Once thought to be a trade piece, Määttä has emerged as a solution for at least two more seasons. A steady pairing during Filip Hronek's offensive tear, it's clear that general manager Steve Yzerman sees him as a stalwart for the future as more young defensemen make their way to Detroit.
Tyler Bertuzzi
It was not a matter of if but when Tyler Bertuzzi would be shipped out of Detroit. Stuck in neutral after returning from injury, Bertuzzi's tonic seemed to be the break.
In those six games since? Six points (2-4) and the type of heavy play that endeared him to Red Wings players, staff, and fans.
Tic. Tac. Toe. 🚨

Bert finishes off a beauty of a play for last night's @xfinity Powerful Connection! pic.twitter.com/Cg7O62vWRN

— Detroit Red Wings (@DetroitRedWings) February 17, 2023
Logging three points in the victory over Calgary Thursday night, Bertuzzi outmuscled a couple Flames behind the net to set up another goal. The hard nosed reckless abandon that earned him 30 goals last season has returned and now it's really set up the dilemma. Social media chatter now wonders if Yzerman should keep him. One debate centers on the return as Bertuzzi rounds out to his old form. Another questions whether he should be retained as Detroit inches closer to the playoffs.
There is no easy answer. Hindsight will eventually settle it, but the current moment shows the feisty Bertuzzi doing exactly what he's done before. As the next few weeks unfold, Yzerman will have a tough decision on his hands. But there's no doubt that Bertuzzi's stock is skyrocketing not only for Detroit's fortunes, but also for interested buyers.
Dylan Larkin
It's an entirely different conversation and one that has been rehashed to exhaustion. But what cannot be underscored is Larkin's importance to the team during this five-game winning streak. Without Larkin, the Red Wings are lost.
Not only has his stock continued to rise, it's only put more heat on whatever Yzerman ultimately decides to do. History favors Larkin staying, whether you look at it from the Yzerman perspective or something else. But Detroit's current captain is making a strong statement to the man simply known as "the Captain" that maybe it's time to get something done.
FanDuel Sportsbook Promo #1
ALL STATES WHERE LEGAL
GET THE APP
SIGNUP BONUS
$1000 No Sweat Bet


$1000 No Sweat Bet
BET NOW
Jakub Vrana
He was called up which was step one. The second question is when he'll suit up.
With Lucas Raymond on the injured reserve (retroactive to February 10), it's anyone's guess as to when Vrana will play. But his bounce back in Grand Rapids only shows he's another depth piece that could help Detroit if indeed it considers itself a playoff player.
Whether it's to showcase him as a trade piece, or just have him in the fold, there's no doubt his stock ticked up a bit. Now the watch begins on when he not only plays, but whether he'll be wearing the Winged Wheel after March 2nd.