Yzerman on Deadline: 'I Was Not Going to Be a Buyer Under Any Circumstances'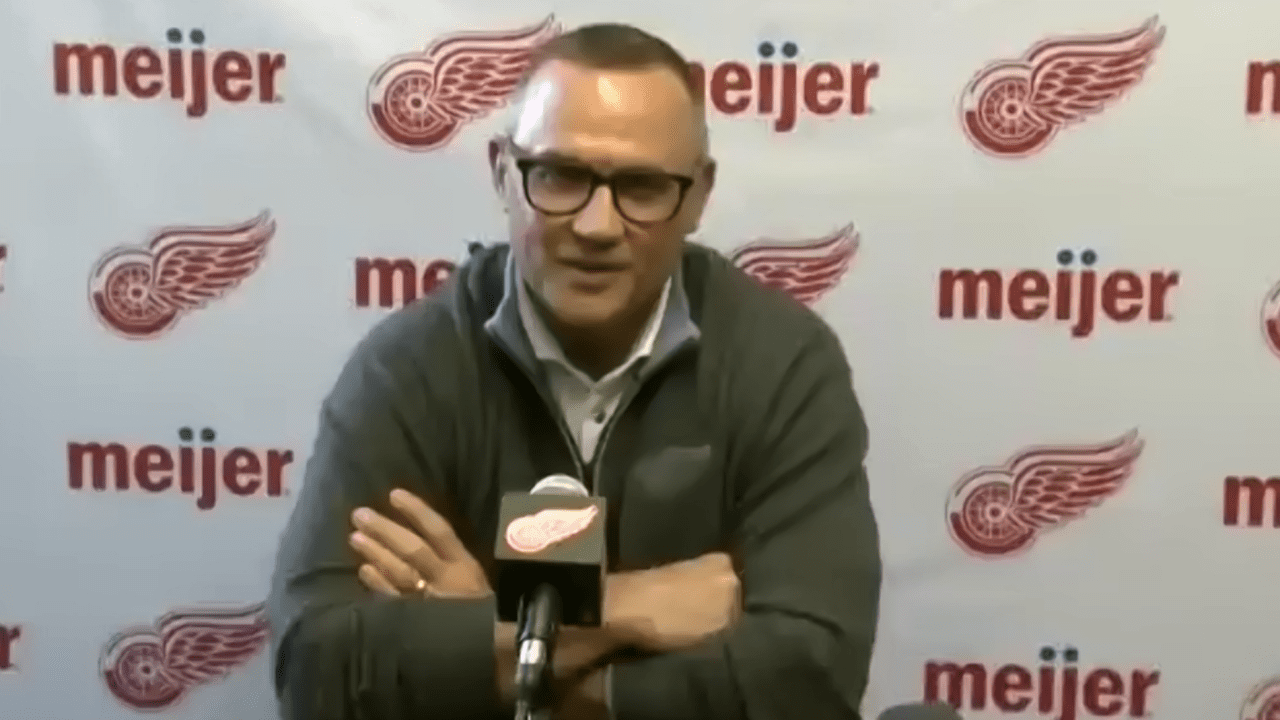 Back-to-back losses to the Ottawa Senators didn't transform Detroit Red Wings general manager Steve Yzerman from a buyer into a seller.
"I was not going to be a buyer under any circumstances," Yzerman said after Friday's NHL Trade Deadline passed. "Not this year.
Yzerman said he had a plan for the deadline in place heading into the team's Western road trip. The plan was to keep their young players, look for trade opportunities and make decisions about pending UFAs. But the Red Wings then went 4-1 on that five-game trip. "It gave us food for thought, delayed some things," Yzerman said.
The pause only lasted long enough for Yzerman to see the two one-sided losses to Ottawa. "It probably made it a little bit easier," Yzerman said.
Yzerman put his plan in place and when the dealing was done Friday, Yzerman had traded Jakub Vrana, Filip Hronek, Tyler Bertuzzi and Oskar Sundqvist. The plan also included getting Dylan Larkin, Jake Walman and Olli Maatta re-signed.
🎥 Tyler Bertuzzi on being traded to the #NHLBruins: "I had an idea that it was coming. I just didn't know when or where. I'm very, very happy that it's here…grateful for this opportunity." pic.twitter.com/I8Dg946Gb3

— Boston Bruins (@NHLBruins) March 3, 2023
Trading Hronek wasn't specifically part of the plan. It was opportunity that presented itself.
"I don't want to elaborate on how things necessarily come to fruition on a trade," Yzerman said. "(But) No, we weren't actively shopping Filip."
The deal was about the return: 2023 first- and second-round picks. The first-round pick was the New York Islanders' first rounder. The Canucks had received it in the Bo Horvat deal. As of today, with no consideration of the draft lottery or playoff performance, the Islanders' pick would be No. 17.
"Ultimately, I felt with where we're at and the return we were getting that it was a good decision for the future," Yzerman said.
Never Close to Bertuzzi Deal
Yzerman didn't elaborate much on the decisions to the trade Bertuzzi and Vrana. The Bertuzzi trade seemed inevitable even last fall. The undercurrent around the NHL that Yzerman and Bertuzzi's camp had different visions about his salary range.
"I did have some discussion early in the season with Tyler's representative Todd Reynolds," Yzerman said. "We're really didn't get anywhere. Talked briefly before the trade deadline and it really didn't lead to anything."
The mantra for most general managers is that you can't let valuable free agents walk away without getting something in return. The only exception would be if the team has a strong shot at the playoffs. Last season, the Calgary Flames play out his contract and he left the team and signed with the Columbus Blue Jackets. The Flames received nothing in return.
FanDuel Sportsbook Promo #1
ALL STATES WHERE LEGAL
GET THE APP
SIGNUP BONUS
$1000 No Sweat Bet


$1000 No Sweat Bet
BET NOW
When Matthew Tkachuk told the Flames, he had no intention of re-signing in Calgary, they traded him to the Florida Panthers to get a reasonable return.
The Bruins were offering a 2024 first-round pick and a 2025 fourth-round pick.A rebuilding team isn't going to turn that return down for a long-shot playoff hope.
Mum About Vrana
The Vrana situation is the hardest to understand, mostly because the behind-the-scene details are unknown. It's know that Vrana was in the NHL/NHL Players Association Player Assistance Program. But we don't know what happened before or after. What we see is that a once promising scorer was traded to the St. Louis Blues for a seventh-round pick and a minor league player.
"I don't think I can really go into details on a lot of the things that have gone on," Yzerman said. "I would just say I wish Jakub the best of luck in his hockey career, on and off the ice. It was time for both parties to move on."
The Red Wings liked forward Oskar Sundqvist. He was a hard-working, two-way forward, popular with his teammates. Winning personality. The Red Wings could have kept him, but at some point the Red Wings have to carve out space for younger players. Trading Sundqvist to the Minnesota Wild for a fourth-round pick is good for the player and the Red Wings.
The consensus is that Yzerman got a lot done at this trade deadline, especially when you factor in the re-signings and the acquisition of first-round picks. Yzerman's take?
"Did I do everything I was hoping to do? Not necessarily," Yzerman said. "Winning kind of delayed things a little bit. The two games in Ottawa kind of reaffirmed where I think we're at. I'm pleased with the development of our team but obviously disappointed in how the games played out. It was clear to me we've got work to do, a lot of work to do. I don't want to say it pushed me over the edge because had we won those two games, the big things the needed to be done probably would have been done. Maybe you don't do some of the smaller things and give yourself a chance to be successful.