Edvinsson Displaying Promise in Red Wings Debut
Rookie Detroit rearguard made his NHL debut on Saturday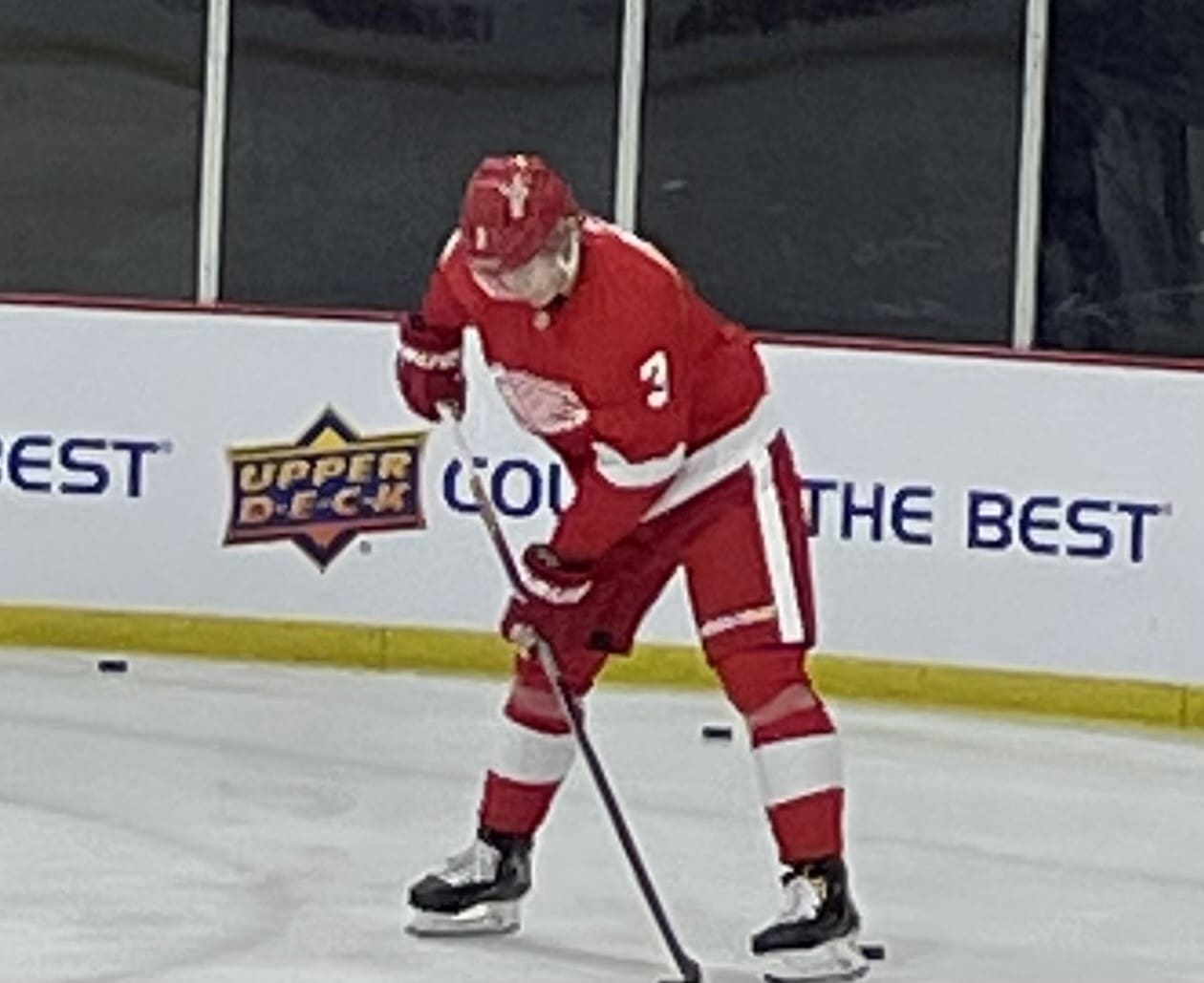 Suggesting that his NHL debut was a comfortable experience, Detroit Red Wings defenseman Simon Edvinsson was a glimmering bright spot in a dark afternoon for the team.
The future is not now for the Red Wings, but if there is to be hope that there will be a future for the franchise, it centers around the continued evolution of players like Edvinsson.
In his first taste of NHL action, Edvinsson was logging one shot and two penalty minutes in 15:34 of ice time. At 20 years, 41 days of age he became the youngest Red Wings defenseman to make his NHL debut since Jiri Fischer (19 years, 74 days) on Oct. 13, 1999 vs. St. Louis.
Edvinsson with a big hit on MacKinnon – some kind of NHL debut so far. #LGRW pic.twitter.com/cOZ7nsV2n6

— Ryan Hana (@RyanHanaWWP) March 18, 2023
"It was good," was Edvinsson's assessment of his first NHL game. "I felt comfortable. Of course there's small things I need to do in the system to really feel everything is smooth.
"I think it felt better, especially in the third. Of course I've got to build on that, keep developing. It was a nervous beginning of course. Awesome to go out there and play the game. It sucks to lose, but It was a great experience. It was awesome to play in front of the fans."
Edvinsson Impresses Red Wings
In Detroit's 5-1 loss to the reigning Stanley Cup champion Colorado Avalanche, there were clear indications of why Edvinsson was tabbed sixth overall by Detroit in the 2021 NHL entry draft. He stepped into Avalanche star Nathan MacKinnon with a stiff body check. Edvinsson won a key puck battle in the vicinity of the Detroit net with Colorado forward Logan O'Connor, corraling the puck and clearing it to safety.
"I thought he did good," Red Wings Derek Lalonde said. "I'd have to look back closely. Obviously, he was on for the rush against goal. I'll have to see how he handled it. But for the most part you didn't see the egregious turnover. He was physical, he had some chances following the rush.
"For a first game, against a team like that, I thought he did really well. It gets me excited, optimistic, if you will, going forward."
Building For The Future
Slowly but steadily, Detroit is infiltrating the roster with an influx of young talent, players who figure to be part of the core of the rebuild. Defenseman Moritz Seider (2019) and Lucas Raymond (2020), both of them first-round picks of Detroit GM Steve Yzerman, are well into their second full NHL seasons. Seider skated in his 150th career NHL game on Saturday.
Others like fowards Michael Rasmussen, Jonatan Berggren and Joe Veleno are establishing their presence as everyday NHLers who can be counted on by the team.
"I thought he played well," Red Wings captain Dylan Larkin said of Edvinsson's performance. "You obviously see his size, his skating ability. If we're gonna take a step as a team, himself and a lot of the younger players are getting a big opportunity in the last 14-15 games here."
FanDuel Sportsbook Promo #1
ALL STATES WHERE LEGAL
GET THE APP
SIGNUP BONUS
$1000 No Sweat Bet


$1000 No Sweat Bet
BET NOW
Saturday was the first step in what both Edvinsson and the Red Wings hope will be a long journey together. One that will culminate with the Red Wings situated atop the NHL standings again.
"I kind of know what to expect and what people expect from me," Edvinsson said. "I'll just need to keep developing from here. I felt a lot better this game than I did in the preseason.
"We need to develop as a team and I need to develop as a player here. I just want to go from here and keep getting better."