From Ejection to Elation for Resilient Red Wings in Win Over Penguins
Red Wings coach Lalonde ejected during victory over Pittsburgh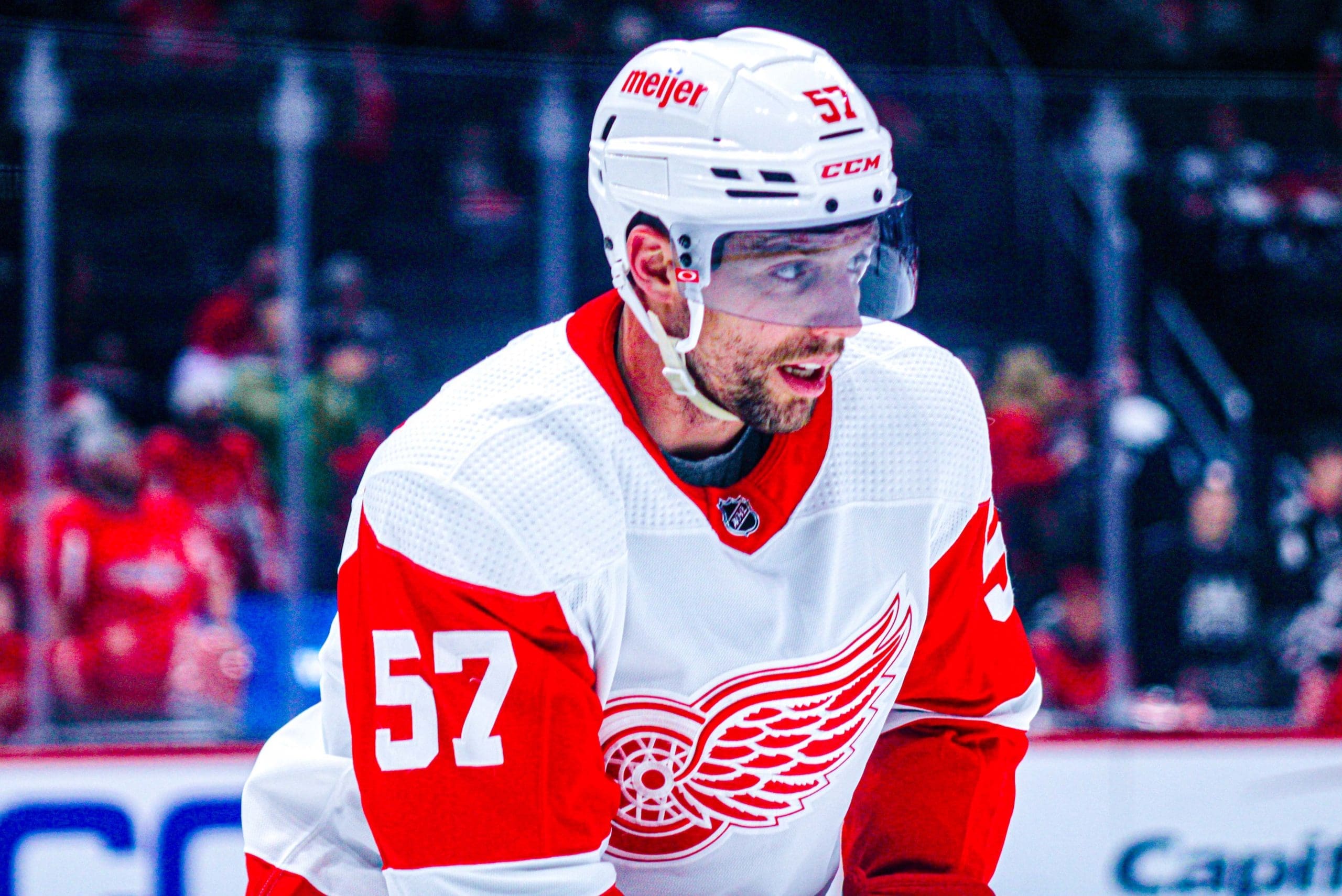 Trying to determine which was the most satisfying moment for the Detroit Red Wings during Tuesday's 7-4 thrashing of the Pittsburgh Penguins was as difficult as seeking out the most satisying outcome for Red Wings players.
There were so many from which to choose.
The path Detroit took to this remarkable victory didn't not follow the route most taken. It began with the tossing of a coach and ended with the jubilant tossing of hats on to the ice.
"It was interesting," Red Wings captain Dylan Larkin said, succinctly summing up the night.
Yes, it most certainly was that.
David Perron scored his eighth career hat trick and first with the @DetroitRedWings after his three-goal third period. He became the first Detroit player since Henrik Zetterberg (Jan. 18, 2015) to score three goals in a final frame.#NHLStats: https://t.co/hMl9cfEiPz pic.twitter.com/AmpZUnZdGx

— NHL Public Relations (@PR_NHL) March 29, 2023
For starters, take the case of Red Wings assistant coach Bob Boughner. He was suddenly elevated to bench boss in the second period. Detroit head coach was sent packing. He was assessed a game misconduct after unleashing an obscenity-laced tirade at officials when a coach's challenge didn't go the way of the Wings.
Boughner seemed almost startled as he arrived to meet the media post game.
"You guys are just as surprised as I am," Boughner said. "We couldn't find the keys for Newsy. The cuffs are still on him in the back."
Plenty Of Heroes For Red Wings
Lalonde came unglued after Detroit gave up two quick power-play goals during a five-on-three disadvantage to squander a 3-1 lead. But his hastened departure only seemed to galvanize his players to bear down and complete the task at hand.
"It says a lot about our group," Larkin assessed. "With injuries and guys coming into the lineup, guys coming from Grand Rapids, lines changing. A lot of guys are auditioning for spots for next year but you see Big Ern (Adam Erne) block a shot in the third, Ned (goalie Alex Nedeljkovic) come in and play a really solid game. Things didn't go his way in the second but he battled back.
"Guys playing hard and we had that emotion tonight that we had early in the season. It was good to see."
Netting a hat-trick with three consecutive goals in the third period, David Perron was unleashing a steady flow of hats to the ice, while also ending a nine-game goalless drought.
"It's nice to score a couple," Perron said. "It's been a while for me here, so it felt pretty good."
Jonatan Berggren scored for the first time in 12 games. Nedeljkovic was making 35 saves and posting his first NHL win since Nov. 6.
"It's nice to see that his game's back," Boughner said of Nedeljkovic. "He went down and he obviously worked hard. He didn't pout. He turned his game around, which you could see tonight.
Detroit Playing Spoiler
Moral victories and filling the spoiler's role wasn't the late-season mission the Red Wings had in mind not so long ago whne postseason hockey was looking possible for them. Still, putting a dent in Pittsburgh's playoff chase – although Florida's gonna need to win a game someday for that to happen – was a nice feeling to have for a group that came into this game 3-11-1 over the past 15.
"We want to be in that position that they're in right now next year," Larkin said. "We let it go, we were right there, but to play games like that is very meaningful for our young team."
FanDuel Sportsbook Promo #1
ALL STATES WHERE LEGAL
GET THE APP
SIGNUP BONUS
$1000 No Sweat Bet


$1000 No Sweat Bet
BET NOW
For the Red Wings faithful, hearing the chants of "Crosby sucks" echoing through Little Caesars Arena as the clock was ticking down a Detroit victory over the Penguins, well that's like those old Mastercard commercials. It will forever be priceless.
"There is that rivalry with Crosby," Larkin said. ". . . the history with the back to back Stanley Cup Finals with Pittsburgh, it's pretty cool. It's special to play against players like that and rise to the occasion and win."