When It Comes To Raymond, Red Wings Like Their Razor Sharp
Lucas Raymond's production dropped from 23 to 17 goals.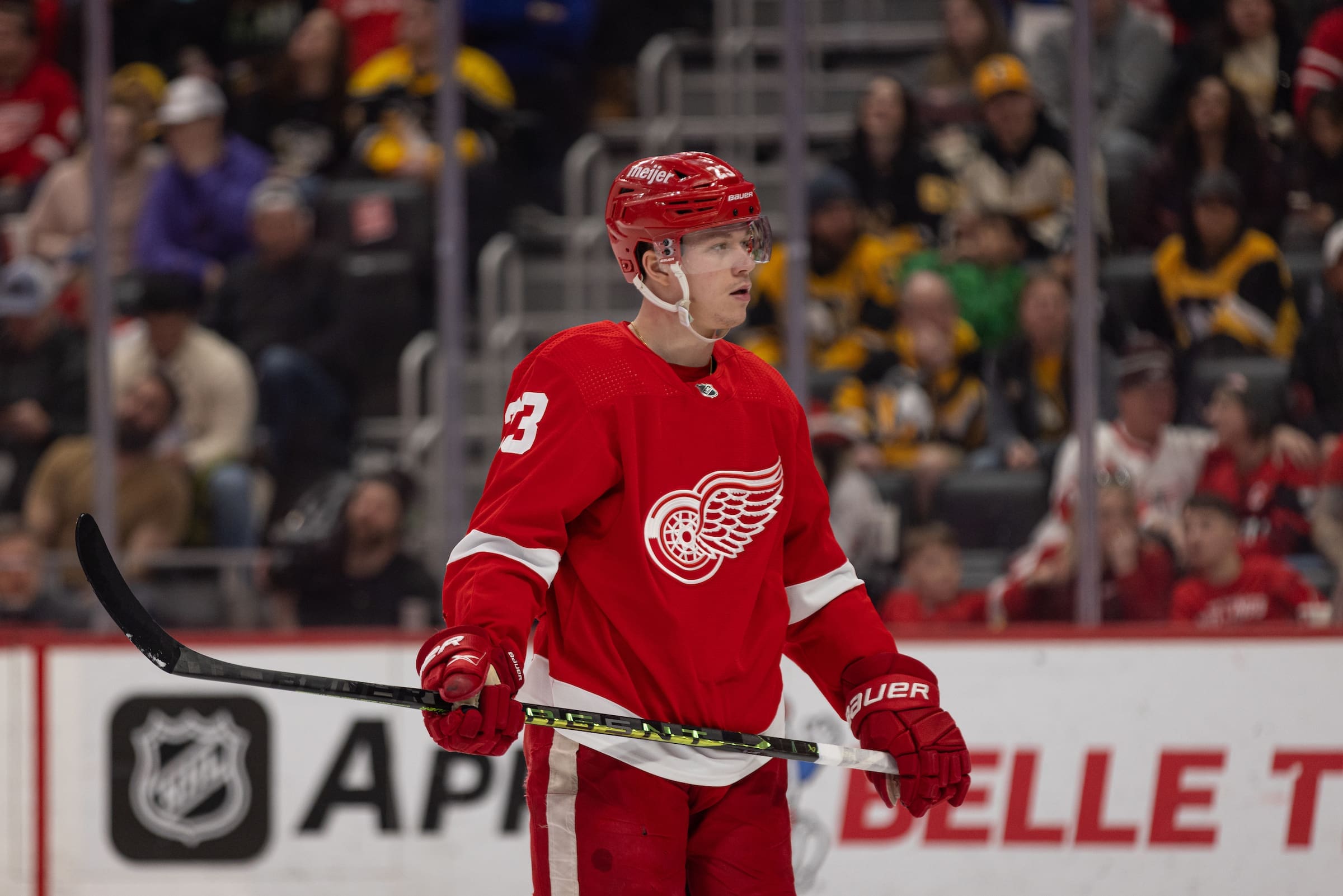 To a man, the Detroit Red Wings are in agreement in regards to Lucas Raymond. They like how smoothly things go for them when their Razor is sharp.
Raymond, or Razor as he's known by his Detroit teammates, is a much more effective performer when he plays with a edge to his game. When Detroit's Razor is sharpening up, good things are usually to follow.
The only concern is that he needs to bring that Razor's edge to the ice with more frequency.
LUCAS RAYMOND WINS IT! RED WINGS GET THE WIN IN A SHOOTOUT! #LGRW pic.twitter.com/iiFyXVxqDE

— Woodward Sports Network (@woodwardsports) March 22, 2023
"I always tell him – I sit beside him in the room – the games that he gets feisty a little bit, are the games that he plays the best usually," Detroit teammate David Perron said of Raymond. "It's tough to do that every single night, I understand but it kind of always naturally happens.
"In the game there's a scrum, and the next thing you know, he's having a good game. There's three or four games like that that pop into my head."
Certainly, Raymond's sophomore NHL season didn't measure up in terms of productivity to his spectacular rookie campaign. His goal productivity dipped from 23 to 17. He didn't score until Detroit's eightg game of the season. A lower-body injury, believed to be a knee issue, cost him eight games in February. Following his return, the 21-year-old Swede tallied just twice over his final 24 games.
"I felt like this year was a little bit different for me," Raymond said. "I felt my play was pretty consistent. Production could come in bunches sometimes."
While acknowledging that he's still a big fan of Raymond's overall work, Detroit GM Steve Yzerman is blunt in his assessment of the right-winger's 2022-23 output.
"I think it was OK," Yzerman said. "I think extremely highly of Lucas Raymond as a young man and his talent as a hockey player. He'll learn a lot from this year. It was a grind."
Red Wings Anticipate Growth In Raymond
Similar to Yzerman's viewpoint, Red Wings coach Derek Lalonde is seeing a bright future ahead for Raymond. At the same time, he also maintains an awareness of the struggles that the player was enduring this season.
"I still think there's growth for Lucas," Lalonde said. "There was a little bit – I'm not gonna call it regression, but I think there's gonna be some bumps between your first two years in the NHL.
"The fact is that he's never seen the American Hockey League. He jumped right into the National Hockey League. I don't think people respect how hard that is. You can't think it's just going to keep growing steadily. There's gonna be bumps in the road physically."
Larkin Admires Raymond's Talent
Captain Dylan Larkin is also frank in his assessment of Raymond's abilities, but more from the point of view of admiration than analysis.
"I said it before, Lucas is very talented, very skilled, much more talented than I was at his age," Larkin said. "I think he's got a great attitude. He's going into the summer with a chip on his shoulder and I think that's very good.
"I think every player goes through it. I went through it, I still go into summers like that. It pushes you and gives yourself motivation every day when you're waking up and going to the gym and going on the ice to do things that's going to separate you. So he's got a great attitude into this offseason that he knows and wants to be better. I'm excited for him and I'm excited for our hockey team that he has that attitude."
Cerftainly, Raymond's resume is showing some impressive accomplishments with the Red Wings. This season, he became the third-youngest player in franchise history to reach 100 career points. The only players ahead of him on that list? Yzerman and Gordie Howe.
At the same time, he's driven to do more. Satisfaction is not an adjective he uses to describe his achievements. His objective is to continue taking steps to enable more growth as a player.
FanDuel Sportsbook Promo #1
ALL STATES WHERE LEGAL
GET THE APP
SIGNUP BONUS
$1000 No Sweat Bet


$1000 No Sweat Bet
BET NOW
"I felt good," Raymond said of the improvement he displayed in his game this season. "I think I grew a lot on the ice, off the ice as well. Just learned a lot about yourself.
"Obviously I want to continue taking steps and have a good summer and keep building on that and come out next year. It's just about figuring out what you need to do be that and to continue to grow."