Red Wings Berggren Finally Getting to Represent For Sweden
Detroit forward led all Swedish NHL rookies with 28 points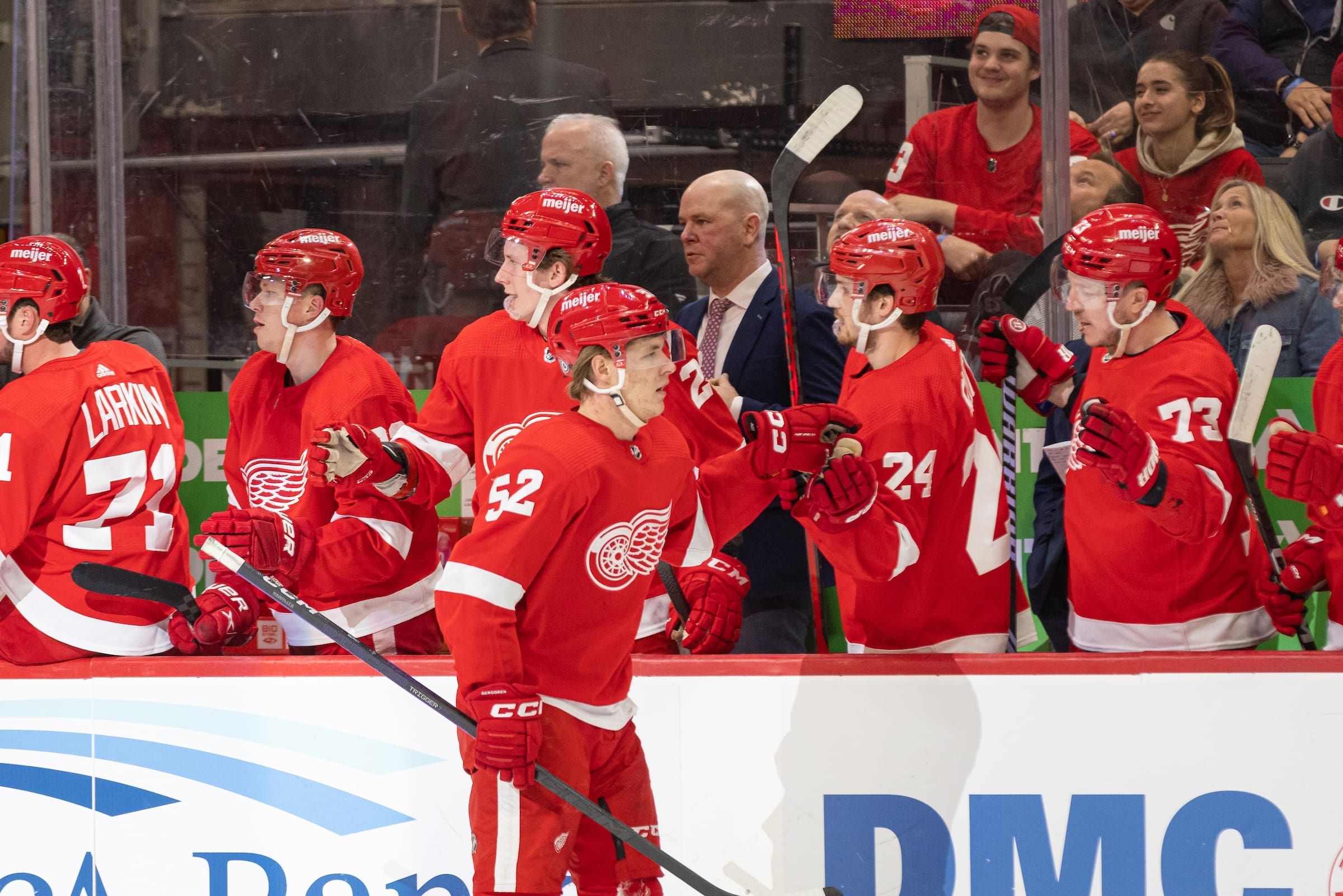 It truly is third-time lucky for Detroit Red Wings forward Jonatan Berggren when it comes to playing for his homeland at the IIIHF World Championship.
Last year, following a strong rookie season with the AHL Grand Rapids Griffins, he wound up testing positive for COVID-19 just prior to the tourney and wasn't able to play for Sweden. in 2021, he was a surprise late cut from the Swedish squad.
With Sweden set to open the tourney on Friday against his Detroit teammate Moritz Seider and Germany, it's all systems go for Berggren.
Take your chances when they present themselves! Jonatan Berggren converts a beautiful pass from Matt Luff following an egregious Sabres turnover! #LGRW I @ThinkFordFirst pic.twitter.com/ficx3RlLxH

— Bally Sports Detroit (@BallySportsDET) April 7, 2023
"Hopefully it will be the third time," Berggren told Aftonbladet.se, still sounding somewhat apprehensive that something might still go wrong to prevent his senior international debut.
"It's never fun to get poked or get sick. It's a feeling I don't want to experience again."
Collecting two assists in a 3-0 pre-tournament win over Switzerland, both Berggren and Red Wings teammate Lucas Raymond are making their mark for the Swedes. Raymond has two multi-point games in tune up action.
Berggren Analyzes 'Okay' Red Wings Rookie Season
Assessing his first NHL campaign for the Red Wings, Berggren is honest in his critique. He's calling it an "okay" season.
"It was a bit up and down, but I stayed put (in the NHL)," Berggren said. He didn't go back down to the minors following his November call up to the NHL "I think I've stepped up in my game and matured. A perfectly okay first season."
His 15 goals and 28 points led all Swedish NHL first-year players.
"Yes, but you have high demands on yourself when you're in it," Berggren explained. "This summer you might think it was more than an okay season."
While working to establish his credentials in the NHL, Berggren sees in himself a different player than one who three seasons ago was skating in the SHL.
"I attack a little more on goal," Berggren said. "I put in some returns and such. Maybe I was a little round in the game in the SHL."
Remembering His Grand Rapids Misadventure
When he was first given assignment to AHL Grand Rapids during Detroit's 2021 training camp, Berggren was making the blunder of setting the GPS in his car for Grand Rapids, Ohio. He and his girlfriend drove to the wrong city. However, he's come up with a foolproof solution to ensure there's no repeat wrong way performance.
"I still ride Uber," Berggren sheepishly explained. "You just set the address and I don't have to drive. It's usually best that way."
On one of these rides, once the Uber driver realized his passengers were Swedes, he was asking them if they'd heard the story of the two stupid Swedes who'd gone to the wrong city.
"All we had to do was say it was us," Berggren said.
To his credit, Berggren is taking his place in travelogue misdaventures in stride.
"It's a funny story," he said. "It's not often that I happen to do such things and it's just fun that you can offer it."