Former Red Wings Goalie Hasek Packs Memorabilia Into Shopping Carts as Czech Hall Closes
Czech legend's artifacts are now homeless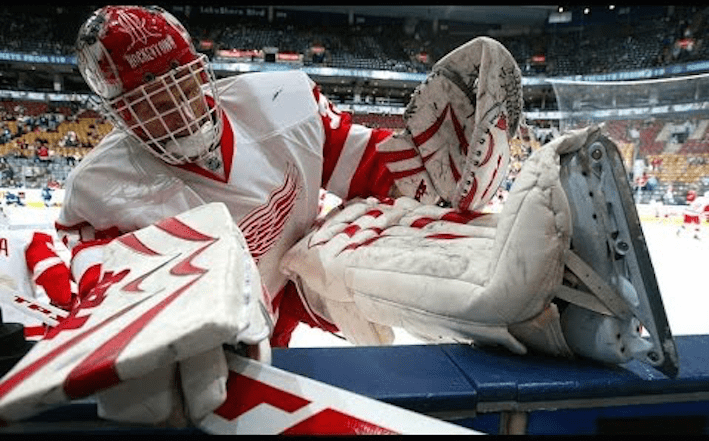 Dominik Hasek is to Czechia what Gordie Howe is to the Detroit Red Wings. Simply their greatest hockey legend.
That's what made the images out of Hasek's homeland so disheartening.
Just to make it clear maybe for someone abroad…
Legendary goalie Dominik Hasek @hasek_dominik has just collected his artifacts from the Czech Hockey Hall of Fame in Prague.
Due to economic issues the Hall of Fame si closing now. And (hopefully) be renewed somewhere else. pic.twitter.com/Fll66rNjIU

— Zdenek Janda (@zdenek_janda) May 31, 2023
Images on social media were showing the goaltending icon and former Red Wings netminder packing his donated artifacts into a nearby shopping cart. The Czech Hockey Hall of Fame is closing and legends of the game such as Hasek were found to be gathering up what they'd donated to the Hall before the doors were closing for good.
Hasek was fighting back tears as he was packing up his belongings into three adjacent shopping carts. The treasured artifacts included the gear he wore when backstopping the Czech Republic to the 1998 Olympic gold medal at Nagano, Japan. That was the first Olympic hockey tournament featuring NHL players. There were also some of the six Vezina Trophies that Hasek won during his NHL career.
"I'm sorry, but unfortunately, it was a matter of the heart," Hasek told isport.blesk.cz reporter Zdenek Janda.
The Czech Hockey Hall of Fame in Prague has closed. Hall of Fame & arguably GOAT goalie Dominik Hasek is seen here collecting his belongings. Included are jersey/equipment he wore when winning Gold at 98 Olympic Games in Nagano, & his Vezina/Hart Trophies pic.twitter.com/m806o2AOEi

— Duane Steinel (@DuaneS39) May 31, 2023
Economics are being listed as the cause for the shuttering of the Hall. The hope is that there can be a reopening at a new location in time for next year's IIHF World Hockey Championship, which is behing held in Czechia.
"Negotiations are currently underway on a new location," reads a media release from the Czech Hockey Association "The new stone Hall of Fame should be opened no later than March of the following year."
Hasek isn't as certain about a new home being found to display the hockey history of his country for all of the people to see.
"As soon as something is closed, the question is whether it will be opened," Hasek said.
Hasek Helped Create Czech Hockey Hall Of Fame
This is personal for The Dominator and not just because the two-time Stanley Cup winner with the Red Wings is an inductee to the Czech Hockey Hall of Fame. He was a participant in the creation of the Hall. He was among those who put together the rules governing earning enshrinement into the Hall and was part of the induction committee.
"Everybody liked the Hall of Fame," Hasek said. "Anyone who came wanted to see it, and I accompanied a lot of people."
FanDuel Sportsbook Promo #1
ALL STATES WHERE LEGAL
GET THE APP
SIGNUP BONUS
$1000 No Sweat Bet


$1000 No Sweat Bet
BET NOW
At the same time, he understands that the location must make money in order to survive.
"It's not pleasant, but I have no choice but to respect it," Hasek said. "The executive committee decided to close it. Something went wrong. It wasn't profitable."
He's uncertain as to what he'll do with the collection of personal memoabilia that is suddenly back in his possession.
"We'll see," Hasek said. "I'll be happy to lend them somewhere. But they must be representative spaces. Or somewhere in a museum so that people can come and see."