Red Wings GM Yzerman Talks NHL Draft Strategy
Draft process not as complicated as people like to think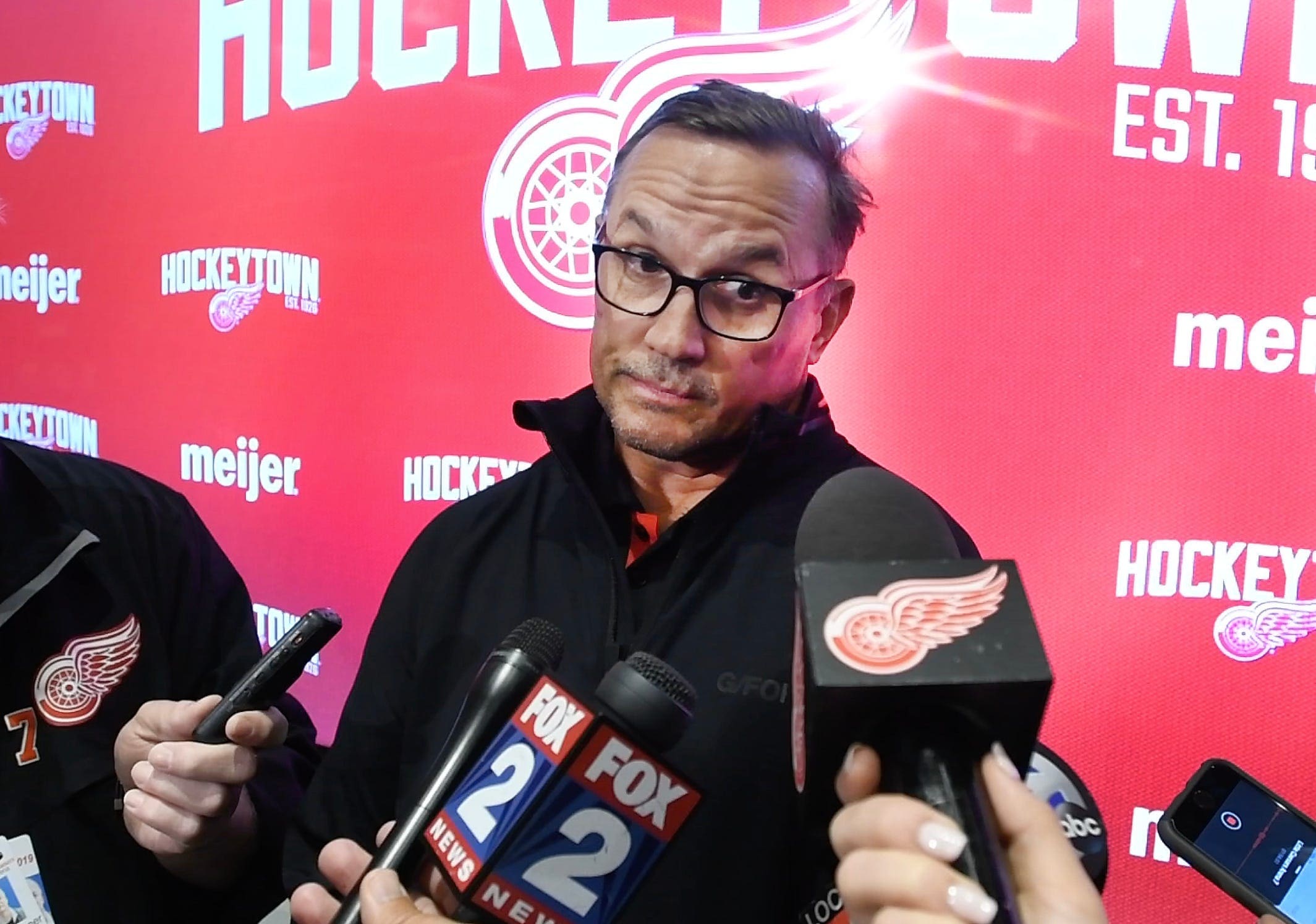 Over the years, Detroit Red Wings GM Steve Yzerman has sat at many a draft table during the NHL entry draft. Those of us at Detroit Hockey Now has not experienced such a luxury.
So we thought, why not ask Stevie Y to explain what it's like? What goes into the thought process as the time for the team to make a selection nears? How much debate goes on amongst those seated around the table? Is it really as simple as taking the best player available?
We asked Yzerman all of these questions. And his answers might just surprise you. The machinations involved in drafting future NHL talent isn't exactly three-dimensional chess.
LIVE: #RedWings Executive Vice President and General Manager, Steve Yzerman, speaks with the media ahead of the 2023 NHL Draft. https://t.co/sw5qHuFHHq

— Detroit Red Wings (@DetroitRedWings) June 20, 2023
When Detroit sits down at the table to await the chance to select ninth overall in the first round of next Wednesday's NHL entry draft, in front of Yzerman will be a list of players. He insists that whichever name is left at the top of the list as the time to make the ninth pick arrives, that's the guy he'll be taking.
Well, most of the time that's how it works.
"Theoretically you put a list together and you follow your list," Yzerman said. "There are occasions that for whatever reason you may change your mind at the last minute.
"Some of these players are so close, they may be a different position, but who's going to be the better player in 5-10 years, the ninth pick or the eighth pick or the 11th, so your mind gets wandering a little bit or you continue the debates you had for the last year. But generally the rule for all of us is we put our lists together and when pick nine comes up, that ninth pick we'll take."
Red Wings Debate More In Later Rounds
Now, it's worth noting that every team could have a different player at ninth of their list. Certainly, in 2019 when the Red Wings were selecting Moritz Seider sixth overall, not many, if any other NHL team had the big German defenseman slotted into that spot.
As the draft continues, this strategy will frequently vary. For a variety of reaasons, the next player up on the list might not be the player that the Red Wings take when their up.
"Where it gets a little different is in later rounds when it's not televised," Yzerman admitted. "You're at your table. You're not going up to the stage to make the announcement.
"In our case, (director of amateur scouting) Kris Draper and (chief amateur scout) Jesse Wallin are there at the mic. They're making the pick. You may kind of vary from your list a little bit is deeper in those rounds when you have your area scouts debating a little bit on the pick."
FanDuel Sportsbook Promo #1
ALL STATES WHERE LEGAL
GET THE APP
SIGNUP BONUS
$1000 No Sweat Bet


$1000 No Sweat Bet
BET NOW
Perhaps the Wings have gone heavy with defensemen in the earlier rounds. It might be time to beef up their depth of prospects at forward. Teams also generally seek to select at least one netminder in every draft year.
"As you go into the later rounds, it gets a little bit less formulaic I guess and you're starting to go with, 'Here's a group of players, which one are we gonna take?'" Yzerman explained. "And it may become position-based just based on the picks that you have made in that current draft."