Former Red Wings Goalie Mike Vernon Named to HHOF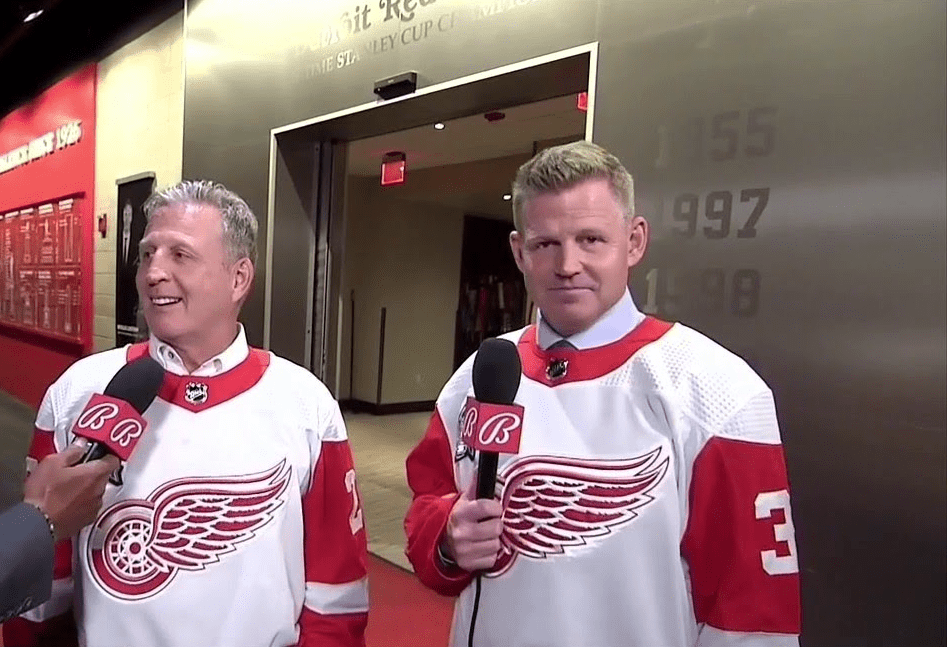 Over the past few seasons, a good number of Detroit Red Wings fans have made a case that it was time for one of the franchise's former goalies Chris Osgood to be inducted into the Hockey Hall of Fame.
The HHOF did select a Detroit goalie Wednesday, but it wasn't the one Detroit fans have been talking about the most.
Mike Vernon was one of three goaltenders named today's class. Henrik Lundqvist and Tom Barrasso were also selected, along with forward Pierre Turgeon and women's star Caroline Quellette. Stanley Cup-winning coach Ken Hitchcock and former Colorado Avalanche executive Pierre Turgeon were selected in the builder's category.
"The game has meant a lot to me throughout my life," Vernon said. "My family, we grew up a hockey family, and it was bred in us at a very young age, so this is quite the honor. I'm just flabbergasted. There's lots of people to thank. All the players I played with, the teams I played with that instilled that winning attitude, much appreciated for the long careers."
He won the Conn Smythe Trophy in 1997 while helping the Red Wings end a 42-year Stanley Cup championship drought. Vernon also helped the Flames win a Stanley Cup in 1989. He was also in net when the Red Wings reached the Stanley Cup Final in 1995.
Pleasantly Surprised?
"I thought Lanny was calling me for a golf game," Vernon said. "It was great to hear his voice. He's one of the legends and probably one of the best captains I've ever heard. It is an emotional time for me. It might be a long time coming but it's still worth it. It's such an honor, what the group has done in selecting me to the Hall of Fame. It's unbelievable. My phone has been lighting up, texts. It comes back to family. My mother was my first hockey coach. We were a hockey family. Hockey was instilled in me at a very young age, and I had older brothers that used to shoot pucks on me, so I was obviously the guy that was stuck in net."
Vernon, 60, posted 385 NHL wins for four different teams. He also had two different stints with the Calgary Flames, plus a tour with the Florida Panthers and San Jose Sharks.   Vernon played three seasons for Detroit, including the 1996-97 championship season.
Mike Vernon: Hall of Famer. 👏 pic.twitter.com/scieECbizN

— Detroit Red Wings (@DetroitRedWings) June 21, 2023
Vernon posted a 16-4 record with a .927 save percentage in the 1997 postseason to earn the NHL playoff MVP award. The Red Wings traded him to San Jose Sharks two months later.
Long Wait
Both Vernon, Barrasso and Turgeon have been bypassed by the HHOF selection committee for many years.  Vernon has been retired for 21 years, while Barrasso stopped playing 20 years ago. Turgeon, a 515-career goal scorer, has been retired 16 years.
FanDuel Sportsbook Promo #1
ALL STATES WHERE LEGAL
GET THE APP
SIGNUP BONUS
$1000 No Sweat Bet


$1000 No Sweat Bet
BET NOW
Lundqvist was considered a lock to make the Hall, even though he never won the Stanley Cup.
Some thought this would be the year for Alexander Mogilny, but it didn't happen. Mogilny averaged better than a point per game, and once scored 76 goals in a season.
Osgood has always said he learned much from Mike Vernon. Detroit fans talk about Osgood more because he played 13 seasons in Detroit and he is now a popular broadcaster. He has been retired as a player for 11 season. Osgood has 401 career wins and three Stanley Cup rings, two as a starter.