The Daily: Former Red Wings Goalie Greiss Retires; Sunny Days Return to St. Louis
Greiss played two seasons for Detroit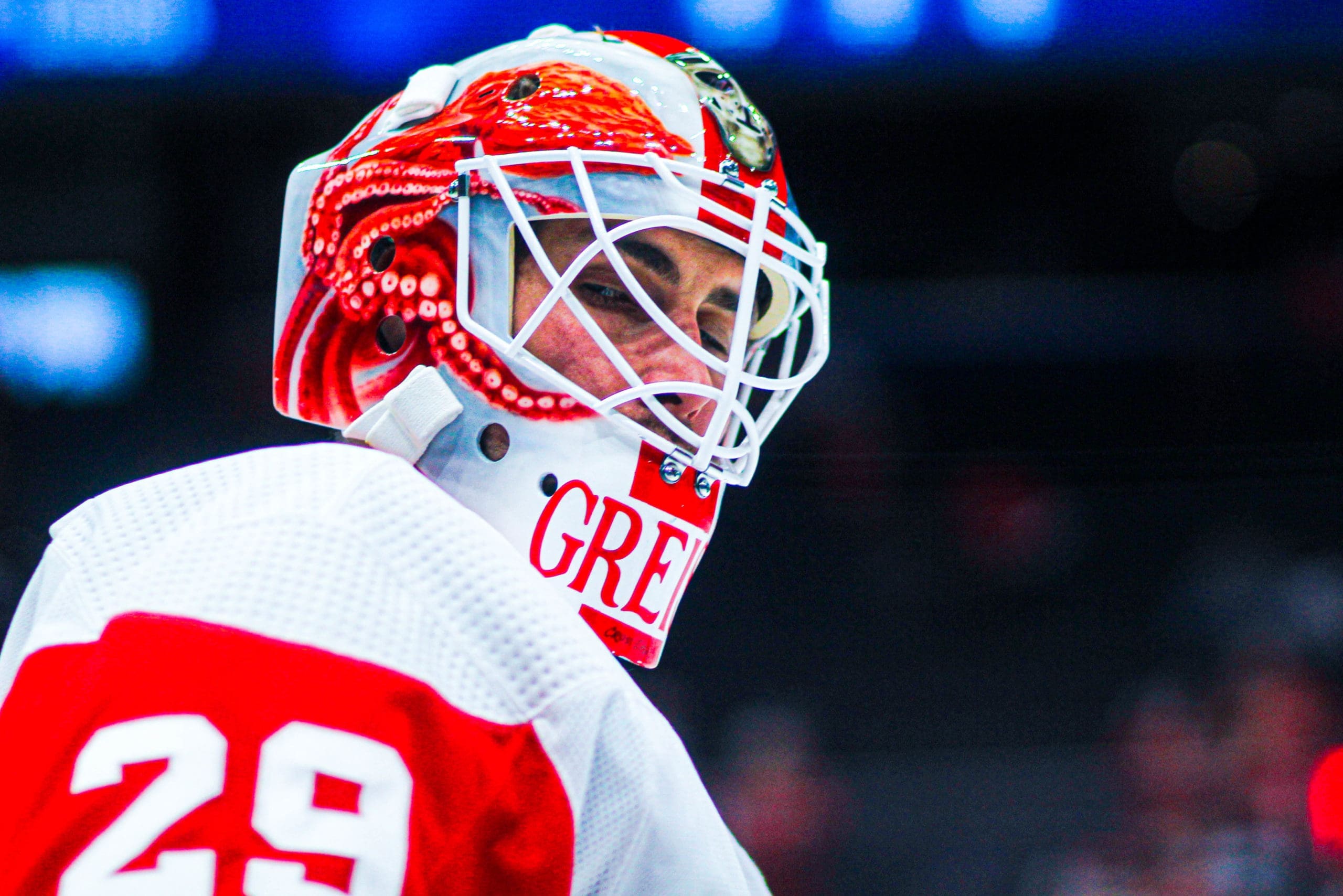 Thomas Greiss spent two of his last three seasons with the Detroit Red Wings. He would prove to be a solid addition in 2020-21, posting two shutouts, a 2.70 goals-against average and .912 save percentage.
However, Greiss slumped badly in his second Detroit campaign. The German netminder would finish the 2021-22 season with a 3.66 GAA and .891 save percentage. Joining the St. Louis Blues last summer, things didn't get any better for Greiss and on Wednesday, he was announcing his retirement from the NHL.
Thomas Greiss has announced his retirement at the age of 37.

Greiss played in 14 NHL seasons with the San Jose Sharks, Phoenix Coyotes, Pittsburgh Penguins, New York Islanders, Detroit Red Wings & St. Louise Blues, putting up a 162-130-37 record with a 0.911 SV% & 2.77 GAA. pic.twitter.com/B0DvylhEd0

— Complete Hockey News (@CompleteHkyNews) July 12, 2023
The first German-born netminder to post 100 NHL wins, teaming with Robin Lehner in 2018-19, Greiss won the Jennings Trophy with the New York Islanders.
However, Greiss is perhaps best remembered for his right-wing political views. He was a staunch supporter of Donald Trump, and a devout follower of Rush Limbaugh. In 2017, he liked a social media post that was drawing a comparison between Hillary Clinton and Adolf Hitler.
"Never arrested, never convicted, just as innocent as Hillary," read the post accompanying a photo of Hitler.
In 2021, the German Ice Hockey Association announced it would no longer include Greiss as part of their national team program.
Red Wings In Case You Missed It
Red Wings Offseason
Oskar Sundqvist quickly became a popular Red Wings player upon his arrival in a 2022 deal with the Blues. The happy go lucky forward rightfully carries the nickname Sunny. A UFA, Sundqvist is returning to St. Louis, signing a pact with team where he won the Stanley Cup in 2018-19.
Hockey Now Network
Vegas: Next season will be extremely important to these three Vegas Golden Knights players.
Los Angeles: Brandt Clarke and Franceso Pinelli were among the standouts at Los Angeles Kings development camp.
San Jose: If Norris Trophy winner Erik Karlsson is indeed dealt, who will run the power play for the San Jose Sharks?
Calgary: Despite going through significant turmoil, the Calgary Flames appear to be emerging from heavier times.
Nashville: Longtime Nashville Predators forward Cal O'Reilly is returning to the organizaton after signing a one-deal with the AHL Milwaukee Admirals.
Colorado: Colorado Avalanche draftee Nikolai Kovalenko talks about playing for former Red Wings star Igor Larionov in Russia.
Chicago: Are the NHL days of former Chicago Blackhawks captain Jonathan Toews all done?
BetMGM Sportsbook
States: All States Where Legal
GET THE APP
SIGNUP BONUS
UP TO $1,000!


Up To $1000 Paid Back in Bonus Bets
BET NOW
Washington: Handcuffed by the salary cap, it's likely that Connor McMichael will be among those sticking with the Washington Capitals next season. He played just six NHL games in 2022-23.
Pittsburgh: If there is to be a trade bringing Erik Karlsson to the Pittsburgh Penguins, it's going to have to include Jeff Petry going the other way.
Flyers Embarrassed by Social Media Incident
Philadelphia: Daniel Briere, GM of the Philadelphia Flyers, is calling a incident involving a member of the team's social media staff mocking a reporter's question an embarrassment to the organization.
Montreal: He might not have taken the typical route to becoming an NHL GM. However, Montreal Canadiens GM Kent Hughes is using his hockey epxeriences wisely.
Florida: Goaltender Spencer Knight is back to playing hockey with the Florida Panthers.
Buffalo: The bridge deal between the New York Rangers and defenseman K'Andre Miller could provide a road map for the Buffalo Sabres as they look to sign Rasmus Dahlin and Owen Power to new contracts.
Boston: Free agent forward Jesper Boqvist has agreed to terms on a one-year deal with the Boston Bruins.