Zadina Thanks Red Wings, Sees Better Chance With Sharks
Zadina felt he'd fallen behind on Detroit depth chart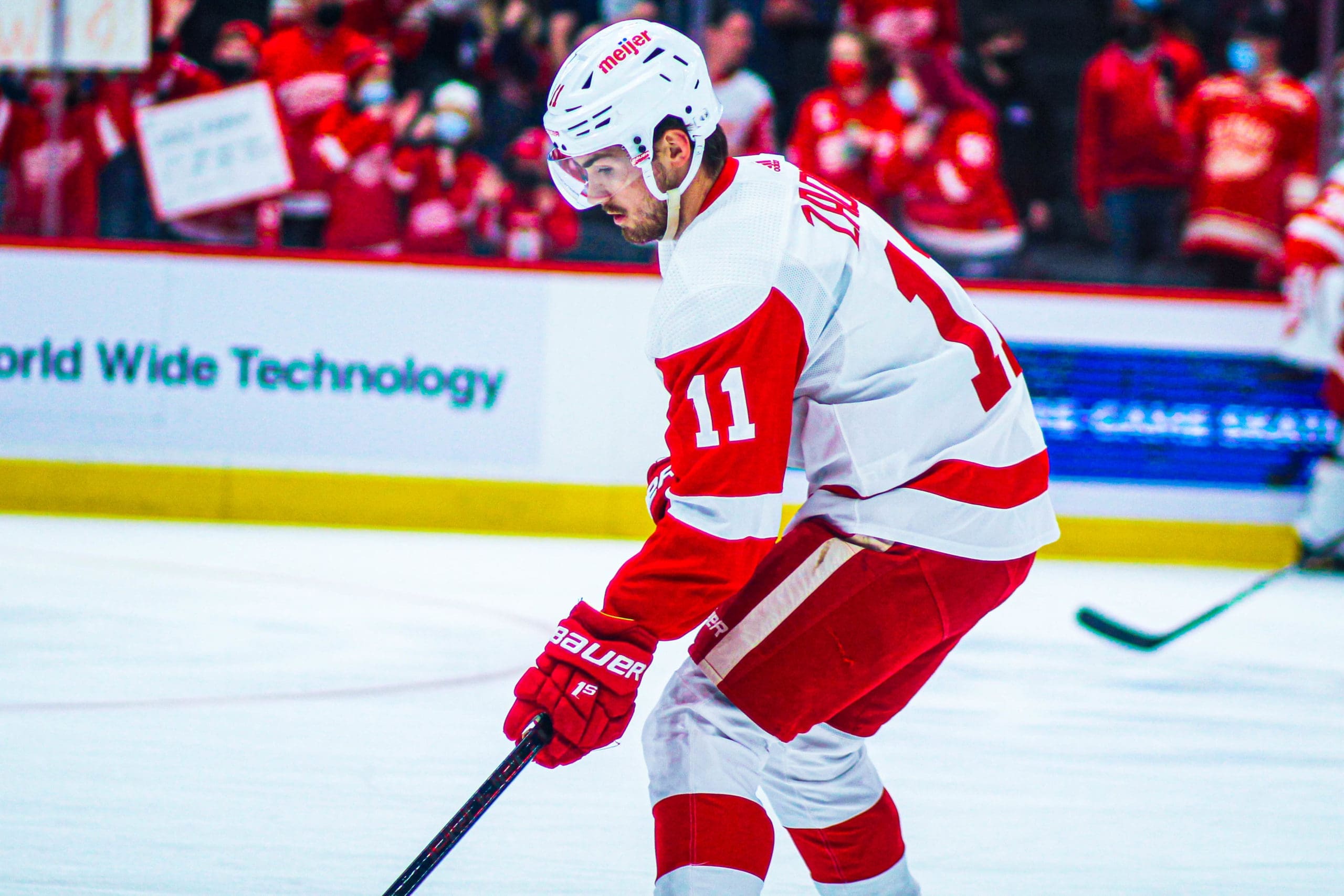 Filip Zadina isn't at all bitter with the Detroit Red Wings. At the same time, he's certain that he'll be better off no longer being a part of the Detroit organization.
"I just wanted to have a fresh start," new San Jose Sharks forward Zadina was explaining in a Zoom call availabiity with San Jose media.
Circumstances, Zadina felt, were leaving his career completely stalled as a member of the Red Wings.
"The last couple of seasons in Detroit I've been hurt all the time," Zadina explained. A broken leg last season would limit him to just 30 games.
Filip Zadina is excited to join fellow Czechia native @TomasHertl48 in San Jose. Watch his full media availability ⬇️https://t.co/a3ttuaU5fX

— San Jose Sharks (@SanJoseSharks) July 16, 2023
"I wasn't really playing, because I've been trying to get back on track with my conditioning and my strength from when I was out," Zadina said. Injuries also were impacting his 2020-21 and 2019-20 campaigns.
"It was happening again and again," Zadina said. "It was tough mentally, seeing other players playing and I was just watching those games from the stands, not really being a part of the game."
While he sat, others were soaring. Zadina got a feeling that he was sinking rapidly on the Detroit depth chart. He no longer felt like the team was counting on him to be a contributor.
"Then obviously when I wasn't playing, the other guys were getting chances to play and they play well and they earn that spot," he said. "It was tough for me from the bottom starting almost every season."
Zadina Opting To Less Money And Term From Sharks
Ultimately, that was the determining factor in his choice to approach Red Wings GM Steve Yzerman in regards to getting the chance to go somewhere else.
"I would rather go somewhere else to get the opportunity and prove to myself that I'm still as good a player as I used to be," Zadina said. "That was kind of what went through my mind when I did that decision to part ways with Detroit."
Yzerman was accommodating. He tried trading Zadina with no luck. Placing the player on waivers, again there were no takers. Eventually, the Red Wings were granting the Czech forward his unconditional release. He would sign with the Sharks as a free agent.
Betting On Himself A Scary Proposition
Zadina was walking away from two more years on a contract with the Red Wings that would've paid him $4.56 million. His pact with the Sharks is for one year and will be paying him $1.1 million.
"I kept all the people that were talking to me outside of my head, because I wanted it to only be my decision," Zadina explained. "I put a lot on the line and I want to be responsible for that the decision, not anybody else."
At first, the choice to walk away from security struck fear in his heart.
"To be honest I was actually a little scared that the interest is not going to be that high as I wanted," he said. "But it turned it there was a lot of teams that had big interest to have me on their team.
"I was really happy and glad that there are teams that would like to have me on their team."
A team with a roster in flux, there could be opportunity for Zadina among San Jose's top-six forwards, as well as on the power play. But he knows as in Detroit, he'll be required to earn those minutes.
FanDuel Sportsbook Promo #1
ALL STATES WHERE LEGAL
GET THE APP
SIGNUP BONUS
$1000 No Sweat Bet


$1000 No Sweat Bet
BET NOW
There's no bitterness toward the Red Wings evident in Zadina's words as he speaks of the team he left behind.
"I learned a lot in Detroit," he says. "I obviously want to bring the two-way game and I want to bring the scoring ability and playmaking ability back to normal and use it as a regular tool on the ice during the games."