Future Red Wings on Display at USA Hockey Arena Tournament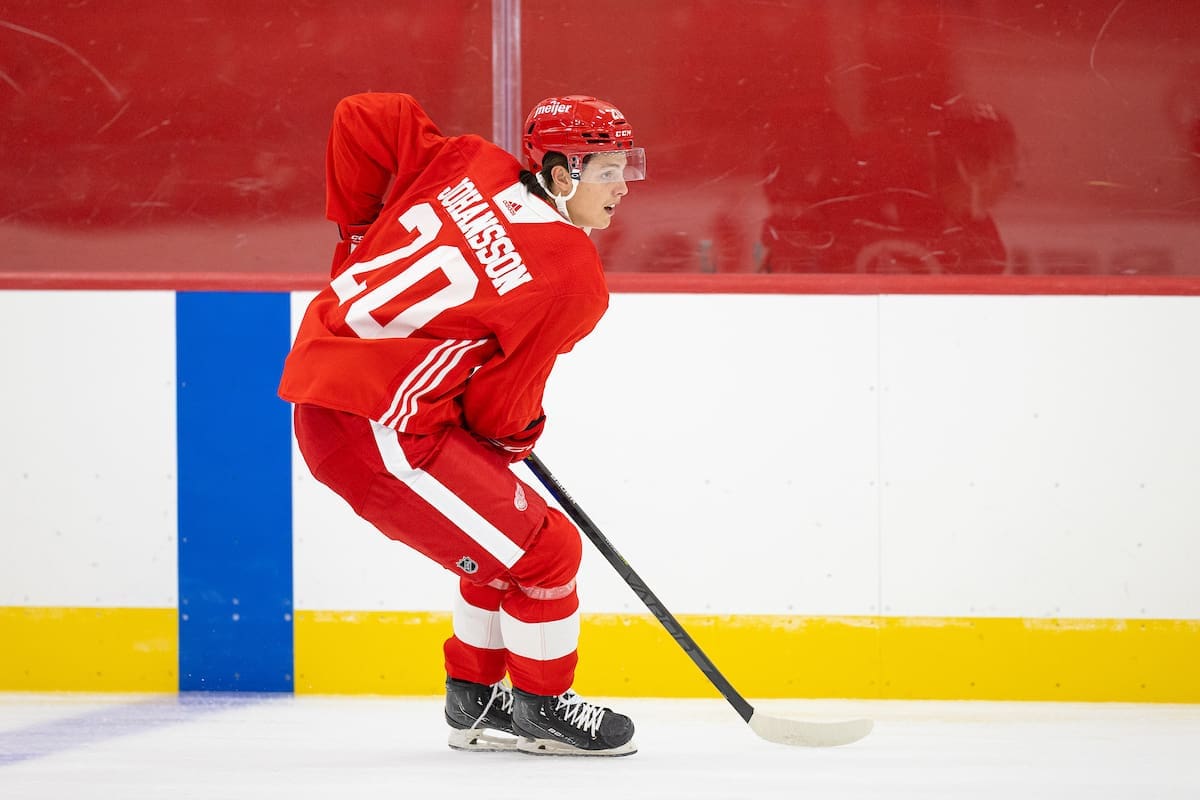 Detroit Red Wings fans can view this week's World Junior Summer Showcase at USA Hockey Arena in Plymouth as both an entertaining international tournament and a preview of coming attractions. Games start Saturday. 
Noteworthy Red Wings defensive prospects Axel Sandin Pellikka (17th overall, 2023) and Anton Johansson (105th overall, 2022) play for Sweden and goalie Trey Augustine  (41st overall, 2023) is on the USA (White) team for a tournament that serves as a warmup for the next World Junior Championships.
"I'm a little biased but I think (Augustine) was the best goalie in the (2023) draft," said John Vanbiesbrouck, USA Hockey's director of hockey operations.
As one of the top American-born goalies in U.S. Hockey history, Vanbiesbrouck owns the credentials to evaluate Augustine's potential. He also oversees the U.S. national team program.
"The No. 1 thing that is universal in the position is your compete," Vanbiesbrouck said. "Trey has trained himself well to compete. He stays in the game. Very few mental lapses in his style of play. The part that I like the most…He makes it look easy."
Tickets are available for the games that begin Saturday at 1 p.m. with Sandin Pellikka's and Johansson's Sweden team facing off against the USA (Blue) squad. Augustine's USA (White) Team plays at 4 p.m. against Finland.
More Swedish D Men
Some scouts viewed Sandin Pellikka as the best puck-moving defenseman in the 2023 draft, and Johansson played 21 games for Leksands in the Swedish League last season.
Forty-five American players are split into two different teams for this tournament. USA will have a strong team at the WJC in December.
"You are going to notice (Montreal draft pick) Lane Hutson," Vanbiesbrouck said. "It's hard not to notice him. Very nifty. Has the puck a lot.  You will notice (Philadelphia prospect) Cutter Gauthier, probably has the quickest release. (St. Louis Blues draft pick) Jimmy Snuggerud has probably improved as much as anyone."
The American program talent level continues to rise at an impressive rate. The pipeline of talent flows continuously.
"The depth just keeps getting deeper I guess is the way to capture it," Vanbiesbrouck said. "…We always had the (Chris) Chelios and the (Mike) Modano, but we were light on the Joel Otto kind of players. Now we are there, where we have depth at all positions… We have size. We have speed. We have choices."