Where Dylan Larkin Fits Among Atlantic Division Centers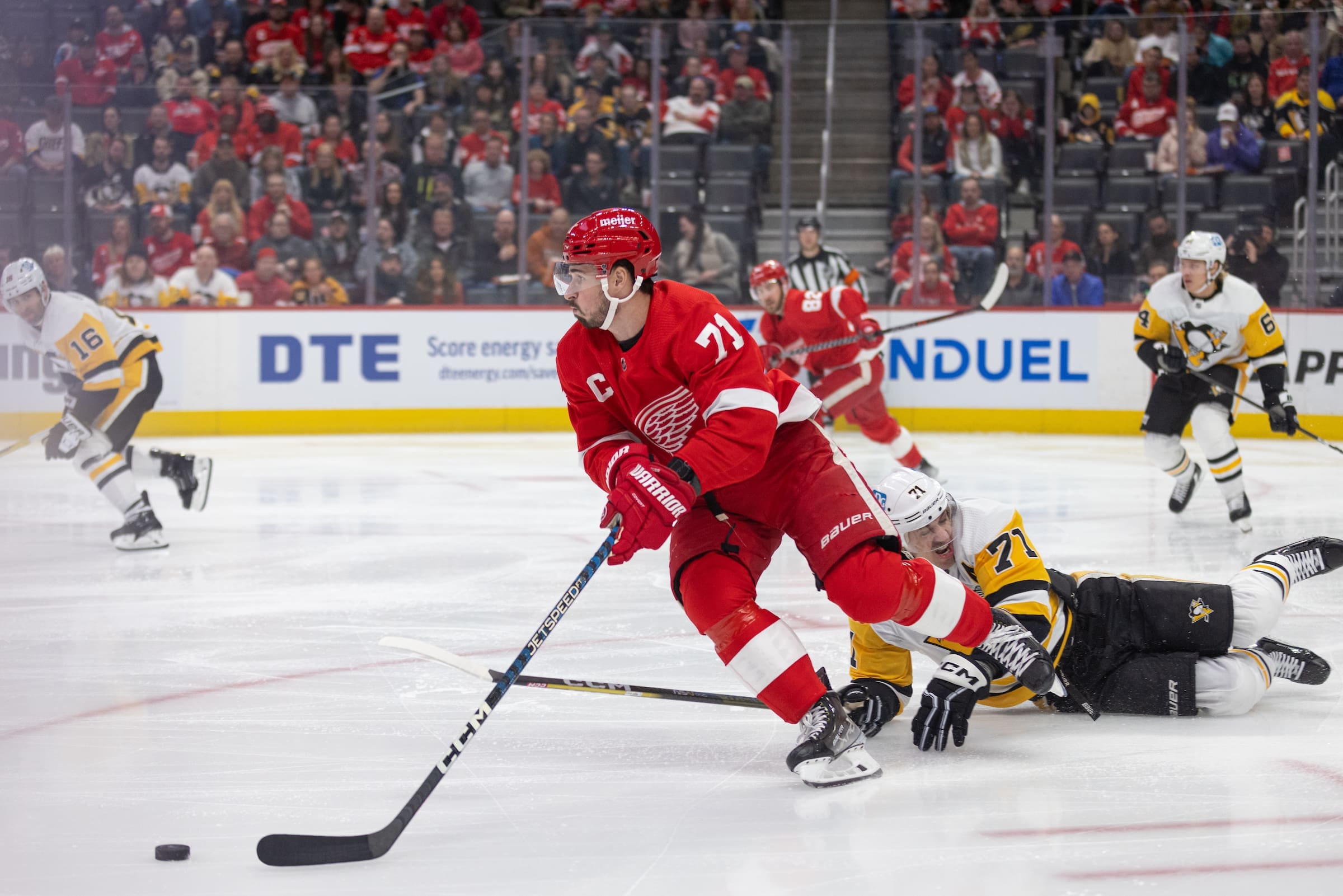 The NHL Network ranked Dylan Larkin 19th among NHL centers, just behind Evgeni Malkin (18th), Anze Kopitar (17th) and Sebastian Aho (16th).
He's obviously in good company.
The only problem for the Red Wings is that five other Atlantic Division centers are ranked ahead of him in the NHL Network ranking. The Atlantic Division is a quality division with a deep collection of quality centers.
Here is our ranking of the Atlantic Division centers:
1. Auston Matthews, Toronto Maple Leafs
Matthews has netted 188 goals over the past four seasons. The NHL Network ranked him No. 3 among centers, behind Connor McDavid and Nathan MacKinnon.
The 6-foot-3 Matthews is a thick, strong forward with a quick release and a heavy shot. He works at his game, and he becomes a better all-around player every season.
Auston Matthews scored 40 goals last season, his fourth straight season with 40+ 💪

How many goals will the @MapleLeafs center score this year? #NHLTopPlayers | #LeafsForever pic.twitter.com/ecRcRtjiGm

— NHL Network (@NHLNetwork) August 8, 2023
2. Brayden Point, Tampa Bay
Point is coming off his best NHL season of 51 goals and 95 points in 2022-23. This is a guy who scores big goals in big games. He was drafted by Steve Yzerman when he was Tampa Bay's general manager.
Point played a major role in helping the Lightning win back-to-back Stanley Cup titles in 2020 and 2021. Yzerman has certainly been looking to draft another center like Point.
3. Aleksander Barkov, Florida Panthers
Barkov is 27 and boasts a reputation as one of the best all-around centers in the game. He's already won a Selke Trophy as the league's best defensive forward. He's a beast.
He missed 14 games last season because of injury and illness and still managed to finish with 78 points. Barkov has finished with as many as 96 points in a season. In his career, Barkov shows 631 points in 664 games.
4. Tage Thompson, Buffalo Sabres
Red Wings fans understand what Thompson can do. Thompson put up three goals to help the Sabres crush the Red Wings 8-3 last Halloween. The Red Wings had no answer for Thompson who is 6-foot-7 with exceptional hands and instincts.
Thompson finished sixth with 47 goals and 15th overall with 94 points.  It's harder to think of a player who grew his game as much as Thompson did last season.
5. Tim Stutzle, Ottawa Senators
The Senators drafted Stutzle at No. 3, one spot ahead of the Red Wings. Stutzle looks like he could end up the best player in that draft. He already has 177 points in 210 games. By contrast, Lucas Raymond, drafted at No. 4, boasts 102 points in 156 games.
Last season, Stutzle posted 90 points. The way Stutzle is improving he could be soon pushing for a higher place among the league's best centers.
6. Dylan Larkin, Detroit Red Wings
Now 27, Larkin is coming off his best NHL production of 79 points. He netted his third season of scoring 30 or more goals. He isn't the premium scorer that some fans want him to be, but he can be a difference maker with his skating and skill. He's a leader and he cares deeply about trying to get this team into the playoffs.
At this point of the Red Wings' rebuild, Larkin plays a major role in whether they succeed or fail on a nightly basis.
FanDuel Sportsbook Promo #1
ALL STATES WHERE LEGAL
GET THE APP
SIGNUP BONUS
$1000 No Sweat Bet


$1000 No Sweat Bet
BET NOW
7. Nick Suzuki, Montreal Canadiens
Suzuki has shown improvement each season and he's still only 23 years old. Would project he will register 70 or more points this season.
His acquisition from the Vegas Golden Knights was certainly among the team's best decisions in recent years.
8. Charlie Coyle, Boston Bruins
With Patrice Bergeron retiring and David Krejci headed back to Czechia, Coyle is the best center they have. He's a first-rate No. 3 center, an occasional No. 2 center, but not a first-line center. He's dependable, strong on his skates, can contribute offensively. But over 11 seasons, he has been a 20-goal scorer only once.
The Bruins don't have the cap space to acquire a top-six center, but if they end up with someone on the long-term injured reserve, they undoubtedly will look for a skilled center.  The Bruins may also be looking at a hockey trade to fill the hole.