Red Wings' Thoughts to Ponder As Training Camp Approaches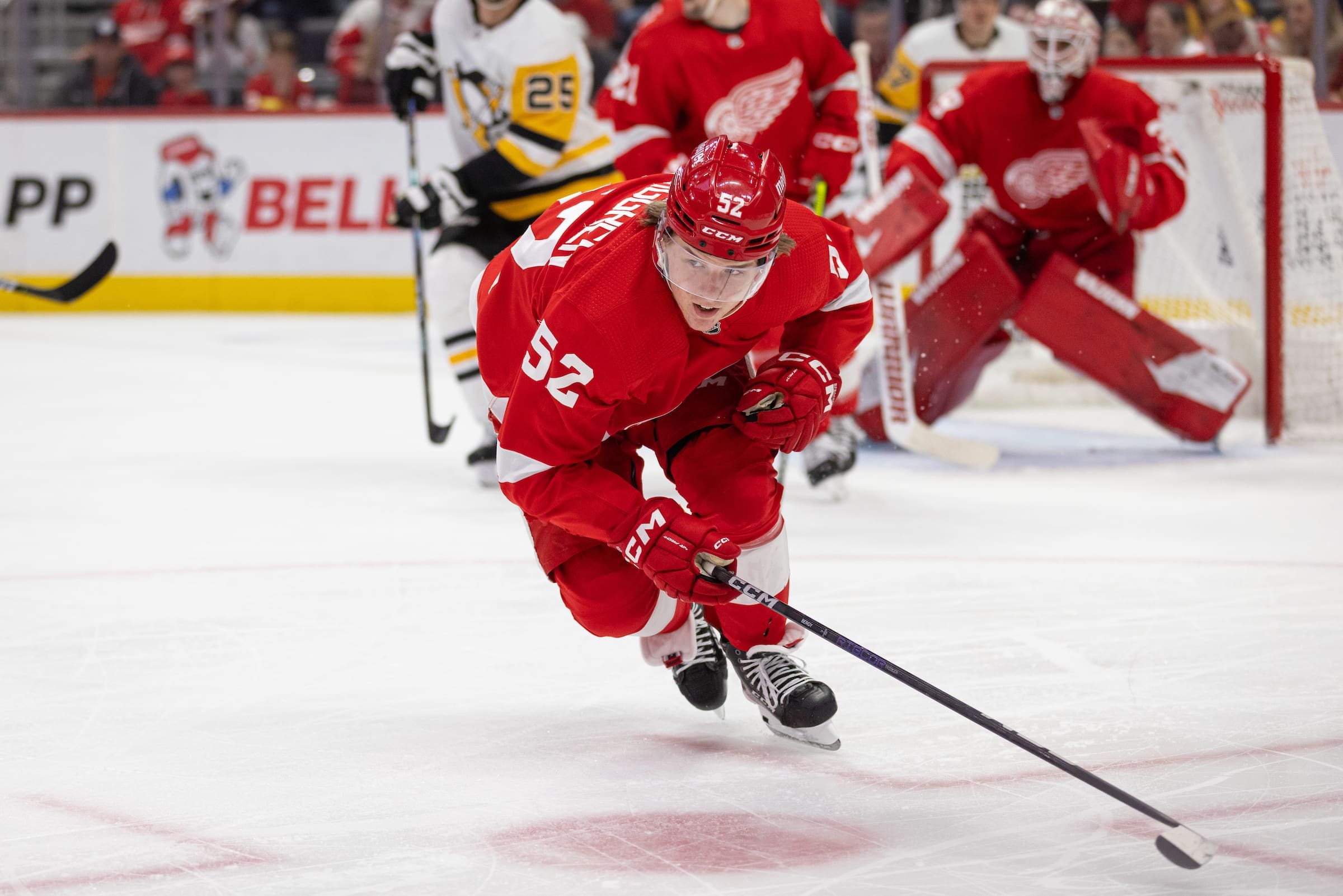 The Detroit Red Wings haven't announced their training camp schedule, but the NHL seems to be pointing to Sept. 21 as the launch date for training camps to open this season.
Here are some thoughts to chew on as you contemplate what the Red Wings want to see from their players in 2023-24:
Moritz Seider is Still Only 22 Years Old
It's hard to remember how young Moritz Seider is because he plays like a veteran. It's probably too early for him to be a Norris Trophy candidate, but it's not unthinkable. He's listed on the betting odds, although certainly not as one of the favorites.
Just the fact that it's acceptable to discuss Seider's future Norris potential speaks to how valuable he is to the franchise. When the Red Wings are a Stanley Cup contender again, Seider likely will be among the league's top five all-around defenseman and playing 26+ minutes per game.
This season, the Red Wings will be hoping just for his continued steady improvement. No player in this league, regardless of his skill level, intimidates Seider in a one-on-one defensive situations.
Berggren and Veleno Need to be Better in 2023-24
Jonatan Berggren scored 15 goals last season, but only four goals in his last 28 games.  Joe Veleno only had nine goals and only two in his last 30 games. They are both 23 and need a breakthrough season.
Those two players served a mixed salad with their NHL performances in 2022-23.
"Some positives for sure," Coach Derek Lalonde said after the season. "They took some steps but they need more growth. I have no problem saying they took a dip in their game towards the end of the year. Understandable for young players. We asked a lot of those guys. Even after the deadline their role increased more and there was an obvious dip in their production, and some of their five-on-five play. I think it's natural for young players. I think it's valuable to get those types of minutes in games. Now it's on them…You would hope there's a natural growth and progression in their game and they'll be better for it once camp starts next year."
Ville Husso Faces More Pressure This Season
The Red Wings will be looking for 55 to 58 games out of Husso in the upcoming regular-season. More importantly, they want him to be as strong at the end of the season as he was in the beginning and middle.
That's important for a team looking to be playing playoff hockey in April. Husso showed fatigue late last season. His offseason mission was to make himself stronger in terms of full-season endurance.
"I think he hit a little bit of a physical and mental wall," Lalonde said. "You could see in his play. He was not the same player or goalie at the end of the year. Hopefully, this will be a learning experience for him. Hopefully, there will be some growth in him. Maybe take him a little beyond his threshold. I think all goalies that take that step into being a starter go through. We just went through it with him towards the end of the year. He's going to be a tough player to judge because he had four shutouts, there were times he was flirting with a .910. There were times the first half of the year he may have been our most valuable player and he showed signs of being a legit No. 1. I want to be cautious in judging him on his play towards the end of the year because obviously it was not what it looked like at the beginning of the year."
DeBrincat Comes With Expectations
Alex DeBrincat has played six seasons in the NHL and scored 27 or more goals in five of those seasons. What are the Red Wings expecting from him? The fan base seems to be counting on 30 and hoping for more. The Red Wings really just want him to play well because they believe the team will be improved if he is playing at his best.
DeBrincat has only missed 16 games in six seasons. His durability plays into his consistency. His career Corsi rating is 56.7. That means his team was controlling the puck when he was on the ice most of the time. His Corsi was 59.1 last season with Ottawa. This was a player the Red Wings wanted badly.
Although Yzerman says it's not a perfect comparison, he thinks DeBrincat is similar to Hakan Loob or Mats Naslund from his playing era.
"(They're) really smart, effective players who were good all-around hockey players," Yzerman said after the trade. "I think Alex is a little bit more of a shooter than them. But really smart hockey players who were really effective all over the ice. They weren't dumping the puck in the corner necessarily and going in and running guys, but they were still very effective players. But I wouldn't categorize any of those as strictly goal-scorers or playmakers, they were a bit of a blend. Alex has shown a bit more goal-scoring ability at this stage."