Osaer is Red Wings Goalie Guru
Osaer is working closely with top prospect Cossa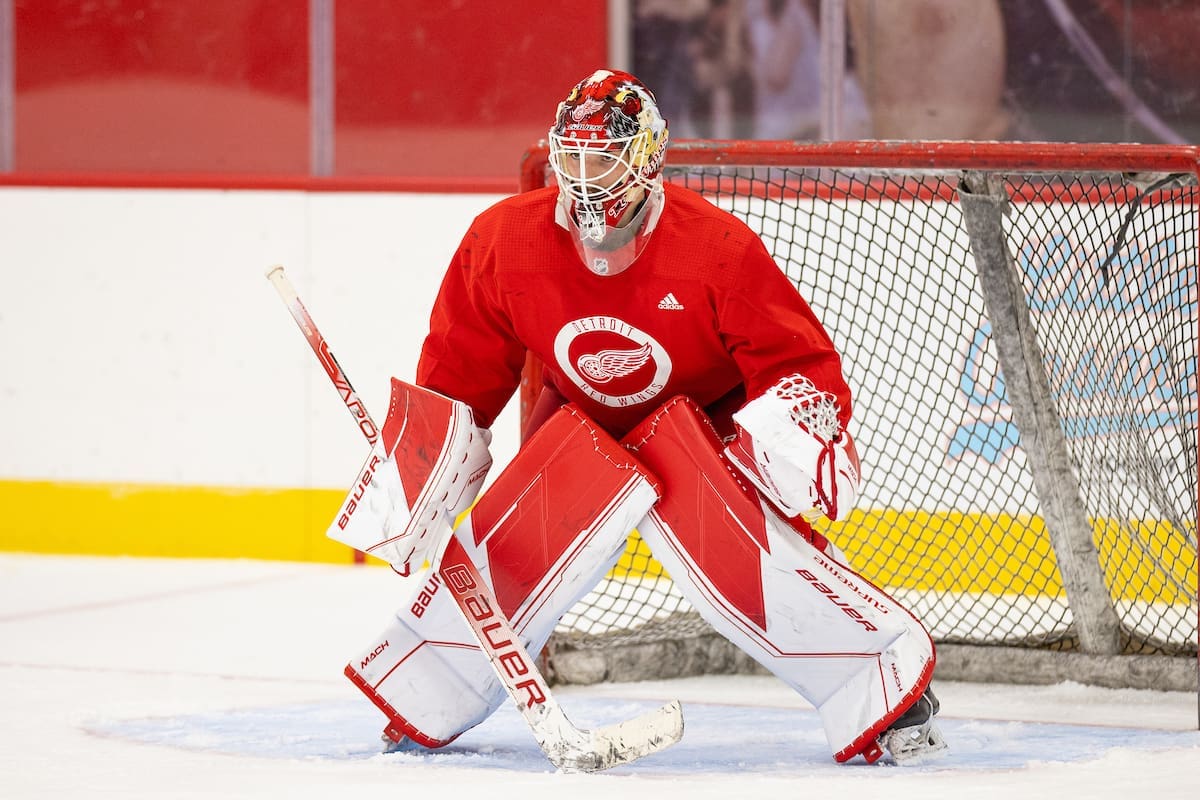 The Detroit Red Wings, like many NHL teams, are investing heavily into the development of netminders. In Detroit, the man heading this pursuit is Phil Osaer. A 2019 hiring, his title is head of goaltending scouting and development.
In short, Osaer is the Red Wings goalie guru.
Grading and developing puckstoppers is not an exact science. Red Wings GM Steve Yzerman willingly acknowledges this is an area of the game that remains in flux for his team. This is both in terms of the direction they'll be taking and investment they'll be making in goaltender development.
"The majority of the league is kind of creating these department of goaltending, so to speak, and Phil is our department of goaltending," Yzerman said. "It's debatable. We're all trying to figure out how many guys we need on the staff.
"Phil works hard. He does a lot of scouting for us. He's really dialed into the goalie world, the goalie fraternity, I guess."
In the past year, Osaer has held a big say in a couple of major aspects of Detroit's goalie future. He's taken a very hands-on approach with 2021 first-round pick Sebastian Cossa, supervising his training and development while Cossa was playing last season with the ECHL Toledo Walleye.
"Particularly him living in the Detroit area and Toledo just down the road, he was able to spend a lot of time in Toledo with Sebastian, working on his development, working on his technique," Yzerman said. "Kind of being his de facto goaltender coach.
"He's had a really positive impact on it. I know Phil really enjoys that part of the job as well. It was a very beneficial year for our organization and for Sebastian and we're very fortunate to have Phil here. It was a positive year both for Phil and the organization and for Sebastian most importantly."
Osaer Developing Goalies For Red Wings
Livonia, Michigan-born, Osaer, 43, was a college hockey goalie at Ferris State prior to playing nine pro seasons in the AHL, ECHL and Europe. His coaching resume includes junior and college stints.
"Phil does a tremendous job with our goalies, in particular with Coss," Detroit assistant director of player development Dan Cleary said. "He was down there (in Toledo) quite a bit working with him individually on the ice."
Trey Augustine backstopped @usahockey to bronze 🥉 at the 2023 World Juniors and was on the winning team in the BioSteel All-American Game.@jonmorosi spoke with him about his love for the game and committing to play for @MSU_Hockey. pic.twitter.com/Vn0FUp7s5s

— NHL Network (@NHLNetwork) January 17, 2023
Osaer was also the go-to guy in the decision to make the selection of USNTDP netminder Trey Augustine with the 41st pick of the 2023 NHL entry draft.
"Phil Osaer, who runs our goaltending department, we had a lot of conversation about the goalies in this year's draft," Red Wings assistant GM and director of amateur scouting Kris Draper said. "Phil kept coming back to Trey."
Since Augustine will be playing this season at nearby Michigan State, Osaer will have easy access to monitor his progress.
"He enjoys the development side of his job as well," Yzerman said. Cossa is spending the summer in Detroit, training regularly with Osaer.
FanDuel Sportsbook Promo #1
ALL STATES WHERE LEGAL
GET THE APP
SIGNUP BONUS
$1000 No Sweat Bet


$1000 No Sweat Bet
BET NOW
The only former netminder on the Detroit hockey operations staff other than head coach Derek Lalonde, those in the Red Wings brass admit that they defer to Osaer when it comes to puckstopping decisions.
I don't know much about goalies, to be honest," admits Cleary. "I just know they stop the puck or they don't."