Calm in Nature And in Net – That's Red Wings Prospect Augustine
Soft spoken netminder is known for his sound technique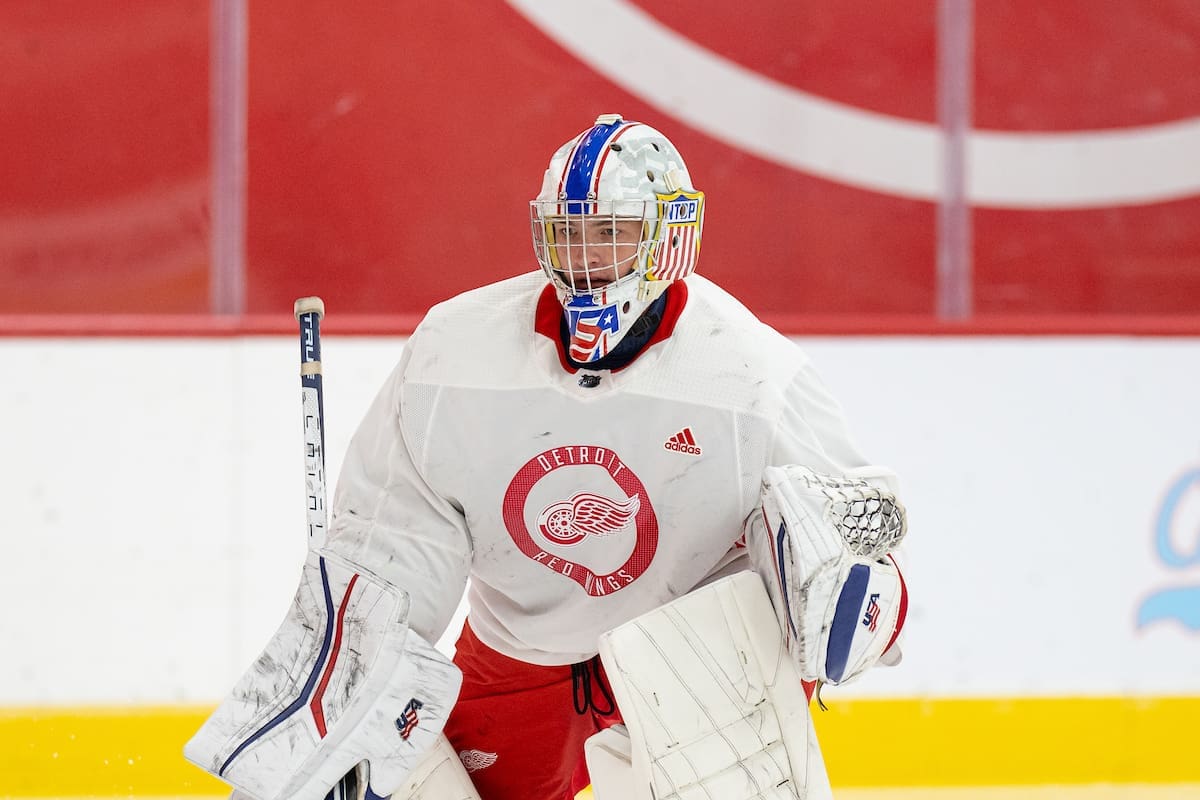 Ask a hockey scout for a report on Detroit Red Wings netminding prospect Trey Augustine and they'll tell how his game between the pipes is calm and quiet.
Speak to Augustine and you'll quickly discover that his personality is also calm and quiet.
In conversation, there's no braggadocio mixed into his message. Augustine is all about economy of vocabulary. He's soft spoken, a young man of few words.
From left, Tommi Mannisto and Trey Augustine meet after Saturday's #WJSS game at @USAHockeyArena. Both will be playing for @MSU_Hockey in 2023-24, along with #USA forward Isaac Howard. https://t.co/M12NfMAXfJ

— Pete Krupsky (@PeteKrupsky) July 30, 2023
On the ice, he won't be the one making the first move. He's a netminder who is all about technique. Simple, quiet moves are his method for puckstopping.
"I just kind of take it one play at a time," Augustine explained of his netminding style. "You can't really control what's going to happen out there.
"I think that's a big part of what I'm trying to do. Just focus on the next play, the next opportunity that I have to make a positive impact on the game."
On those occasions when the outcome of the play doesn't go his way, don't be expecting an explosion of emotion from Augustine. He's not one to splinter his goal stick over the crossbar. He simply hits reset and gets prepared to make the next save.
"Being level headed just kind of helps me stay even keel throughout the whole game," Augustine said.
Augustine A Competitor At Heart
Don't make the mistake of thinking that Augustine isn't a determined competitor. Behind his calm exterior is a burning desire to excel.
He's driven to stop the puck and it's that drive which was encouraging the Red Wings to make the USNTDP Under-18 goalie who is heading to the Michigan State Spartans the 41st overall pick of the 2023 NHL entry draft.
"Very competitive goalie," Detroit GM Steve Yzerman said. "It kind of sounds silly, but he looks really good in the net. He moves well, his positioning is good. He's a competitive kid."
FanDuel Sportsbook Promo #1
ALL STATES WHERE LEGAL
GET THE APP
SIGNUP BONUS
$1000 No Sweat Bet


$1000 No Sweat Bet
BET NOW
Currently playing for Team USA at the World Junior Summer Showcase in Plymouth, Michigan, Augustine is also matter of fact about the knock against him. At 6-foot-1 and 183 pounds, he's classified as small for an NHL goaltender.
"I'm obviously going to have play a little bit different than certain other guys they have," he said of the other Red Wings goalie propsects. "So it's finding ways I can play farther out in the crease and present as big as some of the other guys is a big part of it."