Kirill Tyutyayev Signs Contract With Toledo Walleye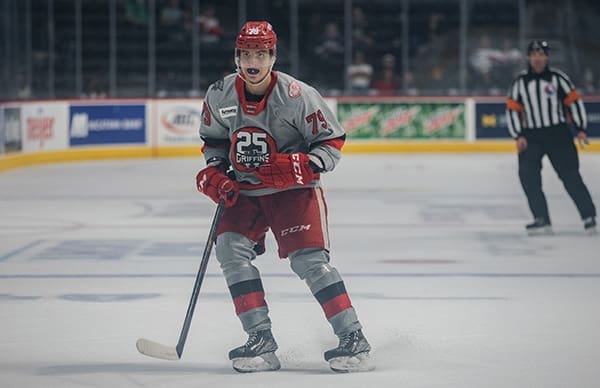 Detroit Red Wings fans have held a fascination for diminutive Kirill Tyutyayev since the Red Wings drafted him in the seventh round (190th overall) in the 2019 draft.
Some draft charts listed him as 5-foot-9, 146 pounds. Tyutyayev (pronounced two-TIE-yev) had scored 47 goals and put up 114 points in only 31 games in a Russian U-18 league. As an 18-year-old, Tyutyayev was a top-10 scorer in the MHL Russian League with 60 points in 60 games for Auto Yekaterinburg.
Fans hoped the Red Wings had discovered a pint-sized scoring wizard.
Player signing by @ToledoWalleye: F Kirill Tyutyayev (8G & 39A in 31 GP for the Fish plus 2G & 3A in 30 GP with @griffinshockey last season). This'll be his sixth pro year, third in North America. pic.twitter.com/iOdj6H986E

— ECHL Week (@ECHLWeek) August 22, 2023
Four years later, Tyutyayev is still in the Red Wings' sphere of influence, but not in their plans. The Toledo Walleye announced Tuesday that they had signed the player that many teammates calls "Toots."
The Walleye didn't provide details about Tyutyayev's contract, but the ECHL has a team salary cap of $14,870 per week for the first 30 days and $14,350 for the remainder of the season. The minimum salary for a returning player is $565 per week.
Injuries undermined Tyutyayev in his first AHL season in 2021-22. But he only managed five points in 30 games last season with the Grand Rapids Griffins.
But after the Griffins assigned him to the Walleye last season, he took advantage of increased playing time to sore. He put up 47 points  (eight goals and 39 assists) in 31 games to finish third on the team in scoring.  His stellar play carried over to the post season. Tyutyayev , 23, now 170 pounds, put up 13 points (four goals and nine assists) in 13 games.