Where Red Wings' Prospects Stand After Rookie Tourney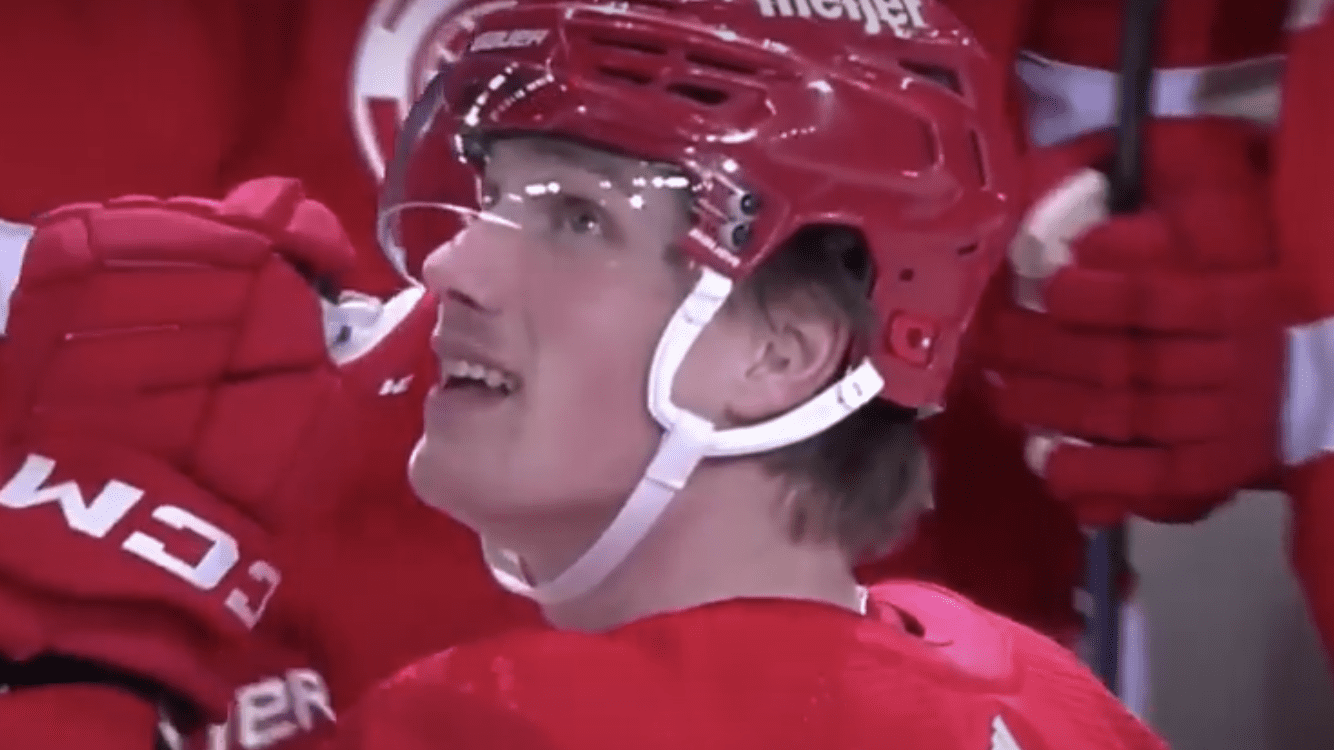 The Detroit Red Wings' yield of 20 goals-against in three games at the NHL Prospects Tournament isn't nearly as concerning as the fact that prize prospect goalie Sebastian Cossa gave up 13 of those goals.
Obviously, the Red Wings aren't losing faith in Cossa over three meaningless September games. But undoubtedly they expected better from Cossa, considering how well he performed last season for the ECHL's Toledo Walleye. He didn't perform in Traverse City like he did in Toledo.
"Maybe a little bit of lack of focus at times led to those goals against," said Dan Watson, who coached him last season in Toledo and this week in Traverse City. "Again, that's that part of trying to refocus. I'm sure he feels pressure and all that kind of stuff, but with that said, he's matured in that area. Now again that next step is going to be the mental side of it. You let one in, you gotta forget about it, you gotta move on and be ready to stop the next puck, or stop the next play. I think that's gonna be his focus here. We're gonna help him along the way as much as we can."
There's no official plan for Cossa this season, but the logical next step is to play as the Grand Rapids Griffins' goalie this season. GM Steve Yzerman will  want him to look sharper during the training camp.
"We saw the physical growth, we saw the technique growth, we saw his maturity growth all last year," Watson said. "The next step and the hardest part is the mental side of the game. It truly is hard and that will be the next step in this process. "
Elmer Soderblom (Drafted 159th in 2019)
With a goal in all three games in Traverse City, Elmer Soderblom showed the consistency that the Red Wings are hoping to see from him this season. Soderblom played particularly angry against the Dallas Stars. The Red Wings liked that.
He's 6-foot-8 and when he's playing at a high level, he is difficult to defend against. His combination of size and scoring touch makes him dangerous in front of the net.
Given all of the offseason acquisitions, the Red Wings theoretically don't have much room for younger players. But training camp always brings injuries with it. Soderblom did show promise in his 20-game stint with Detroit last season. He's probably near the front of the line to be "next up" on the Red Wings.
Cross Hanas (Drafted 55th overall in 2020)
The Red Wings liked how he played last season when Hanas, 21, went down with an injury. He was also impressive in Traverse City, leading Detroit with four goals. That tied him with Columbus player Jordan Dumais and Toronto's Brandon Lisowski for the tournament lead.
Presumably, Detroit brass would like to see Hanas log more than the 30 AHL games he had last season. But if he shows a scoring touch again this season, he could earn a trip to Detroit. Let's not forget the Red Wings want to increase offensive production this season.
"You want guys to get pucks to the net and obviously he knows where to put them," Watson said. "I thought his game progressed as the tournament went on. I thought his compete level was high, he was making better plays and decisions with the puck. But for him to get a couple there, that's big because that just grows confidence in players. And we want confident players in our locker room… He should be feeling good heading into main camp."
Marco Kasper (Drafted 8th overall in 2022)
Kasper picked up two assists in Detroit's final game, against Toronto, at the NHL Prospects Tournament. Those were his first points of the tournament.
But even if he hadn't produced a point, the Red Wings would not be concerned. They expect his scoring will come. In the meantime, they have a hard-nosed center who pushes himself to be better every day.
It will probably be Watson's job in Grand Rapids to help him find his scoring touch. But if Kasper plays well in training camp, he has a shot at making the Detroit roster.
"It's making smart decisions with the puck," Watson said. "Knowing when to make those high-risk plays. Knowing when to make sure it's a low-risk play. That's gonna be part of his development, too. Whether he's with myself or Detroit, that's to be determined. I think for him, it's knowing when to do that. You can see the skill. He is smart, he can make those plays. Now it's showing him the right times to do it. You could see this weekend, there were times he did it really well and there were times he had some turnovers. But that's correctable and it's coachable. He wants to be coached in those areas. He wants to watch video on that. Those are the players we're excited about and we're excited to coach."
Nate Danielson (Drafted 9th overall in 2023)
Danielson put up five assists in two games until he suffered a minor injury in Detroit's third game. He showed his hockey IQ in the tournament. Even when he isn't noticeable, he still finds a way to be in the play.
But he's young, and it doesn't seem possible that the Red Wings would consider keeping him. That's not Yzerman's history. He respects the development process.
William Wallinder (Drafted 32nd overall in 2020)
The Red Wings probably want to see Wallinder, 21, play a full season in Grand Rapids. Don't forget that even Moritz Seider played a season in Grand Rapids.
You could tell by the way Watson used Wallinder that he believes he can be an impact player in Grand Rapids. Wallinder played in all situations, and logged plenty of minutes The Red Wings gave up too many goals in this tournament and the 6-foot-4 was only -1. He boasts strong offensive potential.
This is a player who will be a top four defenseman.
Antti Tuomisto (Drafted 35th overall in 2019)
Tuomisto has moved up in Detroit's prospect rankings because of how well he performed in Finland in 2022-23. He's big, and makes a strong first pass. Like Wallinder, he can kill penalties and play on the power play. Tuomisto and Wallinder fit well together.  Tuomisto is also a right shot, which makes him more valuable. His play in the Traverse City demonstrated his potential to be an effective North American pro player.