Red Wings Lalonde, Seider See Defense Contributing To Offense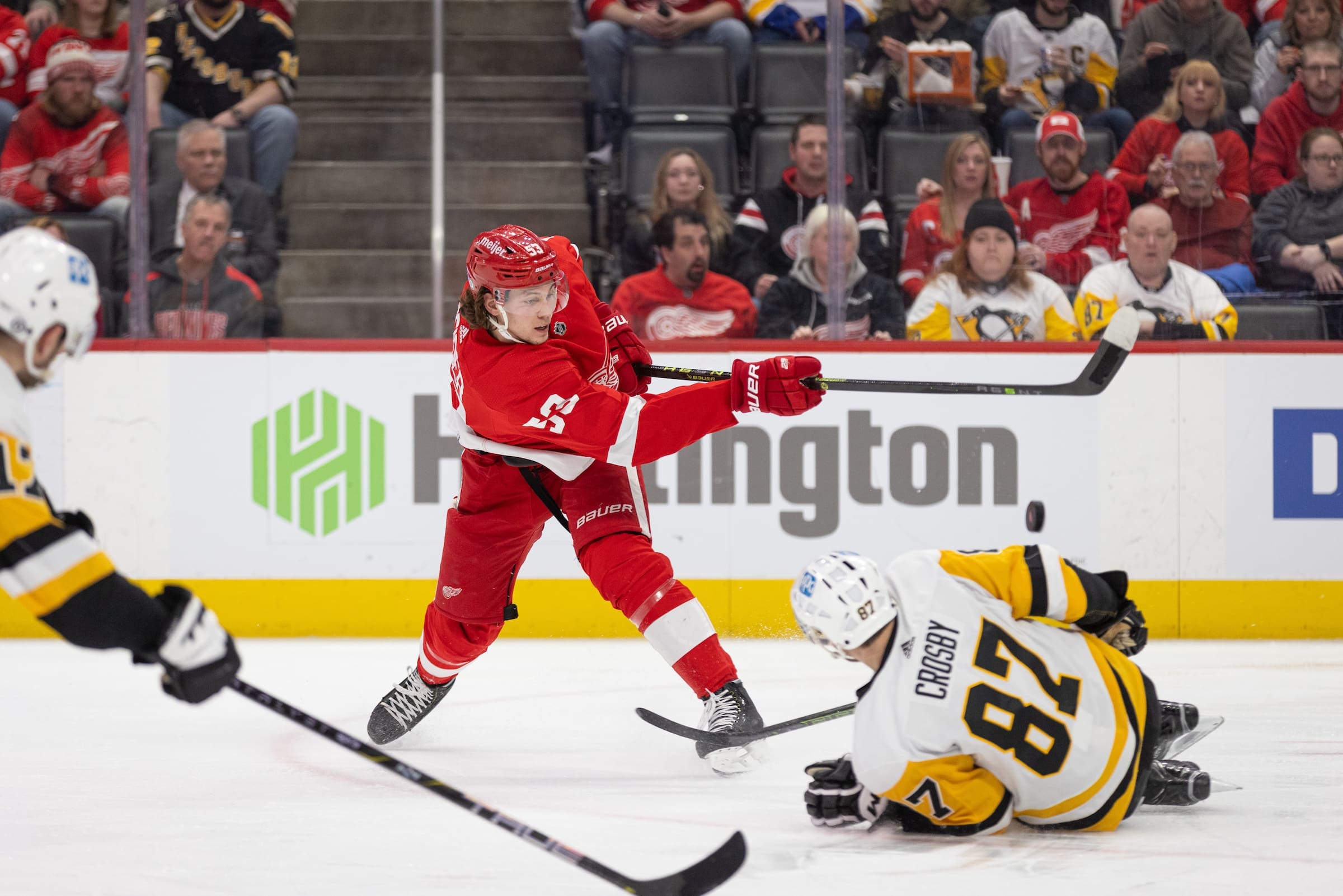 An uptick in goals is seen as potentially being a key factor in boosting the playoff hopes of the Detroit Red Wings this season. Certainly, in adding a two-time 40-goal scorer in Alex DeBrincat as well as Daniel Sprong, who netted 20 last season, and J.T. Compher, who potted 17 goals for Colorado, there is justified cause for optimism.
However, there's other reasons why the Wings think they'll be a more productive club in 2023-24 and it's resonating from the guys who play right behind the forwards. Detroit coaches and players both believe that the team's defense can drive more offense this season.
"In today's NHL, people work so hard on details with their structure, working above, it's tough to get easy offense," Red Wings coach Derek Lalonde said. "I think you need to create some offense from your back line, even on the offensive blue line.
"When I talk about what we've added in some depth scoring, I think that goes the same for some added offense on the back end."
Seider Led Detroit Defensive Scoring
Last season, Moritz Seider (5-42-47) was 29th in NHL scorer among bluelineers and his totals led the Detroit back end. However, the Red Wings rearguard additions include Shayne Gostisbehere. Playing for Arizona and Carolina last season, he was 34th among NHL blueliners, posting 13-28-41 numbers. Gostisbehere's 13 goals were rating him 13th among NHL defenders.
Moritz Seider is excellent at using his stick to gain entry into contact. pic.twitter.com/LS6IB7xFgW

— belfryhockey (@belfryhockey) September 15, 2023
Jeff Petry, an acquisition from the Montreal Canadiens, has hit for double digits in goals and 40+ points in four separate NHL campaigns.
Seider thinks simply having defenseman who are talented with the puck on their stick will improve the club's luck at both ends of the rink.
"The less we play in our zone, the more time we will have in the O zone," Seider said. "That's the ultimate goal. We want to set our guys up in the offense and have the puck more than we had it last year. We want to get better scoring chances.
the comedic acting chops on shayne gostisbehere, i'll tell ya pic.twitter.com/reUvNgpPpu

— 🦐 (@D3LLANDREA) September 24, 2023
"Ultimately, we just want to get some more goals. We want to score, we want to go out there and be the difference makers. If we play less defense, we'll definitely have a better chance."
Red Wings Sizing Up Better Defensively
Detroit captain Dylan Larkin is also liking how well the Detroit defense is now measuring up. The additions of Petry (6-foot-3, 209 pounds) and Justin Holl (6-foot-3, 197 pounds) is adding much-needed length and bulk to the Red Wings defensive corps.
"We've got added size on our back end," Larkin said. "It's gonna make it harder for the other team to get around our net. We got some big guys for clearing out the front of our net. That's gonna help out Huss (Ville Husso) and Reims (James Reimer) and (Alex) Lyon.
"Whoever's in net, it's gonna help out big time. All the goals are scored in front of the net, so we're gonna be I hope better defensively."