Red Wings Notebook: DeBrincat and 'Ghost' Display PP Prowess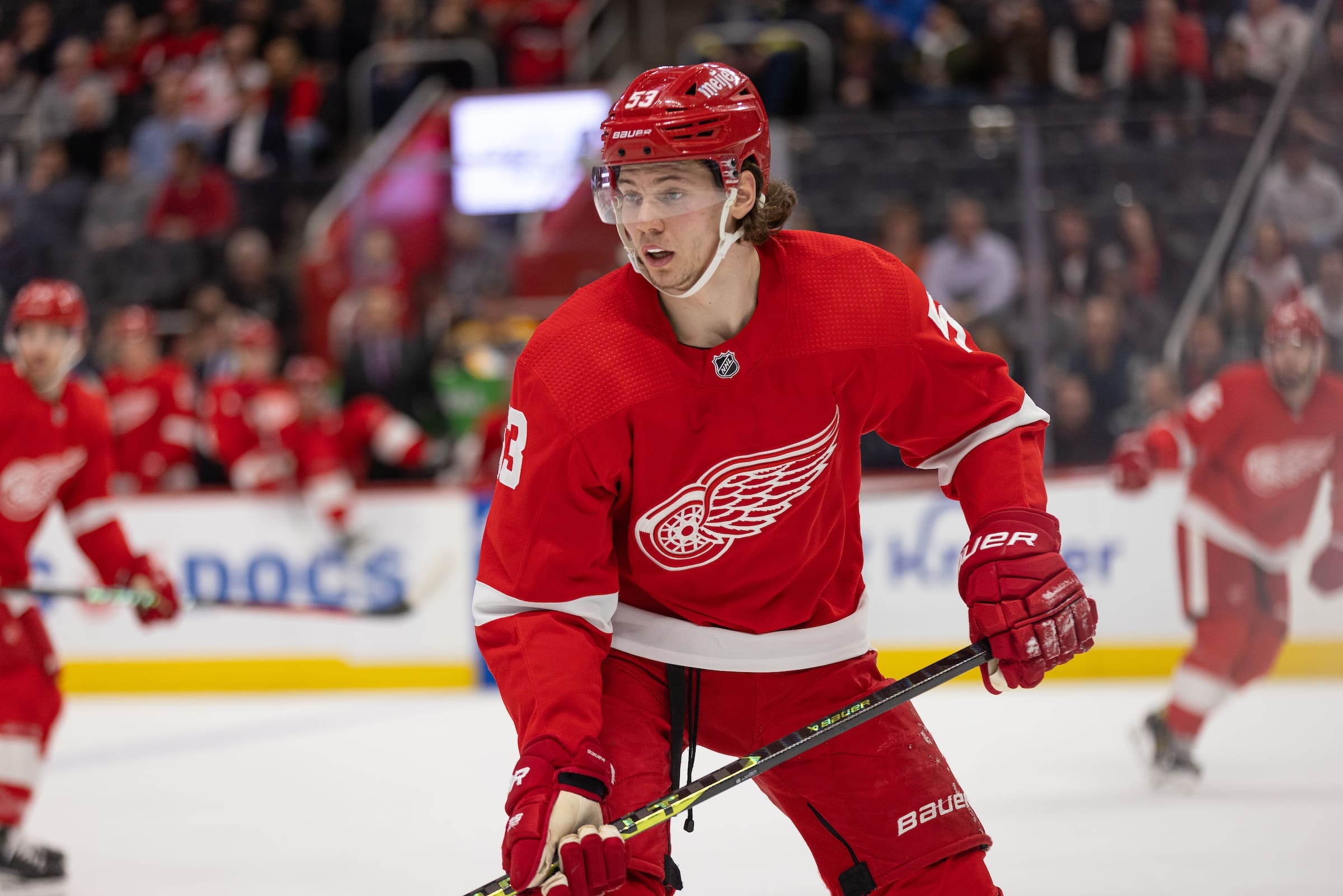 DETROIT — Eleven out of the NHL's top 12 scoring teams made the playoffs last season and that fact didn't matter at all to a Detroit Red Wings team that ranked 24th overall in goal scoring.
That's why one of the Red Wings' chief objectives this summer was to bolster their offensive production. That GM Steve Yzerman mission included bringing in players who can improve the power play. The Red Wings also want more offense coming from their defensemen.
The Red Wings showed their potential to accomplish that goal Tuesday when they went two-for-six on the power play and got a goal and four assists from the defense in a 4-3 win against the Pittsburgh Penguins. Defenseman Moritz Seider generated a power play goal, and Shayne "Ghost" Gostisbehere had a pair of power play assists. Defensemen Simon Edvinsson and William Wallinder also had assists in Detroit's first preseason game.
"Some good movement (on the power play)," Detroit coach Derek Lalonde said. "It looked organized with some of the habits. We had some really good looks, cashed in twice. But we had some really good looks. Power play is important for scoring, but sometimes momentum. It was good. A work in progress. We'll get some different looks but guys did some good things tonight. That's definitely a good step."
Alex DeBrincat was brought in to score goals, and he showed his offensive instincts with a pair of assists. He managed four shots on goal. The Red Wings used DeBrincat down low on the left on a five-on-three power play. He set up Dylan Larkin with a nifty pass through the crease area. Gostisbehere delivered a perfect feed to Seider on his tally. He was set up on the right flank.
"It's a simple goal but he makes a play on the half wall to Mo," Lalonde said "(David Perron) gets the goalie's eyes and it's in the back of the net. But that's a good play. He draw the guy over and makes a good pass. We'll have some different looks there but Shayne looks pretty comfortable in that spot."
The Red Wings were 17th on the power play last season with a 21.1% power play efficiency. If they could raise that power play effectiveness above 24% it would certainly help their scoring numbers. DeBrincat is also known for drawing penalties. He created the 5-on-3 by drawing a penalty on a power play in the second period.
Edvinsson Looks Healthy
Edvinsson missed a summer of workout time because of shoulder surgery. But you wouldn't have known based on his first game. He totaled five shots on goal in 17:38 minutes of playing time. The 6-foot-6 defenseman also posted four hits.
"He's been good," said Detroit forward Rasmussen who scored the game-winner. "He moves the puck really well. His skills are obvious. It was really nice to see him mix it up and get physical and play aggressively. I thought he had a good game."
Lalonde also thought Edvinsson was good.
"Good. He wanted to be heavy,"  Lalonde said. "These games are important, especially with him missing pretty much the entire summer of contact. Some positives. He can do things you can't teach but there's still some things in his game he needs to keep growing.
Ice Chips
The Red Wings are looking for more wins out of their backup goaltending this season. Detroit only won nine of 26 starts with the backup goalie this season.  James Reimer, projected to be this season's backup, gave up two goals on nine shots. He had no chance of the first goal…Defenseman Jake Walman got some power play time and showed five shots on goal…Lucas Raymond had no points, one shot and two hits in 12:26 of overtime.