Red Wings Top Pick Danielson Impresses in NHL Preseason Debut
Red Wings top pick makes impression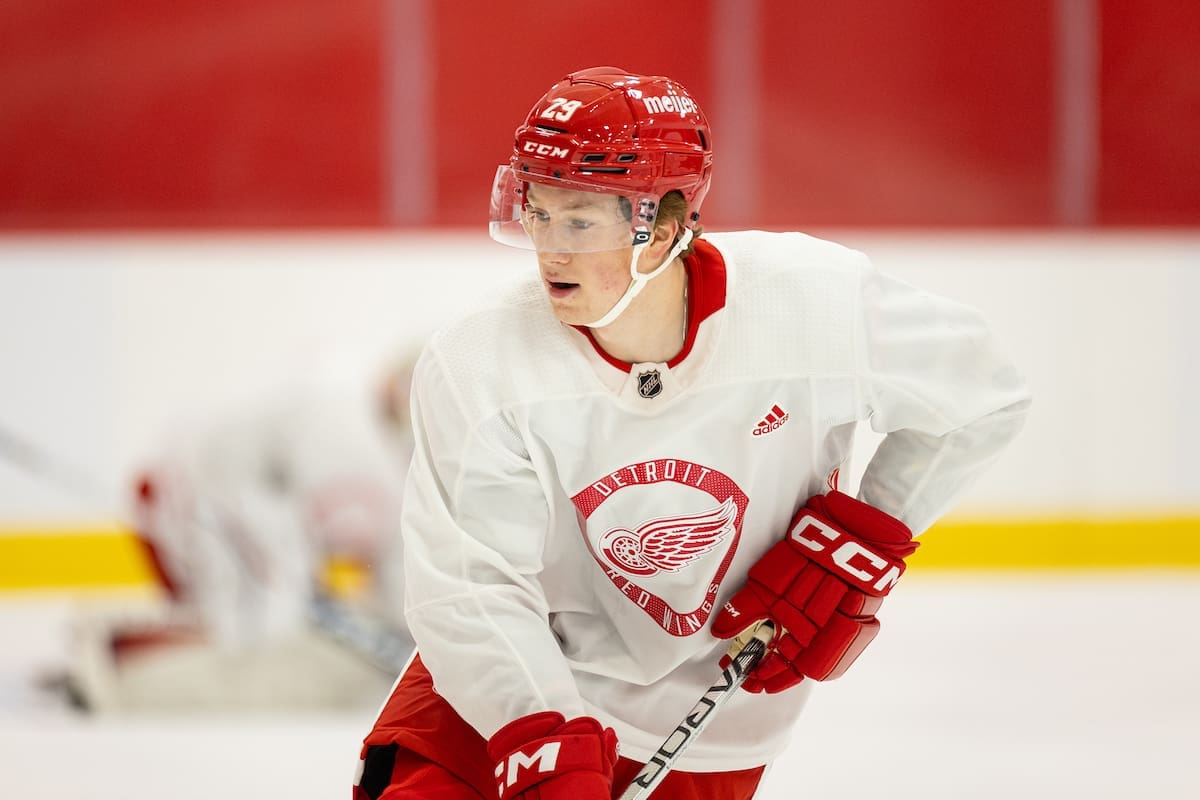 Detroit Red Wings 2023 first-round draft pick Nate Danielson finds himself in an interesting juxtaposition as the 2023-24 hockey season is beginning to unfold. He is basically a player with one skate situated in two different hockey realms.
On the one hand, he's doing his utmost to emphasize to the Red Wings that they did right by calling his name ninth overall at the NHL entry draft in Nashville not so long ago.
NATE THE GREAT! #LGRW pic.twitter.com/CcGczNZq9u

— Detroit Red Wings (@DetroitRedWings) September 26, 2023
Tuesday, in his NHL preseason debut, Danielson was scoring a goal while turning heads and turning in a solid performance as Detroit was edging the Pittsburgh Penguins 4-3 at Little Caesars Arena.
"I'm just pretty excited right now to have the first one," Danielson said.
Danielson was skating on a line with veteran pros Taro Hirose and Jonatan Berggren. He put Detroit on the board at 17:23 of the first period. Danielson finished his first taste of pro hockey skating 13:37 of ice time. Late in the game, Red Wings coach Derek Lalonde was deploying the rookie to defend the club's one-goal advantage.
"Huge, very valuable, those minutes," Lalonde said. "He's building off a good rookie tournament, a good camp in Traverse City. Some learning, too, which is great. We'd like to get him back in soon."
Early in the second period, Danielson's inexperience was arriving on the scene. Hanging on to the puck too long, Danielson wound up committing a turnover, compounding the error by taking a holding penalty.
"He scores a goal, creates some offense, does some good things but then gets himself in some trouble holding onto the puck a little too long," Lalonde said. "He turns it over, takes a penalty, it's our first penalty of the game."
It's all part of the learning curve that every rookie needs to endure in order to grow and become a better and smarter player.
I think that's what you have to experience, the pace of this level," Lalonde said. "A little different than what he's experiencing in junior."
Danielson Watching Wheat Kings
While he's wearing Red Wings colors, Danielson's world is also being colored by what's going on with his junior club, the WHL Brandon Wheat Kings. They've already played two regular-season games, going 1-0-1. Danielson, a co-captain last season, is left to watch his other club battle from afar.
"It's kind of weird," Danielson admitted. "They started already and we're just getting started here. Out first regular-season games were last weekend. We got a couple of others this week. We went 1-0-1. Shoulda won the one we lost."
It feels like a perfect night…

To get to know our ninth overall pick in the 2023 #NHLDraft, @NateDanielson! ⤵️ pic.twitter.com/FR8gwWSd5l

— Detroit Red Wings (@DetroitRedWings) September 19, 2023
At the moment, he can't help the Wheat Kings, but Danielson can help himself. It's absolutely unlikely that he'll be cracking the Detroit roster. But two years ago, that's also what they said about Lucas Raymond, who defied the odds, earning a place with the Red Wings in training camp.
"I'm here to try to make the team," Danielson states flatly. "Obviously I'm gonna take it one day at a time and just focus on each practice and each game, but overall, I'm here to make the team."
Rasmussen Remembers His Red Wings Debut
Six years, ago, Red Wings forward Michael Rasmussen was the new sensation. He was also the ninth pick of the draft and like Danielson, came out of the WHL. He remembers it well and sees a similar blossoming in Danielson's game.
Rasmussen can quickly rattle off a laundry list of the rookie center's attributes.
"Hockey sense, skill, patience," Rasmussen assesses of Danielson's best qualities. "Seems like he's got a good head on his shoulders.
"He's impressive. He's really poised. Really just goes about his business. Good attitude, works hard. Nice to see him get rewarded. Besides the goal I thought he played really well, too. He just handles himself really well."
In all likelihood, Danielson will soon be on his way back to Brandon. But he'll get at least one more opportunity to leave another impression with the Detroit brass.
"Two-hundred foot game," Lalonde said of Danielson. "A little more offense than I probably anticipated.
"We'd like to get him back in soon."