Red Wings Have Two Quality Options at No. 2 Goalie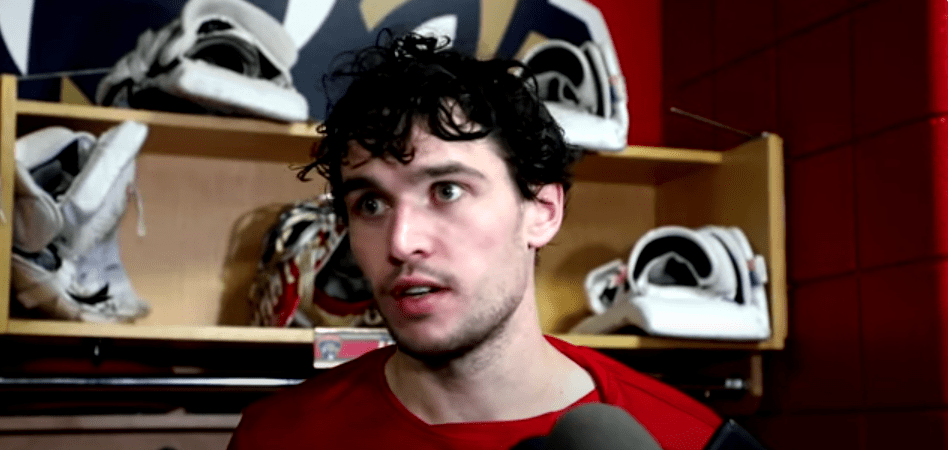 DETROIT- The Red Wings were going on a penalty kill when Alex Lyon was scheduled to play the second half of the game against the Chicago Blackhawks Sunday. Coach Derek Lalonde thought it might be a bit unfair to ask him to enter the game when he was about to face a power play.
"I gave him the option of not to go out for the penalty kill, but he was already, in his words "committed," Lalonde said.
The all-in attitude that Lyon and James Reimer both possess is why there is wonder around the NHL about whether general manager Steve Yzerman might opt to keep three goaltenders this season.  Lyon and Reimer both played well in a 6-1 win against the Blackhawks to raise Detroit's record to 3-1 in the preseason.
The starter, Reimer, stopped all 12 shots he faced against a Connor Bedard-led Blackhawks team that projects to be in the bottom of the league this season. Lyon gave up one goal in 17 shots.
"Goaltending was sneaky, really good, which is a good sign," Lalonde said.
Choosing the right goalie scenario is critical for the Red Wings. Last season, Detroit backups only won nine of 26 starts. Originally, it seemed like the Red Wings were thinking about Reimer (one-year deal) as the backup to Husso and Lyon (two-year deal) heading to Grand Rapids to be the emergency backup and perhaps a mentor for Sebastian Cossa.
Would Lightning Claim Lyon?
But with Andrei Vasilevskiy injured, there's been speculation that the Lightning, or perhaps another team, might claim Lyon if they put him on waivers for the purpose of placing him with the Grand Rapids Griffins. Lyon played impressively (14-9-4, .914 save percentage) for the Panthers last season.
Both have looked good in the preseason.
"They're consistent and they stop the puck. It sounds basic, but they look good in doing it," Lalonde said. "Both goalies (when the game was) at 2-0 made some really big saves."
Reimer has the most experience. He's been both an NHL starter and a backup. "There's a reason he has suitors every free agent year. He's a guy with a great work ethic," Lalonde said. "He's a guy who can compete in there in he's a good teammate."
Lalonde has said the decision about whether the Red Wings start with three goalies is a management call. But he knows how to deal with it because the Red Wings had Husso, Alex Nedeljkovic and Magnus Hellberg at one point.
"Obviously, with three goalies you can manage," Lalonde said. "We had to do it last year. Sometimes there's a bigger picture to it. I do think we want to be smart about the depth at that position because it hurt us last year through injury and just some guys going through different parts of their game. That's something Steve and his group will evaluate throughout."