Blockbuster KHL Trade Rumor Involving Red Wings Prospect Buchelnikov
Buchelnikov currently playing in Russian second division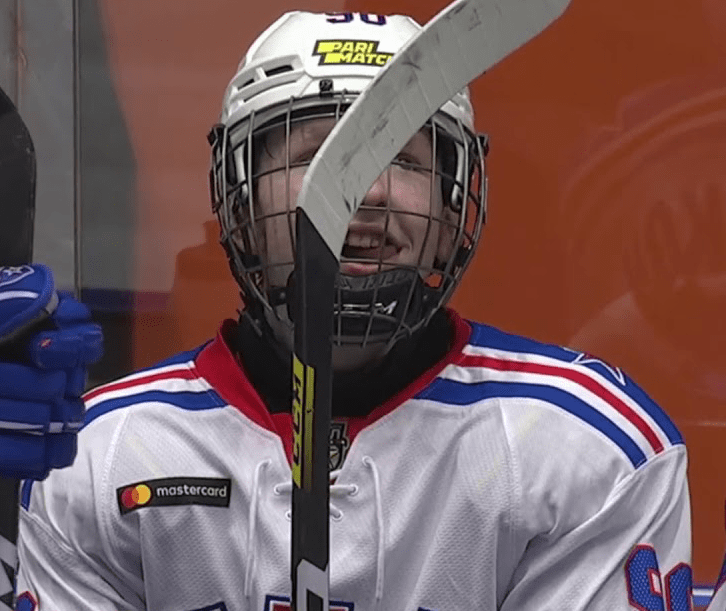 Russian website SportExpress.ru is reporting that a major deal is on the brink of going down that would see Detroit Red Wings prospect Dmitri Buchelnikov back playing in the KHL.
SportExpress is reporting that SKA St. Petersburg is close to completing a trade that would see the club land goaltender Nikita Serebryakov from Admiral. Considered among the top goalies in the KHL, the proposed price to acquire Serebryakov will be Red Wings 2022 second-round draft pick Buchelnikov, goaltender Sergei Ivanov and a significant sum of cash.
🚨 Yegor Gurzanov
🍎 Dmitri Buchelnikov #LGRW
5-2 SKA Neva #VHL pic.twitter.com/14NadzEAJZ

— Hockey News Hub (@HockeyNewsHub) October 1, 2023
Witb Admiral since 2021, Serebryakov is showing a .920 save percentage and 2.48 goals-against average so far this season. He's known in these parts because as a junior he was working with Michigan-based goaltending instructor Stan Matwijiw.
SKA was the top seed entering the KHL playoffs as the top seed a year ago. However, delivering their ouster in the Gagarin Cup semifinals was eventual champions CSKA, the team coached by former Red Wings star Sergei Fedorov. SKA is off to a terrible start to the 2023-24 campaign. With a 6-6 record through 12 games, the club sits in the eighth and final Western Conference playoff spot.
Not First Buchelnikov Rumor
Despite the struggles of St. Petersburg, the club hasn't been opting to give 20-year-old left-winger Buchelnikov a look. He's currently playing for SKA Neva in the VHL, the Russian second division. SKA Neva is to SKA St. Petersburg what the Grand Rapids Griffins are to the Red Wings. They are the organization's top farm club.
Through 12 games, Buchelnikov is averaging a point per game, with 3-9-12 totals. He's also seen duty in one game for SKA 1946 in the junior MHL, counting one assist. Last season, he was skating in 10 KHL games with SKA, tallying a goal and an assist.
#BuchSZN
🚨 Dmitri Buchelnikov PP 💪 #LGRW
2-1 SKA Neva #VHL pic.twitter.com/nZLOPBqee1

— Hockey News Hub (@HockeyNewsHub) October 1, 2023
This isn't the first rumor to be floating out there this season involving Buchelnikov. In the late summer, there was reporting of speculation that SKA was on the brink of loaning him to another KHL club for the season, Lada and HC Sochi were mentioned as possibilities, but the loan never materialized.
If this deal goes down, it will be quite the move for Buchelnikov. The location of Admiral is in the Far East Russian city of Vladivostok, near Mongolia. That's some 6,000 miles east of St. Petersburg. To put that into perspective, it's a 123-hour drive by car.