The Daily: Leafs Love 'Beautiful Mess' Bertuzzi; Three Detroit Goalies?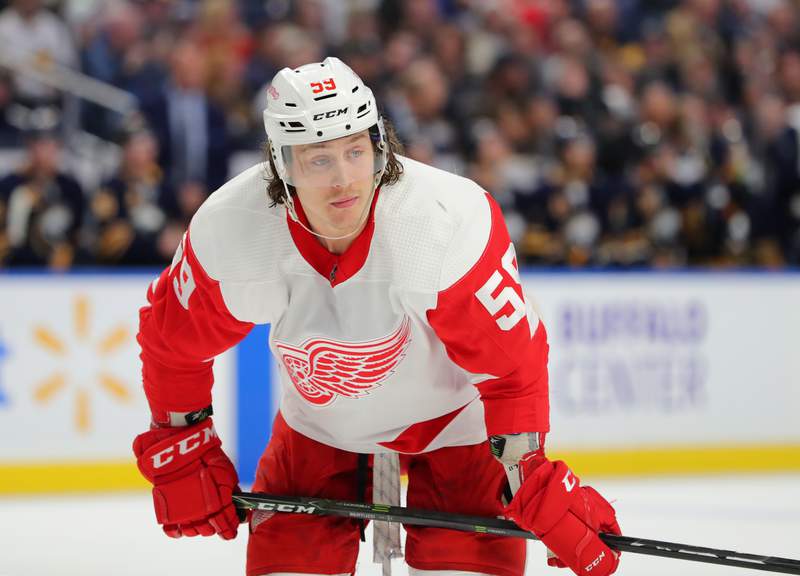 Word out of Toronto is that the Maple Leafs players are enjoying the Tyler Bertuzzi experience as much as Detroit Red Wings players did.
Sportsnet's Luke Fox wrote a fun piece about Bertuzzi drawing attention to his gap-tooth, infrequent visits to the barber, floppy skate tongues and his disdain for spending much time on stick preparation. The story's headline: Tyler Bertuzzi is the Maple Leafs' beautiful mess.
"Yeah, he's got hilarious style. Tongues out. The flow all over the place. The knob. The non-tape on the blade. Yeah, he's got it going on, for sure," Toronto's Auston Matthews told Fox. "Everybody is just looking at a stick like, 'What's going on?' As long as he likes it, that's all that matters. But it wouldn't be my first or second choice."
What's also clear in the article is that Matthews is pleased to have Bertuzzi on his wing. The Maple Leafs certainly view the feisty Bertuzzi as a player who can help them reach the next level.
Red Wings' Next Game
The Red Wings have a preseason rematch with the Chicago Blackhawks tonight in Chicago at 8:30 ET.  There's no TV call of the game, but Ken Kal's radio call of the game is on 97.1 FM.
Red Wings In Case You Missed It.
Red Wings prospect Dmitri Buchelnikov may be included in a major KHL trade
Will JT Compher center Michael Rasmussen and David Perron on the second line? Too early to know for sure.
The Red Wings may have to consider carrying three goalies to start the season.
Hockey Now Network
Carolina: Felix Unger Sorum is turning heads in the Carolina Hurricanes training camp.
Colorado: Josh Manson explains the injury that limited him to 27 games last season with the Colorado Avalanche.
New Jersey: Tage Thompson's brother, Tyce, making a case to make the New Jersey Devils' roster.
Washington: Former Red Wings player Nick Jensen returned to the ice after missing three days for personal reasons. Washington Capitals.