Red Wings Prospect Sandin Pellikka Came to Back End Through Side Door
Sandin Pellikka began playing defense to attend hockey school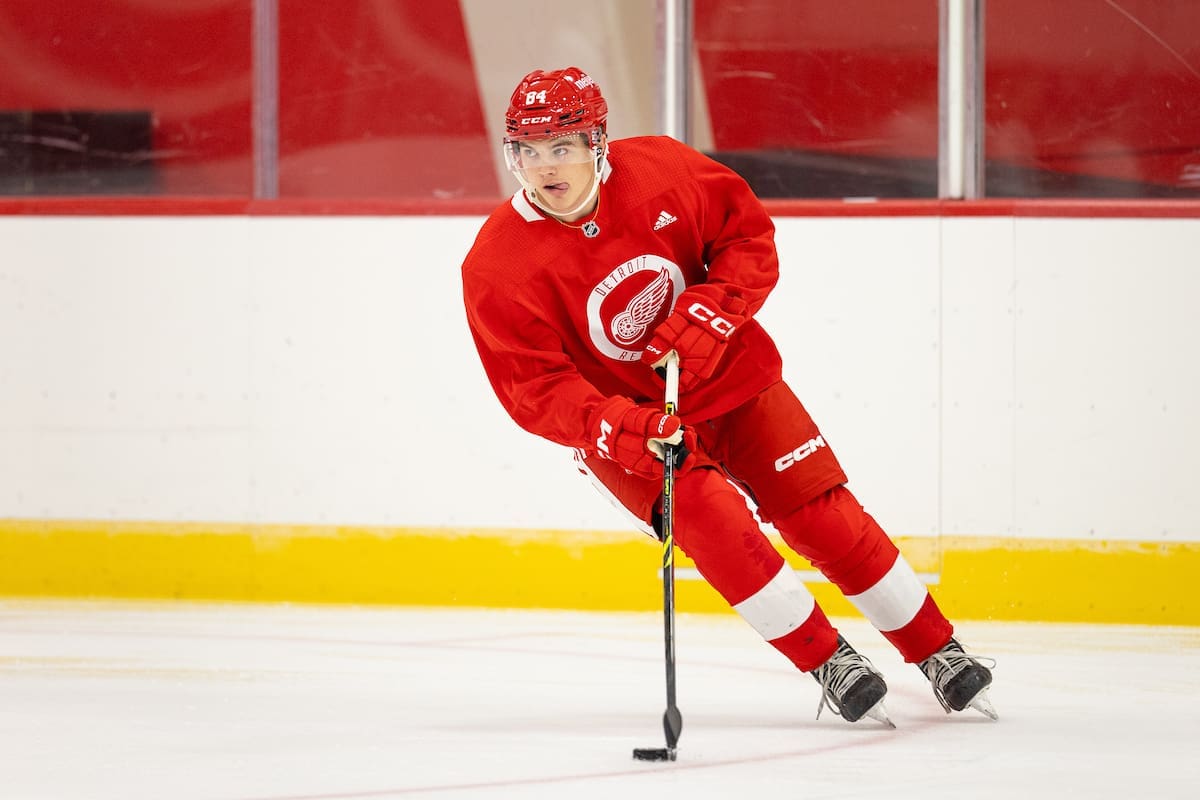 At the age of 10, Detroit Red Wings prospect Axel Sandin Pellikka desperately wanted to attend a hockey school in his native Sweden. The problem is, the only spots open at the school were for defenseman.
Sandin Pellikka was a forward. With emphasis on the was.
"In my youth I was mostly a forward," Sandin Pellika said in an interview with SHL.se. "I remember I was at a hockey school, but I don't remember where, and it only had (defense spots) left. Then I registered as a (defenseman) and after that I was a (defenseman).
"I thought I can score from that position too, haha."
That he most certainly can.
Pellikka very nearly had his 4th👀 pic.twitter.com/N6a4PeSQ3a

— IcehockeyGifs (@IcehockeyG) October 7, 2023
Recently, the player who the Red Wings were making the the 17th overall selection of the 2023 NHL entry draft was scoring goals in three successive games for Skelleftea of the SHL. By doing so, Sandin Pellikka was joining future NHLers Matthias Ohlund, Roger Hagglund, Tomas Jonsson and Anders Eldebrink as the only 18-year-old defensemen to score in three successive SHL games.
"It's a nice company to be in," Sandin Pellikka said. "I haven't thought about it that much, but it's always fun to stand somewhere."
Sheepishly, he has to admit to lack of knowledge when it comes to the list of players upon which he is now finds himself also situated.
"Well, I know a little about Mattias Ohlund," Sandin Pellikka said. "I recognize his name, but the others haven't been playing for so long and I have no idea about them, unfortunately."
Red Wings Prospect Not Setting Goals
Even though he's been scoring plenty of them early into the season. Sandin Pellikka, 18, is not setting specific goals that he's hoping to achieve in terms of numbers during his first full SHL campaign.
"Before the season, I first of all wanted to get up to the SHL and play a few minutes per game," he said. "I want to keep playing my game, be fearless and try to play with confidence.
"That is the goal I set. I want to play my game and develop that way."
Pellikka did this #LGRW pic.twitter.com/oDZCQwjE3c

— IcehockeyGifs (@IcehockeyG) October 5, 2023
While today he lists NHL defensemen Cale Makar and Quinn Hughes as players he admires, Sandin Pellikka's original NHL icon was a forward. A forward who the NHL rumor mill has recently been linking to the Red Wings.
"In 2010, my father was on a business trip in Chicago and then he bought a Patrick Kane shirt for me and my little brother," Sandin Pellikka explained. "I'd been watching Kane on YouTube and trying to imitate his stickhlandling. Dad has some clips of me as a kid stickhandling through a bunch of pucks because I've seen Kane do it. He is the first idol."