Red Wings Pick Sandin Pellikka Leading All SHL Defenders In Goals
Sandin Pellikka has goals in three successive games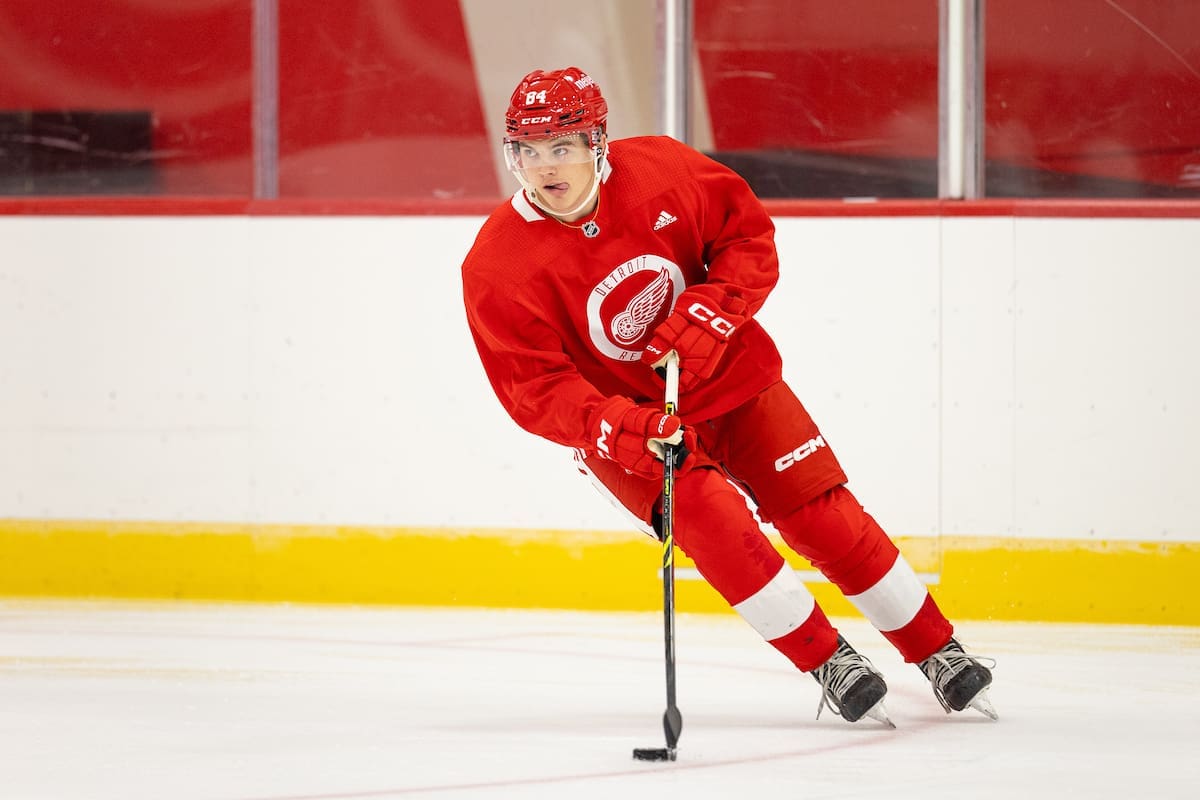 With some very important people on hand to watch him in action, Detroit Red Wings 2023 first-round pick Axel Sandin Pellikka delivered what the expectations are for an elite talent.
He was playing the hero's role.
The Swedish defenseman would net the game winner as Skelleftea was edging Leksand and fellow Red Wings prospect Anton Johnasson 2-1 in SHL action on Thursday.
Skapliga rådgivare som Sandin Pellikka har. pic.twitter.com/ZdbeXINrnf

— Tomas Ros (@Rosenrasande) September 28, 2023
With Red Wings vice president of hockey operations Nicklas Lidstrom and Detroit European Player Development director Niklas Kronwall on hand, the young defender was wowing the two legendary rearguards with his performance.
"Great team effort," Sandin Pellikka told Sweden's TV4. "A tight match, which could have gone either way."
Tallying three goals in as many games, Sandin Pellikka is leading all SHL rearguards in goal scoring. Two of his three tallies have come while Skelleftea was enjoying a power play.
"He's a great defender," Johansson said of Sandin Pellikka. "He is a good skater, he is a good puck handler."
Considered the most skilled offensive defenseman available in the 2023 NHL entry draft, the Red Wings were able to tab the skilled rearguard with the 17th overall selection.
Sandin Pellikka Joining Select Company
By netting for the third game in a row, Sandin Pellikka was joining select compnay. He is the fifth defender who is 18 years of age or younger to achieve that feat. The others are Mattias Öhlund (1995, four straight matches), Anders Eldebrink (1978), Tomas Jonsson (1978) and Roger Hägglund (1979). All four of those defensemen would go on to play in the NHL.
Sandin Pellikka's company as a U19 d-man scoring in 3 straight SHL games; Eldebrink, Jonsson & Hägglund in the 70s, and Öhlund in the 90s. https://t.co/gvefVxtpix pic.twitter.com/vrr7ETEYf0

— IcehockeyGifs (@IcehockeyG) September 28, 2023
It isn't merely offense that Sandin Pellikka is delivering for Skelleftea, though. In his previous game, the teenage blueliner was leading all players on both teams in ice time, skating 23:13. He would score the only goal for Skelleftea in a 3-1 loss to Orebo.
The Red Wings brass isn't surprised to see Sandin Pellikka playing a significant role in the SHL.
"He'll have a good year in Skelleftea," Detroit assitant director of player development Dan Cleary was predicting at the outset of the season. "Smart kid. Really composed. That translates to his on-ice game as well.
"When he's under pressure, under siege, he's got the ability to calm it down and make a play instead of rushing it. That's his demeanor.