Alex Lyon Battles Reimer to be Red Wings Backup Goalie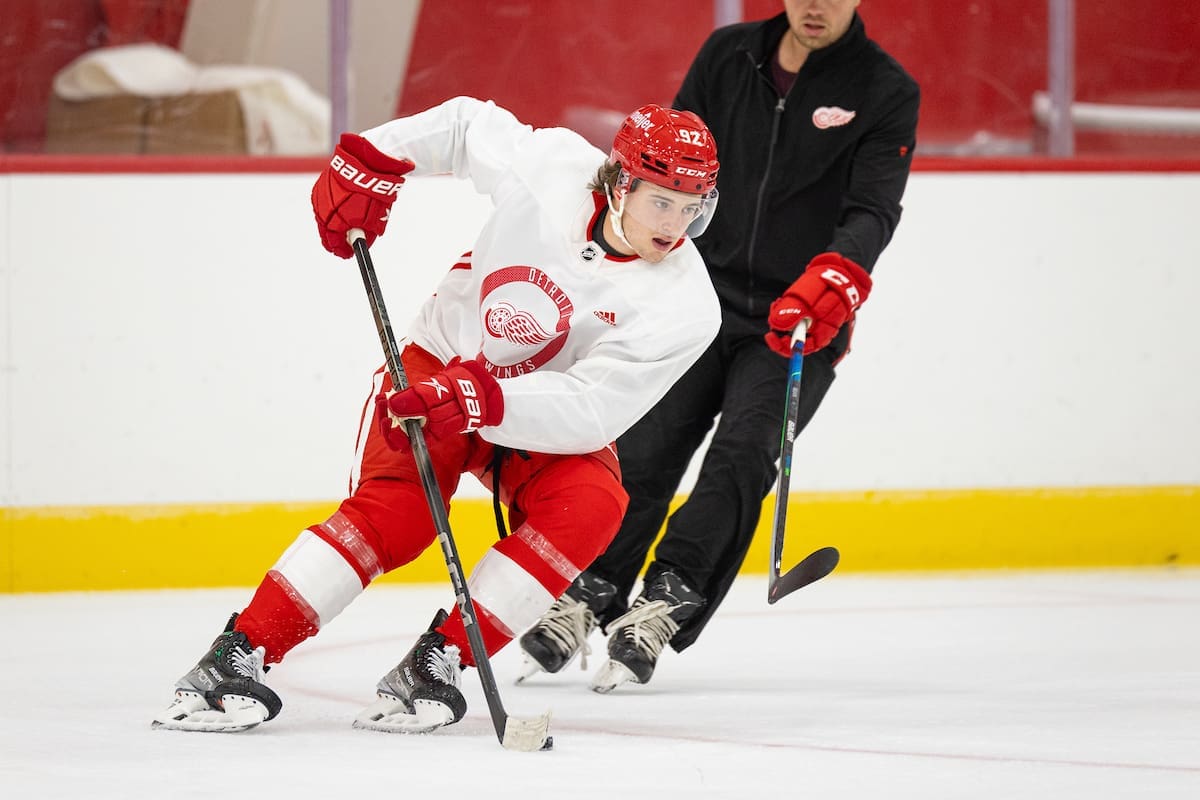 As the Red Wings settle into a preseason routine, life is anything but routine for those vying to make the team, or at least make a good impression on the coaching staff.
Two players who are chasing that goal, from different directions, are goalie Alex Lyon and forward Marco Kasper.
Lyon Hoping Experience Pays Off
Lyon is a journeyman goalie with his fourth organization in as many seasons. He spent last season in the Florida Panthers organization, splitting time between the Panthers (15 games, 9-4-2 record) and Charlotte (AHL, 23 games,. 11-9-1).
"I ultimately want to be somewhere where it's a stimulating environment going in the right direction," Lyon said before Thursday's game at Washington. "I don't know what necessarily is going to shake out. I'm very much a day by day kind of guy. My whole career's kinda been about just going out and getting better every day and letting the chips fall where they may. That remains the same and Detroit obviously seems like they're going in the right direction."
Lyon was with the Panthers during their bid for the Stanley Cup last season and with the Chicago Wolves in their Calder Cup-winning season the year before.
He hopes to lean on that experience wherever he winds up, be it in Detroit or AHL Grand Rapids. It's going to Lyon or James Reimer as the backup goalie to Ville Husso. He stopped two of nine shots in his Red Wings debut vs. Pittsburgh Penguins.
"You just understand that if you just keep fighting and trying," Lyon said. How it looks, how it's supposed to be, that's an experience that I can definitely bring to wherever I am moving forward."
Lyon played the first two periods in Thursday's 4-3 loss to Washington, stopping 11 of 13 shots. Sebastian Cossa, the Red Wings' top pick in 2021, played in the third period.
Kasper Learning as He Goes
Kasper comes from a different direction. He was drafted in the first round by the Red Wings in 2022 and was called up by the Red Wings at the end of last season before a knee injury ended his season after one game. He's hoping for more this season.
"I'm trying to make the roster, but it's always a learning process," Kasper said. "I'm a young player, coming to every practice, trying to understand the system, getting used to the systems. Working on it every day, staying on the ice longer. Just learning from the older players. There's a lot you can learn."
He's made a positive impression on coach Derek Lalonde so far.
"He's played a little bit to his identity, which I like," Lalonde said. "A 200-foot guy, good in every situation, every area. Again I just think it's experience. Trying to do a little bit too much with the puck at times. That's all part of the growth and experience. Right, wrong, or indifferent, it's probably a reality of some of these top prospects feeling a little pressure. Which they have to play through that, fight through that."
Kasper says it's an important adjustment to playing on the smaller rinks in the NHL.
"Everything is just quicker with the smaller ice," he said. "I have to make adjustments out there. It's been tough at the beginning, but I'm just trying to prove every day I'm getting better and better."
Kasper had no goals and was minus-2 in 17 minutes of action in a game the Red Wings lost at Washington 4-3. Robby Fabbri scored twice late in the third period for Detroit.