Can Veleno Give Red Wings 15+ Goals to Go With His 150 Hits?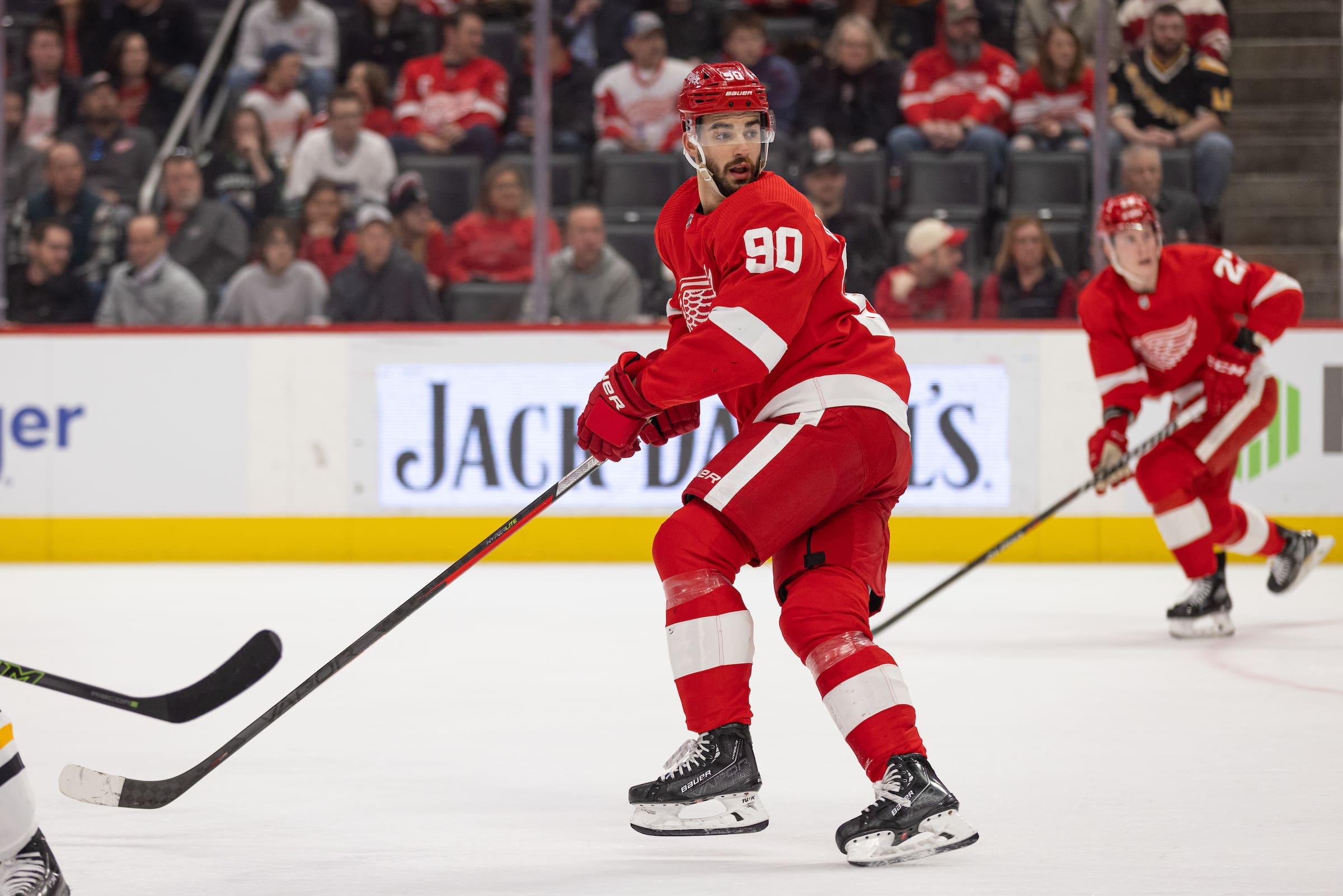 Joe Veleno has been with the Red Wings for five years and three months, and played 152 games for the team. But the Red Wings still aren't exactly sure what he is as a player.
Today, he projects to be a bottom six forward, probably the No 4 center. Veleno can skate, check and hit. He recorded 152 hits last season. He scored nine goals last season. That's where the uncertainty resides. The Red Wings are hoping he can add more scoring. If he can find the net with greater frequency, he has the skill set to be the versatile forward who moves up and down the lines depending on injuries and opponents. That's what Pius Suter did for the Red Wings the past two seasons.
Coach Derek Lalonde is looking for Veleno to raise his level of play. That translates into more consistency.
"If you recall last year, I thought he had a really good start to the season," Lalonde said. "Was very effective. It would be too easy to say he hit a wall towards the end. But he was less effective, the production was down."
Second Half Dip
Veleno generated 16 points in his first 48 games and managed only four points in his last 33 games. He was pointless for 20 games in one span and went 25 games without a goal at another point.
"I hope he takes a step," General manager Steve Yzerman said. "I hope he forces the coaches to give him a more increased role, just takes on a bigger role offensively and defensively… But I don't want him focused on going out and scoring. He's predominantly a centerman, he can play the wing. I'd like to see him potentially take on a bigger role in penalty killing. He'll have to earn that, maybe find a spot on the power play. Just play more minutes, play a bigger role for us.
Veleno averaged 12:47 minutes per game last season. Suter averaged 15:31 in his two seasons in Detroit. Even if Veleno could earn Suter-like minutes it would probably result in better numbers, particularly if it included time on a scoring line.
Looking for Increased Playing Time
"A lot of people look at the numbers, the production offensively," Veleno said at the end of last season. "In their mind they'd like for me to be that type of player. Obviously I think everyone wants to. I think there's different parts that go with the game of hockey and I think for me a lot of my game relies on me being a two-way center, being responsible in my own zone. That's still something I want to be better at. Be better defensively and I think overall just being harder to play against. If I can do those things well, if I can be hard to play against it will result in me being on the ice more and having more of the coaches trust. When I'm on the ice more it'll give me more opportunity to produce offense, to feel the puck a lot more and just to be on the ice a lot more in general."
Veleno turns 24 this season. He needs a breakthrough season now. He's on a one-year contract. At $825,000, Veleno is the lowest paid of the Red Wings forwards. If he wants added financial security, this is the season he needs to earn it.
"Joe's a young guy, he works very hard," Yzerman said. "He's a quiet guy, very respectful young man. I'm counting on him to take another step this year and be a more impactful player."