Red Wings Notebook: Larkin's Goal Was Game-Changer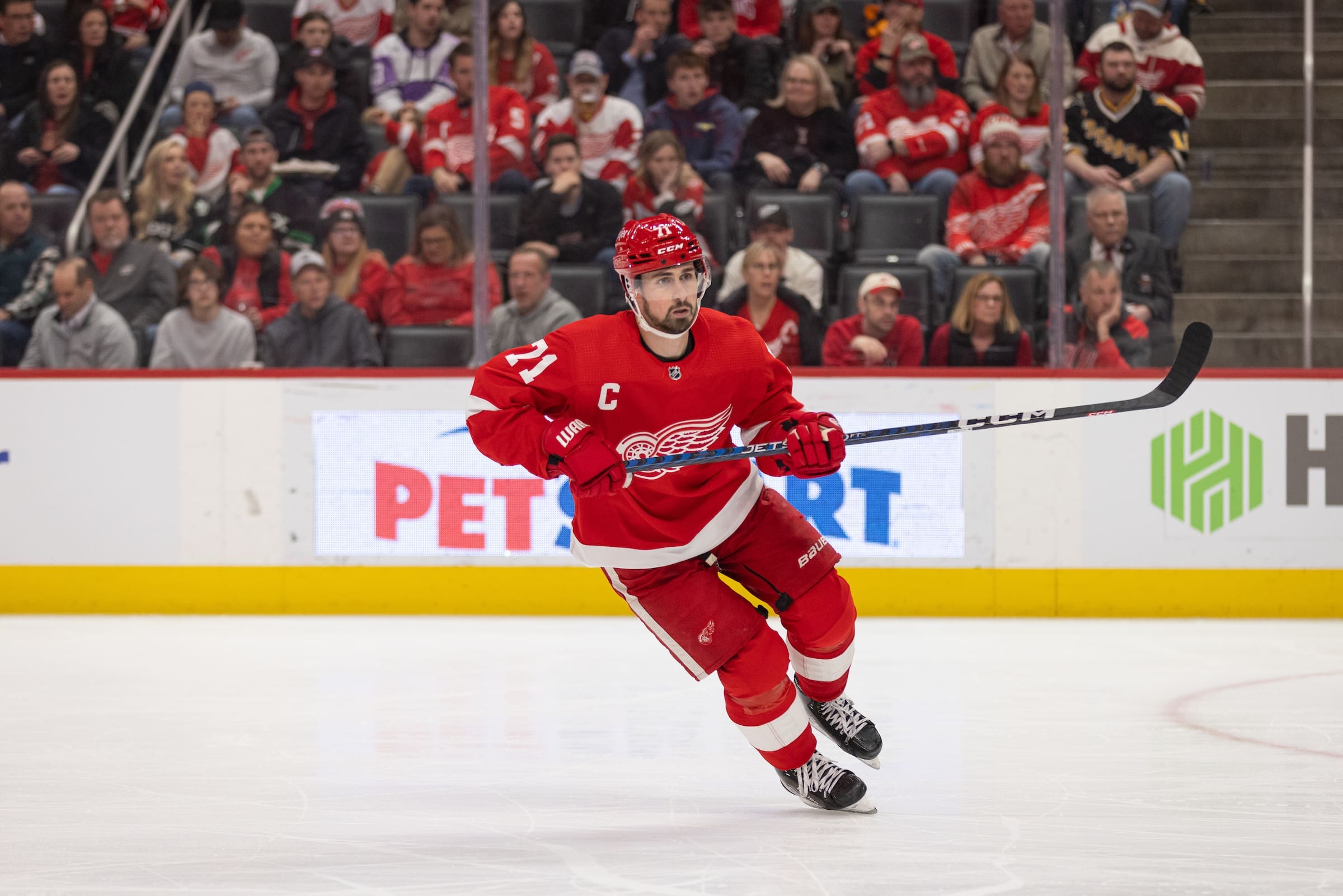 DETROIT — At the end of a shift, on weary legs, Red Wings captain Dylan Larkin found a burst of speed that energized his team's offense and put them on the right path toward victory.
Taking a rink-wide pass from Lucas Raymond, Larkin streaked past rookie Parker Wotherspoon and beat Vezina Trophy winner Linus Ullmark for a goal that tied the game 3-3 at 6:50 of the third period.
"It's pretty special to see after 40-50 seconds someone getting by another player like that," said teammate David Perron. "You don't see too many guys that have the ability to do that in the league.
Over the next three minutes and 44 seconds, the Red Wings added goals from Perron (8:56) and Andrew Copp (10:34) on their way to a 5-4 win against a Boston Bruins team that came into the game at 9-0-1. The Red Wings lead the NHL with 20 third-period goals this season.
Raymond to Larkin! WHAT A GOAL! TIE GAME!!!!
LFG!!!!!!
#LGRW pic.twitter.com/Psjj9oyXuz

— Red Wings Rant (@Red_Wings_Rant) November 5, 2023
"That was a big one," said J.T. Compher who had two assists in the game. "Not a lot of guys have the juice left in their legs at the end of a long shift to do what he did. It speaks to how in shape he is and how competitive he is. For our captain to step up there and get a big goal, you feel it on the bench, you feel it in the room. Happy for him, too. He's been working hard all year, leading the way."
Moved Past Sid Abel
Detroit coach Derek Lalonde called the goal, Larkin's fifth of the season, "uplifting."
"It's frustrating to keep finding ourselves down when we're playing a pretty good … not perfect by any means but we're playing a pretty good game," Lalonde said. "You get rewarded and it gives you a little bit of a lift. Obviously, that goal was a big one."
Larkin finished with a goal and an assist for his fifth multi-point game of the season. He leads the Red Wings in assists (12), points (17), penalty minutes (25) and power play points (11) through 12 games. His goal was the 184th of his career, allowing him to move past Sid Abel for 19th place on the Red Wings' all-time list.
Mistake at the End
The Red Wings coach wasn't pleased that his team was trying to score on a five-on-three power play in the closing minute when they held a 5-4 lead.
"I thought we could have (better) handled the five-on-three at the end," Lalonde said. "There was some things with our immaturity. We just haven't been in these situations. Just play catch around the perimeter and the game's over. I don't know why we were trying to chase one in the end. It put us in a vulnerable situation, but there's some youth and we just haven't been in these situations. So hopefully we can learn and grow from it."
Husso's Rising GAA
Lalonde said he wanted to watch video of the game before assessing goalie Ville Husso's play. But here are the facts: he has given up three or more goals in seven of his eight starts this season and 14 of his last 16 going back to last season.
"We can't give up freebies," Lalonde said. "We battled, he made some saves in the end. Found a way to win the game but have to watch it back. That's not a recipe for success going forward."