Red Wings Need Larkin Line Buzzing Again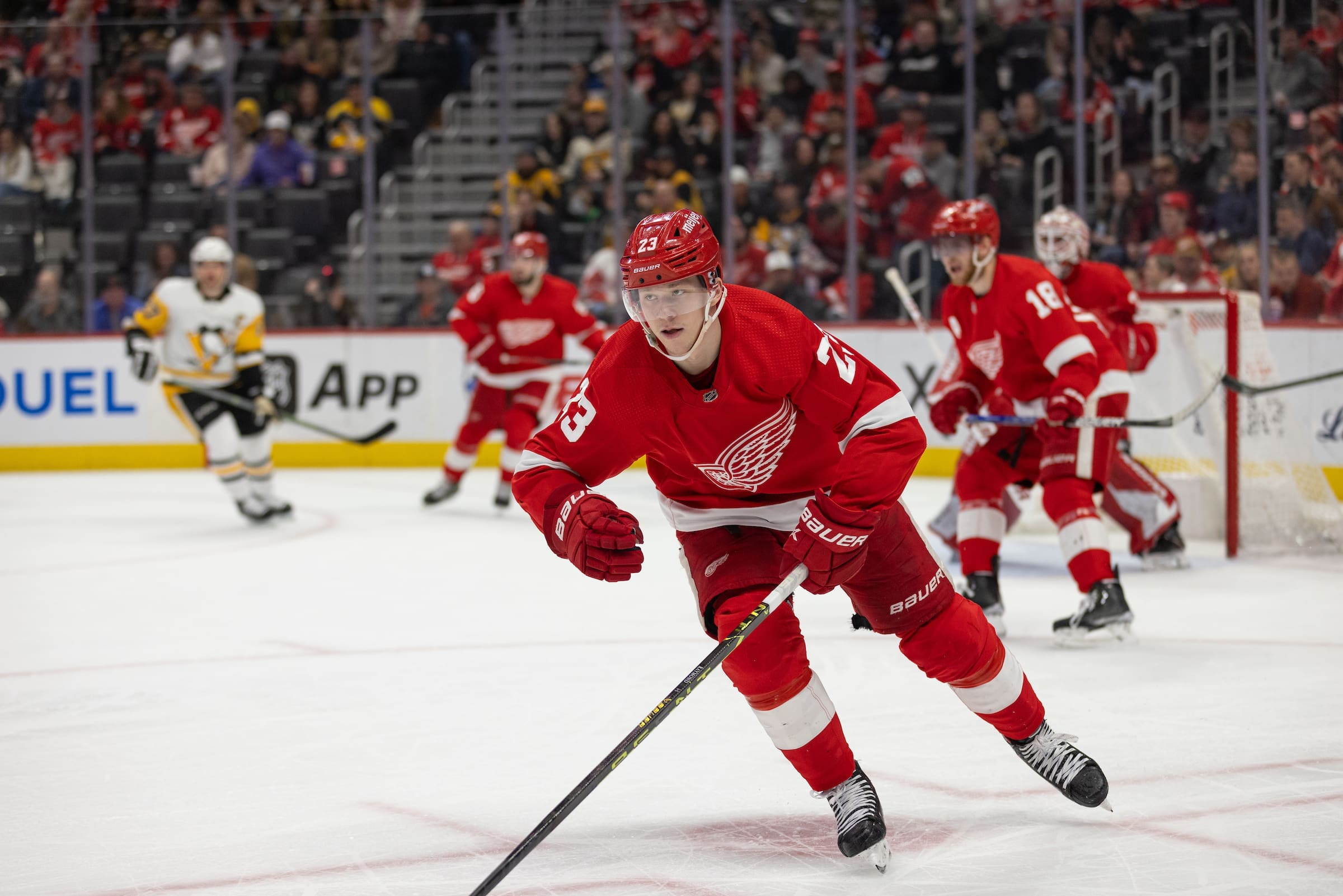 The Detroit Red Wings hope to see their top line flying  against a Columbus Blue Jackets team that has given up four or more goals in more than half of their games this season.
The Blue Jackets have lost seven of their last eight, and surrendered five goals in three of their last five games.
Coach Derek Lalonde said the line of Alex DeBrincat, Dylan Larkin and Lucas Raymond isn't getting enough chances. DeBrincat has no goals in his last seven games, while Larkin boasts one and Raymond has three. The line has no points in its past two games.
Alex DeBrincat through 14 games this season:

First seven games – 9 goals, 4 assists 📈
Next seven games – 0 goals, 1 assist 📉#RedWings | #LGRW pic.twitter.com/tzNQ72AuwJ

— Hockey Reference (@hockey_ref) November 10, 2023
"Teams are going to take the rush away from them and they're going to have to generate in other ways and that's on them," Lalonde said. "A little more simple, take what's given. Sometimes, it's going to have to come off the forecheck if the rush isn't there. Our most successful line right now is the Ras line and it's all off the forecheck. "
That fourth line includes Michael Rasmussen, Klim Kostin and Christian Fischer. They have been noticeable over the past two games.
Fewer Turnovers Needed
What does Lalonde want from the Larkin line?
"A little more gritty," Lalonde said. "Just smarter at times. The keep trying to force … that line turned a lot of pucks over from the top of the circle to the top of the circle. Obviously, that's not a recipe for success."
Larkin said Friday that his line has been inconsistent with their chances.
"I think a big part of that is the power play," Larkin said. "I would say a game like last night we generated chances, we just didn't put the puck in the net. New York we didn't play good, so it's been inconsistent with us. Obviously I think other teams are watching it and noticing matchups, but it's nothing that all three of us aren't used to. We have to work through that. "
Husso Will Play Vs. Columbus
The Atlantic Division is already showing signs that the scrap for a playoff spot is going to be tight. The Red Wings were hoping to get four points in their final two games before heading off to Sweden for games. After only landing one point against Montreal, they really need to earn two against Columbus.
Lalonde said Ville Husso will be in the net for Detroit and the Red Wings will not have Austin Czarnik available against Columbus because he was sent crashing into the boards by Montreal defenseman Jordan Harris Thursday. Lalonde thought a penalty should have been called and it wasn't.
Czarnik left the arena on crutches Thursday night and had some tests today.
"We'll probably get a feel tomorrow if he's making that trip (to Sweden) with us," Lalonde said.
Shayne Gostisbehere and Robby Fabbri will be back in the lineup after sitting out the game against Montreal.
The Red Wings are leaving for Sweden Saturday after the afternoon game against Columbus.