Red Wings Head To Sweden Feeling Better About Their Game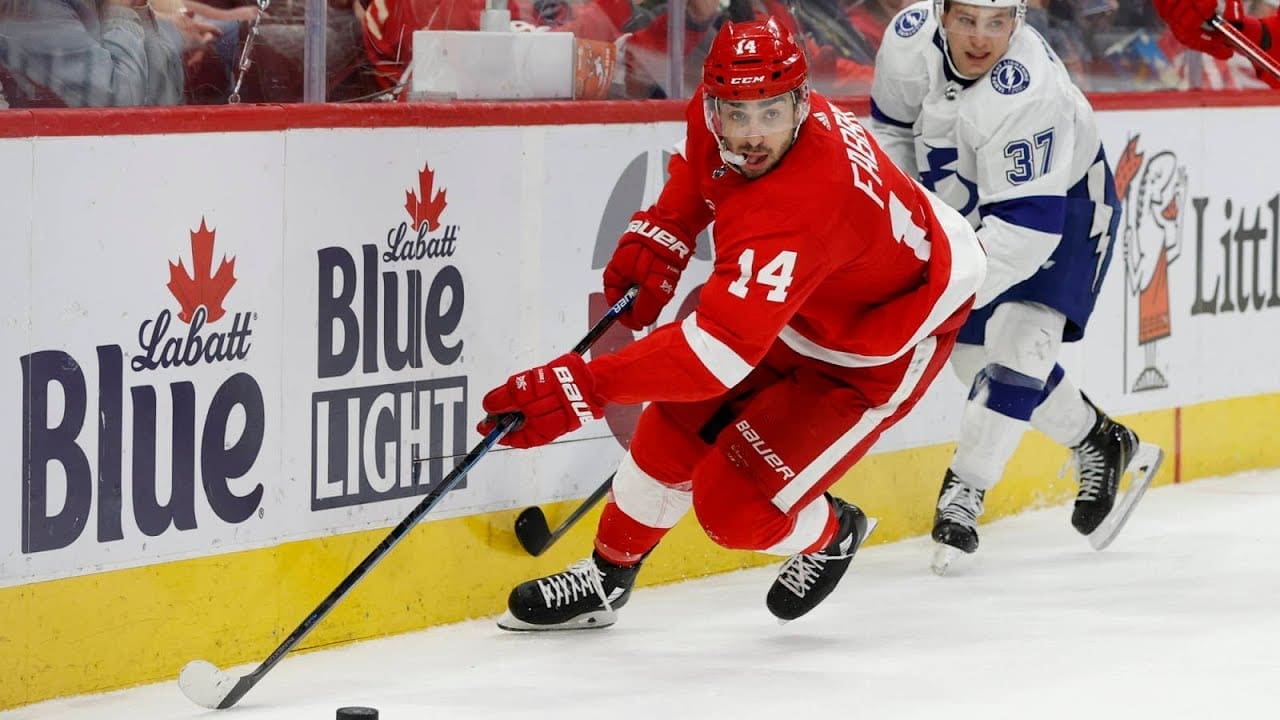 DETROIT — The Detroit Red Wings' ride has been bumpy since they started the season with five wins in their first six games. They are 4-4-2 in their last 10 and their power play has been blanked for three consecutive games.
But with the team leaving tonight at 10 p.m. for a week-long road trip to Sweden, with games against the Ottawa Senators and Toronto Maple Leafs next Thursday and Friday, Detroit coach Derek Lalonde chose to embrace the positive after a 5-4 win against the Columbus Blue Jackets.
"Maybe (this is) a little bit of a breather with the travel. We don't play for a while but maybe a reset," Lalonde said. "Points in three of our last four. We're 8-5-2 prior to heading to Sweden. If you would have asked anyone if we would take 8-5-2 before a little reset going to Sweden we all would have taken it. What we're going to do with it? Continue to build our game."
At 8-5-2, they are second in the Atlantic Division in points and 10th in the NHL in points percentage. The Red Wings are actually sixth in points. They are a point better than they were at this time last season.
They wanted four points in their final two games, but they earned three. Alex DeBrincat ended a seven-game goalless drought with his 10th goal of the season. Lucas Raymond also scored. Lalonde had said he needed more production out of his No. 1 line.
"The good thing Alex has been doing is he's been getting looks," Lalonde said. "When a skilled and natural scorer like that keeps getting looks, it's going to go in for him. Obviously, it was very important. At the time we were playing well but we were trailing 3-2. You could feel maybe a little frustration start to build on the bench. It was a much-needed goal and then he gets feeling it and beats the goalie short side in the third and hits the post. A positive for him."
Fabbri No. 1 Star
The Red Wings didn't want to head off to Sweden with their leading goal scorer bogged down in a slump. Another positive: Robby Fabbri has come off the injury list and was named the No. 1 star after contributing a goal and recording a big block near the end of the game.
"Awesome. Competed," Lalonde said about Fabbri. "I challenged the guys. We were in a 2-2-1 stretch and our game was flat. It wasn't awful, it wasn't great. I watched our Columbus game back and our actual compete in that game was just a notch better and why we were successful, so a little bit of that visual for the guys I think helped them. I think we got our feet moving a little more today. Our compete was excellent. Pretty complete game for us."
The Red Wings have proven they can hold a lead if they have one going into the third period. They are 6-0 when they lead after two periods. Detroit had a 2-0 advantage, but had to scrap after Columbus put on a surge to take a 3-2 lead.
"Our focus was to make sure we had a strong start," said Detroit defenseman Jeff Petry who had two assists. " I think that was one thing over the past five games that was something that was lacking, our start to games. So I thought we did a good job of starting the game there. Throughout the course of the game there's gonna be highs and lows, ups and downs. I thought when we did dip, we got back on to it."