How Swede It Is: Raymond To Play NHL Game at Home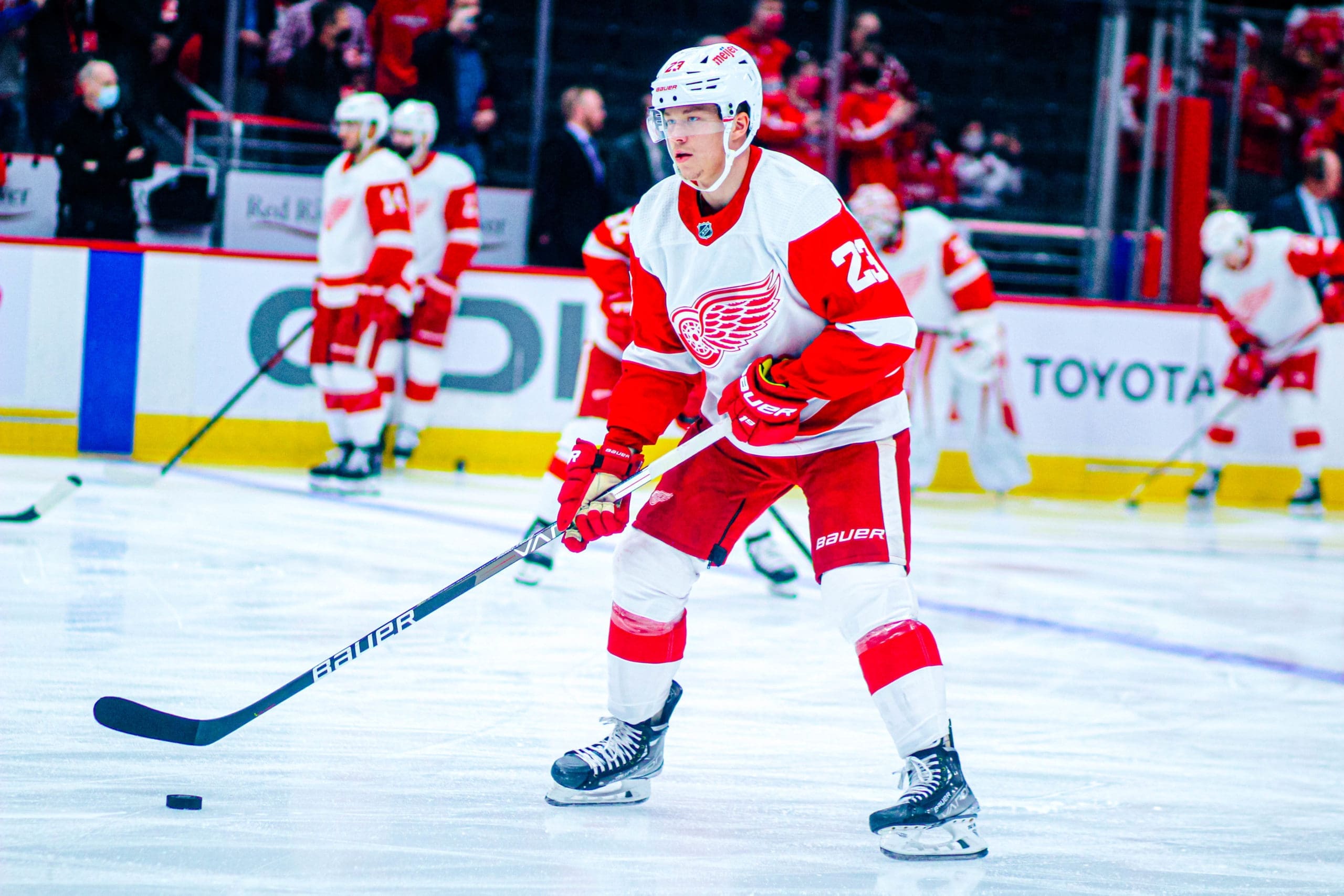 As the only Swedish player on the Detroit Red Wings, Lucas Raymond sees the opportunity to play two NHL regular-season games in Stockholm this week differently than teammates. This might be the only chance some of relatives and friends will ever have to see him play in the NHL live. Mom and Dad. Cousins and uncles. School chums. They will all attend.
"I'm still working on my grandma to be there," Raymond said. "She's a little undecided. She thinks it's a little loud. It's going to be a great time either way."
The Red Wings will play two Atlantic Division rivals at Avicii Arena in Stockholm. They play Ottawa Senators on Thursday (2 p.m. ET, Bally) and the Toronto Maple Leafs on Friday (2 p.m. ET, Bally ).
Raymond says he isn't even sure how many people he will have at the games. "It's still special," he said. "Just home country."
Swedish Red Wings
He grew up in Gothenburg, which is a 3 1/2-hour train ride from Stockholm. Raymond has played in Avicii Arena before, when it was called the Globe.
"I think the Red Wings are probably the most popular team in Sweden, considering all the Swedes that have played here," Raymond said. "I know a lot of them are going to be there as well, which is gonna be really exciting. The Red Wings have a huge following I think world wide. It's one of the biggest sports franchises. Definitely huge in Sweden."
Nicklas Lidstrom. Niklas Kronwall. Henrik Zetterberg. Johan Franzen. Those are just a few of players known as the Swedish Red Wings. Raymond certainly has a shot at being among the top Swedish Red Wings. He scored his fifth goal of the season Saturday in a 5-4 triumph against the Columbus Blue Jackets. That's a 27-goal pace.
"He's been excellent," Detroit coach Derek Lalonde said. "A big part of what we're trying to build. He's a very special player, still developing, growing."
Raymond said having the games in Stockholm is a major event for hockey-loving Swedes.
"With the time difference, it's tough to watch games (on TV)," Raymond said. "Growing up I didn't watch a a lot of games. It was YouTube and stuff like that. It's a great thing that the NHL is doing. I think it's growing our game, especially for a lot of Swedes, young kids, to be able to watch these games, I think it's gonna be exciting."
Raymond Couldn't Stay Awake For Final
Raymond was 10 when he saw his first live game on a trip to New York.
"I went with my family, so that was a pretty special moment," Raymond said. "And then the only other time I remember was trying to stay awake for the finals when Rangers played with Lundqvist. I think it was late, right? I couldn't make it past the first 10 minutes."
He also remembers when the New Jersey Devils and Edmonton Oilers played in his hometown.
"I was in the stands," he said. "Watching that game actually. I have a little bit of a memory of that, see those guys out on the town. It was pretty special for me. Hopefully a lot of young kids in Stockholm will have the same experience. I was probably 14-15. Just went as a fan with my brother. It was a fun time. It was good for the city as well. I saw McDavid. I remember I was really excited about that. Gothenburg isn't that big. Everyone knew where they were staying. Just driving around and I saw them a couple of times. Saw them at a restaurant."
Lalonde is especially looking forward to seeing Raymond's reaction to playing in front of his countrymen.
"Really excited for him for this experience," Lalonde said. "Of all the things I was able to enjoy when I went last time to Sweden (as an assistant coach with the Tampa Bay Lightning) was to watch Victor Hedman enjoy it. He literally … during the Swedish national anthem, he was tearing up. To me, that was like, 'Wow! This is awesome' So I'm sure Razor will be going through those similar emotions."