NHL Pundits Raving About Goal by Red Wings Raymond
Raymond's spectacular tally against Columbus the talk of the NHL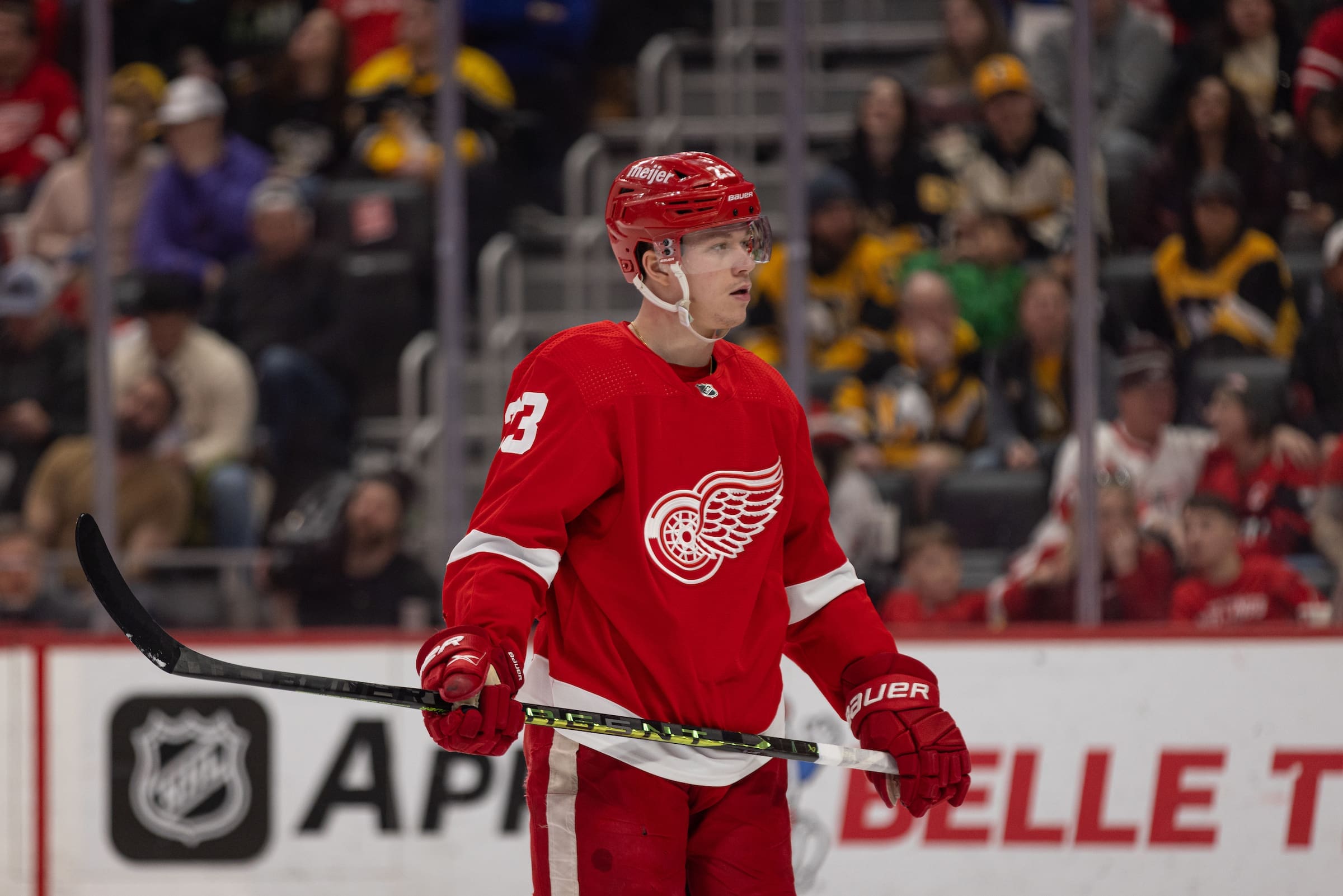 First-period struggles were proving to be a way of life for the Detroit Red Wings. Then Lucas Raymond scored a magical goal and instantly, karma was on the their side.
And those who call NHL games were singing the praises of Detroit's Swedish sensation.
Not even four minutes into Saturday's 5-4 win over the Columbus, Raymond faked that he was driving behind the Blue Jackets net with the puck in his possession. Stopping abruptly, he dramatically pulled the puck back, tucking it between the post and Columbus goalie Spencer Martin before Martin could react and get his skate up against the post.
Lucas Raymond, that's just cheeky. 😌

📺: @Sportsnet or stream on Sportsnet+ ➡️ https://t.co/sEijvXhbA1 pic.twitter.com/EzEwnlRZLL

— NHL (@NHL) November 11, 2023
Following Raymond's act of deception and trickery, Detroit would be scoring multiple goals in the first period for the first time in 10 games.
Meanwhile, NHL pundits were running short on adjectives to describe the spectacular nature of Raymond's tally. They were comparing his skills of deception with the puck to that Swedish legend of legends, Peter Forsberg.
"He caresses it. I don't know how he does it and neither does Spencer Martin," assessed commentator said Viaplay's commentator Jonatan Lindquist on European streaming service Viaplay, reported Gunnar Nordstrom on the Swedish website Expressen.se. "Lucas Raymond, ice cold, he gives Detroit the lead. A small Peter Forsberg goal."
Added game analyst and former NHL forward Jacob Josefson:"Incredibly quirky. Quick as a weasel, he turns back and finds a gap. Extremely well done and resourceful."
Red Wings Lalonde Likes How Raymond Is Measuring Up
With 5-6-11 totals, Raymond is third among the Red Wings in scoring. As he's heading home to Sweden for the NHL Global Series, Detroit coach Derek Lalonde is appreciative at how the bulked-up Raymond is measuring up in NHL competition this season.
"I think that comes with that strength," Lalonde said of Raymond's solid start this season. "Raymond obviously is not 6-foot-4, 225 pounds. But you even noticed in the Islanders game (4-3 OT win), the push we made in the third, he was the one that won just a couple more battles in the O-zone that kept plays alive.
Lucas Raymond's 45th career goal was the first of two @DetroitRedWings goals in a span of 45 seconds to start the action Saturday.#NHLStats: https://t.co/JNTkC7vKkD pic.twitter.com/kfixRkztse

— NHL Public Relations (@PR_NHL) November 11, 2023
"He keeps adding a couple of those a game I think it turns his whole game around."
As for Raymond's cheeky tally against Columbus, perhaps it can be all explained once you realize who his hockey hero was as a child.
"Maybe (former Red Wings star Pavel) Datsyuk," Raymond said. "I remember watching him a lot. It was amazing to watch."