Red Wings Raymond Not Going Head Over Heels About Becoming Viral Sensation
Detroit forward gave Tampa Bay player a seat on Red Wings bench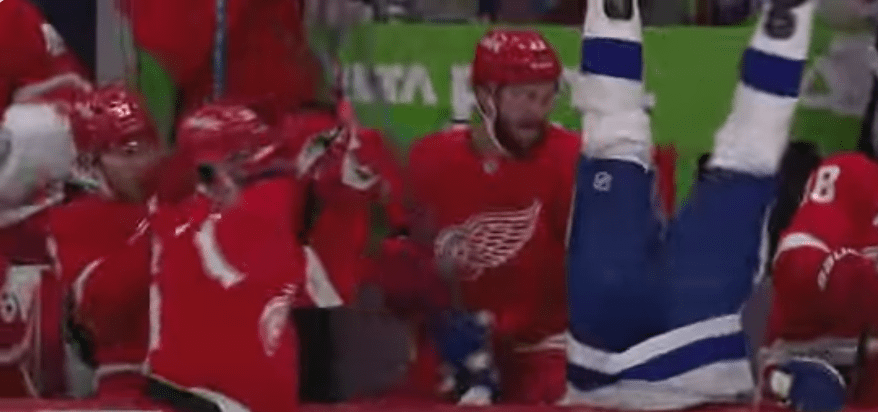 Tampa Bay Lightning forward Michael Eyssimont had barely finished going a** over tea kettle, landing on his head inside the Detroit Red Wings bench, and it was already a viral sensation on all the social media channels.
Detroit forward Lucas Raymond, deliverer of the hit during Saturday's 6-3 win over the Lightning, was feeling a little bit for Eyssimont. Only a little bit, though, mind you.
Lucas Raymond sends Michael Eyssimont into the Red Wings bench. 💥 pic.twitter.com/jBS1Qm9Zxz

— Sportsnet (@Sportsnet) October 14, 2023
"It was kind of a tough spot for him," Raymond said. "Distance-wise, just on the boards, maybe not ready for it. But hey, I can't complain.
"It was a nice hit. I'll take that."
Actually, it was Essyimont who was taking it and it's Raymond who is receiving the accolades from near and far.
"Yeah a little bit, Raymond answered when asked if he was hearing from people in the game about the hit. "I've seen it a couple of times. It's more friends joking around, guys in here, too."
Red Wings Raymond Beefed Up
Much was made about Raymond bulking up over the summer. He was adding about 15 pounds of muscle to his frame, bugt no one was expecting him to suddenly turn into a Swedish version of Chuck Norris.
They didn't know I had that in me," Raymond said with a smile. "No, it's fun."
As much as he's enjoying the notoreity, the Detroit forward isn't going head over heels about all the attention he's suddenly getting for his physical play.
Stuff like that happens," Raymond said. "I'll just move on from it, I guess."
Act Soon: DHN Subscription Offer Expiring – Get Discount & Be Eligible For Prize Draws
And yes, like many people, Raymond does have the video saved on his smartphone.
"I have," he said, "but I'm sure it's not too hard to find."