Red Wings Notebook: Raymond A Big Hit
Swedish forward dumps Tampa Bay player into Detroit bench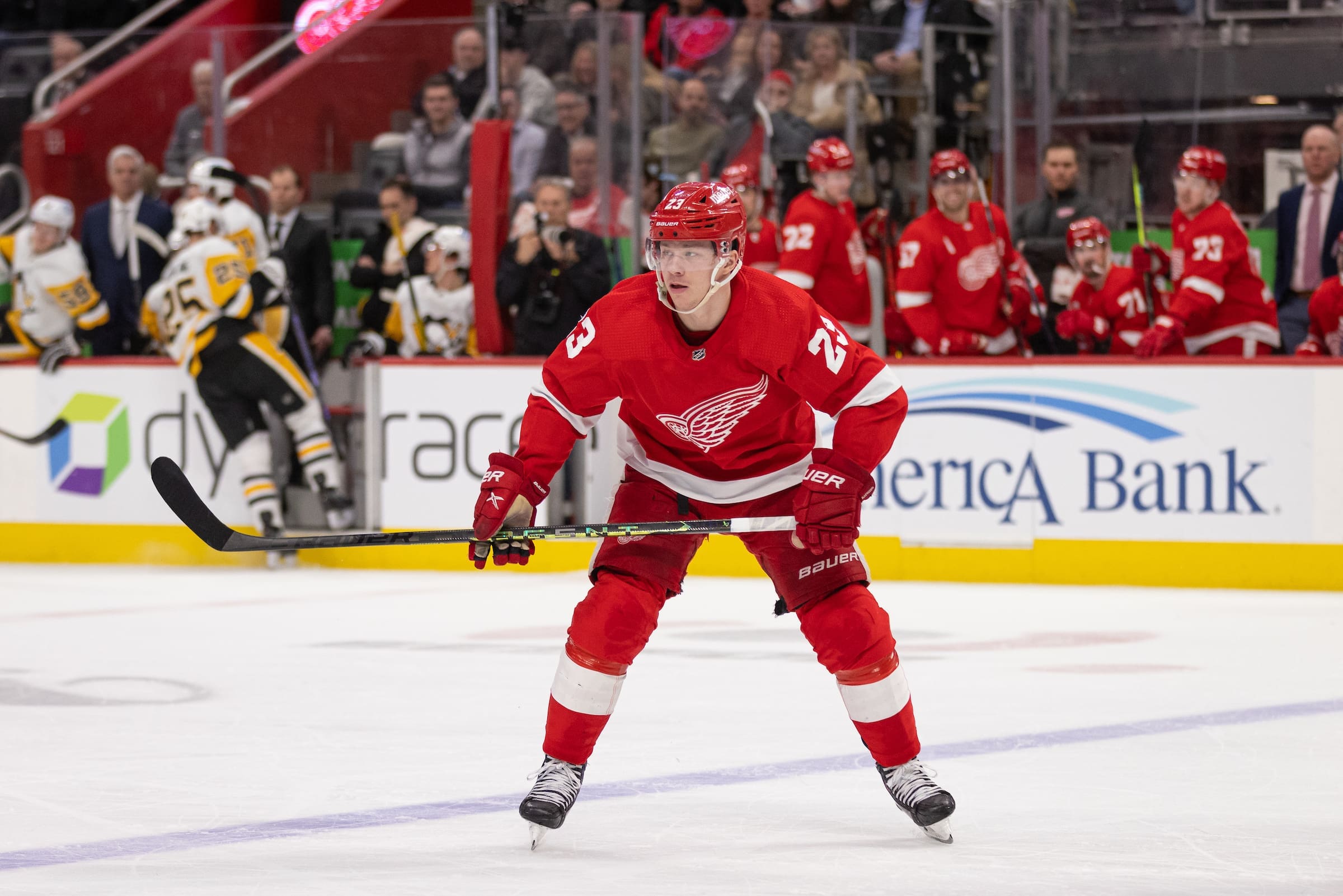 During Red Wings training camp, the newly-acquired bulk of Detroit winger Lucas Raymond was all the rage. Saturday, Tampa Bay Lightning forward Michael Eyssimont found himself on the wrong end of a raging Raymond.
The third-year Swedish forward caught Essyimont with a heavy bodycheck, sending the Lightning player spilling head over heels to a landing spot on the Detroit bench.
Lucas Raymond sends Michael Eyssimont into the Red Wings bench. 💥 pic.twitter.com/jBS1Qm9Zxz

— Sportsnet (@Sportsnet) October 14, 2023
As he was being asked about Raymond's bodycheck, Red Wings captain Dylan Larkin broke into a wide grin.
"Yeah, I know where you're going with this," Larkin said through his smile.
"I didn't see it, I was on the ice. I heard the crowd go crazy and I saw a good highlight." Larkin added: "I know he's going to hang onto that one for a long time."
Detroit coach Derek Lalonde was liking the overall physical presence his club began Saturday's home opener with as they were facing a division rival.
"Just our physical play to start was great," Lalonde said. "I think it ignited us. Obviously we were ready and very engaged."
Red Wings Defense Rests
While Lalonde was pleased with his team's offensive output in a 6-4 win over the Lightning, he wasn't so enamored with how they were playing without the puck in their possession.
Odd-man rushes, breakaways and general defensive breakdowns were frequent in this game on both sides.
Dave Mishkin calls Brandon Hagel's breakaway goal setup by a beautiful seam pass by Hedman pic.twitter.com/RsW0Suh2mn

— Bucs Rays Bolts (@BucsRaysBoltsYT) October 14, 2023
"We just had six or seven really uncharacteristic plays that led to easy offense for them, which was unfortunate," Lalonde said. "We'll hopefully grow from that. Through camp and even on the road (for the season opener at New Jersey) in a tough environment, we weren't giving up the odd mans.
"We could've made life a lot easier on ourselves. We did some good things. But we got ourselves in trouble and gave them some easy offense. We created that chaos."
Fabbri Day to Day
Lalonde wouldn't guarantee that forward Robby Fabbri (undisclosed injury) would be back for Monday's game at Columbus, but he was hopeful that it could happen.
"He's in that day to day (range)," Lalonde said. "I hope to have him back. He's a big part of what we're trying to do here. I think a lot of him as a player. Hope to have him for Monday."
Red Wings Half And Half
The lineup that Detroit brought to the ice for Saturday's home opener was 50% different than the club the Red Wings were sending over the boards last season in a 4-0 opening-night win over Montreal.
New to the team are forwards J.T. Compher, Alex DeBrincat, Christian Fischer, Daniel Spring and Klim Kostin, as well as defensemen Jeff Petry, Shayne Gostisbehere, and Justin Holl, and goalie James Reimer. Also, defenseman Jake Walman (was missing from the lineup last year due to injury.
Players no longer on the team who played in last year's home opener include Tyler Bertuzzi, Adam Erne, Robert Hagg, Filip Hronek, Dominik Kubalik, Gustav Lindstrom, Alex Nedeljkovic, Oskar Sundqvist, and Jakub Vrana. Also, forward Elmer Soderblom, who scored in last season's opener, is currently with the AHL Grand Rapids Griffins.
Ice Chips
The Red Wings are 54-32-9-2 all-time in home openers, and 4-1-2 inside Little Caesars Arena. Detroit is 22-8-1-7 at home against Tampa Bay, and 5-2-3 at Little Caesars Arena since March 8, 2020. Detroit recalled forward Zach Aston-Reese from the AHL Griffins.
DeBrincat (3-1-4 in two games) became the third player with three goals through his first two games with the Red Wings, joining Bobby Ryan in 2020-21 (3-0-3) and Harry Watson in 1942-43 (3-1-4). Sprong and DeBrincat became the sixth and seventh player in the NHL's expansion era (since 1967-68) with at least one goal in each of his first two games with Detroit, joining Mikael Samuelsson (four games in 2005-06), Bobby Ryan (three games in 2020-21), Danny Grant (three games in 1974-75), Martin Frk (two games in 2017-18) and Eddie Johnstone (two games in 1983-84).