Captain Larkin Unique Among Red Wings Star Players
Larkin always wanted to play for Detroit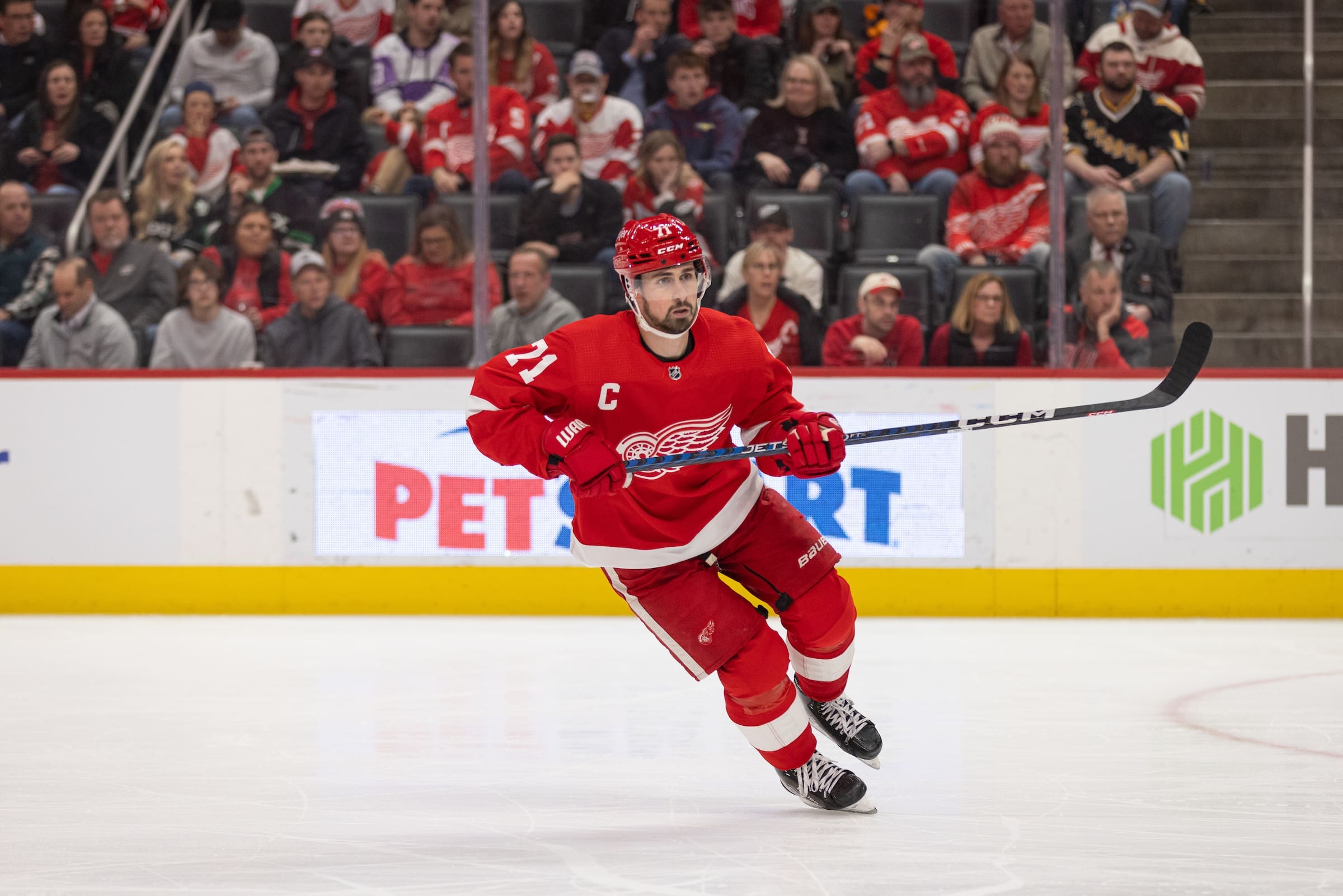 Dylan Larkin certainly isn't the biggest star or the greatest player to ever suit up for the Detroit Red Wings. That being the case, don't go for a moment thinking that Larkin isn't already holding down a unique and special place in the history of his storied franchise.
A list of the all-time greats to play for the Red Wings, whether it be Gordie Howe, Steve Yzerman, Ted Lindsay, Nicklas Lidstrom or Terry Sawchuk, follows a similar pattern. Almost all would ultimately make Detroit their home. Some would work for the organization following their playing days. However, not one of them could honestly say that their childhood dream was to play for the Red Wings.
In Larkin's case it was. From the Detroit suburb of Waterford, Larkin is the first Red Wings star who is Michigan born. He didn't make Detroit his home. Detroit is Larkin's home.
For as long as he can remember, pulling on that jersey with the winged wheel on the front would be the fulfillment of his dreamscape.
"It's always been where I wanted to be," Larkin said. "It means a lot."
Contract Solidified Larkin's Embrace Of Red Wings
Throughout the negotations last season that ultimately would result in Larkin signing an eight-year contract extension with the team, Larkin never wavered from that point of view.
"At certain times my agent was probably saying to stop saying that I wanted to be there," Larkin recalled. "It was truthful. It was where I wanted to be."
Among the Red Wings fanbase, debate over Larkin's attributes creates constant consternation. Is he a legit No. 1 center? Will he be the guy that the team can build around for the future, the one to lead this club back to the glory days?
This is a Dylan Larkin appreciation tweet. #LGRW

Led the Red Wings in scoring by 23 (!) Points this last season, with a defensive game that's massively improving, and a FO% last year of 54%.

Dude carried Detroit in every way, he deserves some flowers. pic.twitter.com/hsdCyZVtM5

— Nathan "Grav" (@NathanGraviteh) July 28, 2023
By making such a long-term commitment to his captain, Red Wings GM Steve Yzerman was showing that he believes Larkin to be that guy.
"I'm trying to build a core that starts around Dylan Larkin and with all the players coming in each year, players of that age group that would come in and fit in for a long time," Yzerman said.
Certainly, Larkin recognizes the huge expectations that are now weighing on his shoulders, and he embraces those expectations that he can be the one to lead this club back to the top of the NHL.
"To be captain of this team is something I don't take lightly," Larkin said. "I got to watch Henrik Zetterberg, someone I look up to. Probably of anyone in my life he's up there on the list of people I look up to. To be in the same category is something I don't take lightly and I'm very honored to be the captain of this team."
Larkins Are Detroit's First Hockey Family
It's been a big year for Larkin. He got his new pact and long-term commitment to play for the team he grew up rooting for since childhood. Earlier this month, he and longtime girlfriend Kenzy Wolfe got married. The two were engaged in July of 2022.
"Married my best friend," was Larkin's Instagram post at DylanLarkin71 accompanying their wedding photo.
Congrats to the Larkins! 💍🤍

📱: https://t.co/Kag8gR2Vt4 pic.twitter.com/dZpiZL8HwM

— Detroit Red Wings (@DetroitRedWings) August 13, 2023
Playing at home, surrounded by loved ones, friends and family, this is more than Larkin could have ever expect that living his NHL dream would enable him to do.
"It's something that I could've never imagined," Larkin said. "Having my parents, my brother (Colin) is now back in Detroit and friends and family, it just means the world to me. I know there's a lot of people in Waterford that we'd be sitting here all day if I thanked. There's a lot of people that have helped me and kept me on the right path. I really thank them for everything."
Parents Set Bar High For Dylan
It's mom and dad where it all starts for Dylan. Kevin and Sidney Larkin are the leaders of his support system.
"For me, my parents are role models in my life as well," Larkin explained. "Hard-working people. I think one thing they've always taught me is you earn your living."
DraftKings Bet $5 Win $150
All States Where Legal
GET THE APP
SIGNUP BONUS
BET $5, WIN $150


New Player Bonus
BET NOW
Whatever you think of Larkin's talent level, no one can question that he brings everything he has in the tank out on the ice every game night.
"I feel through all the ups and downs I've tried to handle it with class and doing it the right way," Larkin said. "I really want to lead this team into the playoffs and go on long playoff runs. You need help with that and I feel there's help in our room and coming along the way.
"I'm really excited for that."