Bulked Up Raymond Flexing At Red Wings Camp
Red Wings forward adds 12 pounds of muscle during offseason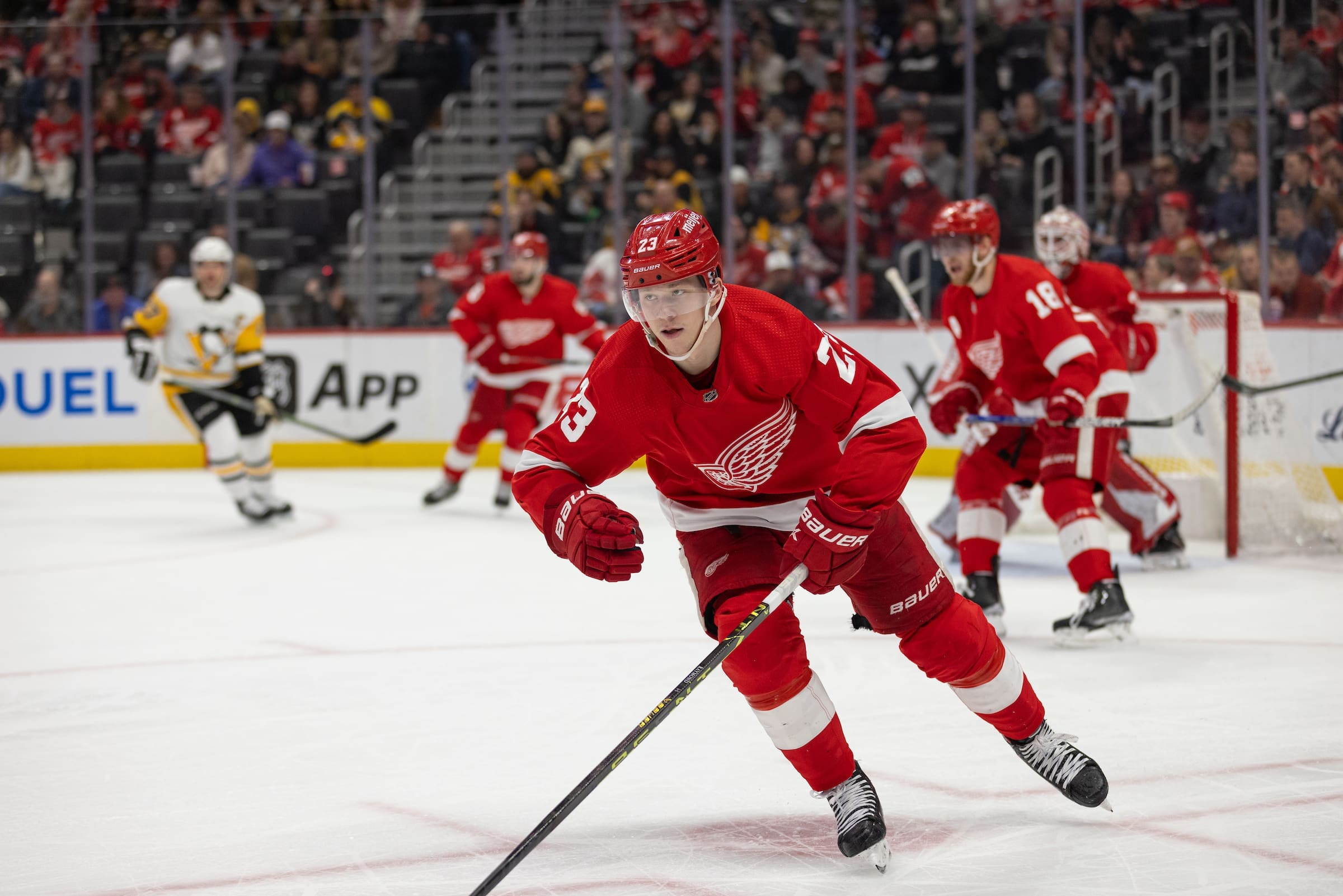 Detroit Red Wings forward Lucas Raymond wants to be harder to play against. He desires to be stronger on the puck and more of a physical presence between the boards.
To achieve this objective, he was spending his summer at the school of Hans and Frans.
They were pumping him up during the offseason.
The third-year winger is looking much more beefy around town and at the rink as the Red Wings partake in training camp in Traverse City. And even after just two days of workouts, the difference it's making in what he can do on the ice is becoming readily evident.
"So far I think especially around the corners, being a little heavier there and then obviously, being stronger, too, getting more power," Raymond was listing as differences he already noticing. "But at the same time trying to stay agile and quick. That's kinda been the main focus."
For most of us, adding weight is as simple as a piece of cake . . . or a box of chocolates. Well, you get the idea.
Adding weight while maintaining the intense daily workout regimen of a professional athlete is a much more challenging task.
can we see some Lucas Raymond? pic.twitter.com/3KQS4hBlDq

— Erick Sheldon (@ericksheldon40) September 21, 2023
"It's a big mix of a lot of things," Raymond assessed of the process of adding pounds to his frame. "I had great help at home with the trainers and nutrionalists I worked with and stuff like that.
"It's hard work. You're burning so many calories when you're working out a lot, so to be able to gain weight, there are things that you have to go through. It was a good process. Like I said I felt good."
Raymond Seeking To Be More Irascible
A 5-foot-11 and 176 pounds, Raymond was often subject to unpleasantries on the ice directed his way by opponents. He'a now showing with a weight of 188 pounds on Detroit's training camp roster.
His thinking is that by adding some additional muscle to his frame, he'll be capable of both fighting off this unwanted attention and perhaps even dishing some of his own punishment out to others.
Raymond's teammates were noticing last season that when the man they call Razor was adding an element of sharpness to his game, the results were quite impressive.
"For sure you want to play with an edge and be physical," Raymond said. "That was for sure one of the reasons (for bulking up). You want to be able to protect yourself, look after yourself in that way. I think this will help for sure.
"I think it was also me feeling like I could get more power out of it. I've felt a huge difference in that, which I feel real comfortable with. That was probably the main reasons."
Raymond, 21, slipped from 23 goals as a rookie to 17 last season. While adding muscle to his frame, he was cognizant of doing so in a manner that wasn't going to hinder his quickness or elusiveness on the ice.
Day 2. ✔️

📽️ » https://t.co/0tsLFWWCeh pic.twitter.com/WU8hWXdKQU

— Detroit Red Wings (@DetroitRedWings) September 22, 2023
"It isn't bulking up in just the sense of getting bigger," Raymond said. "It was bulking up in the sense where I want to get stronger and grow muscles. I think if you can combine that and keep the same lean but gain a bigger muscle mass, that's helping you in every aspect. Happy I was able to do that."
Teammates Taking Notice
Raymond isn't the only person with the Red Wings noticing the difference it's making.
"The first three steps, it's really wowed from what he was at the end of last season to how quick he looks now," Detroit captain Dylan Larkin said. "He's put on some weight. He's got the explosive power to go with it. It's good to see."
Detroit coach Derek Lalonde is describing the uptick to Raymond's physique as a positive increase.
"Looks like he's put on some good weight," Lalonde said. "I don't know if we need him bulking up and putting on a ton of weight, but it's good weight, which I think is naturally going to come.
"Sometimes you forget that these guys are so young and their body is still developing."