The Daily: Will it be Lyon Time for Red Wings in Sweden?; Sabres Thompson to Miss a Month
Could Alex Lyon see his first Red Wings action in Sweden?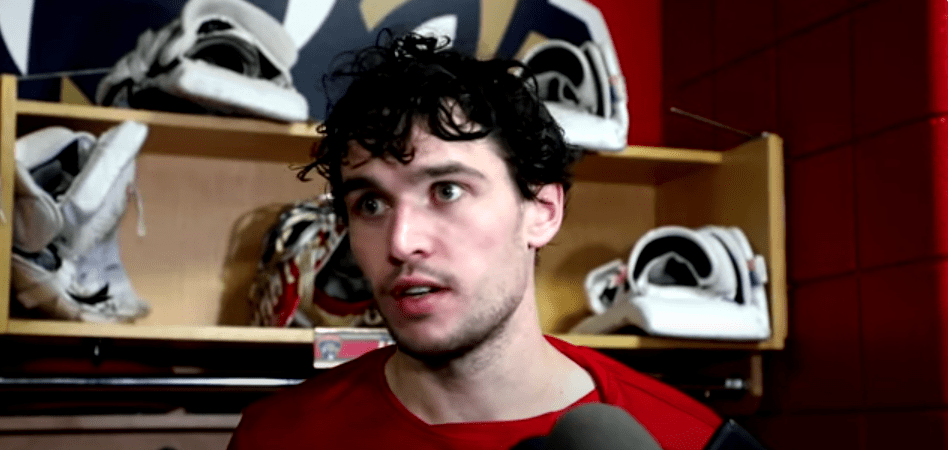 The Detroit Lions are poised for a historic weekend and it's possible that the Detroit Red Wings' Lyon might also be making a little history in Sweden.
Here's what we know for sure about the Red Wings goaltending situation – Ville Husso is out. He's back in Detroit with his wife and their newborn baby. James Reimer is getting the nod on Thursday afternoon in the opener of the NHL Global Series at Stockholm against the Ottawa Senators.
Having ourselves a Swede 'ol time!#NHLGlobalSeries pic.twitter.com/n5L6YubxAL

— Detroit Red Wings (@DetroitRedWings) November 15, 2023
Detroit coach Derek Lalonde has suggested he might go with No. 3 goalie Alex Lyon in the second game of the Sweden series on Friday against the Toronto Maple Leafs. However, he won't guarantee it. If Lyon does play, it would be the Red Wings debut for the journeyman netminder.
Oh, and the Lions? Well, if they beat the Chicago Bears on Sunday, Detroit will open an NFL season 8-2 for the first time since 1962.
Red Wings In Case You Missed It
Red Wings Next Game
The NHL Global Series is set to go with Game 1 on Thursday (2 p.m. ET) at Avicii Arena in Stockholm. The Red Wings are facing their Atlantic Division rivals the Ottawa Senators. Detroit beat Ottawa 5-2 on Oct. 21, just the second win in nine games for the Red Wings over the Senators.
Atlantic Division
Florida: The Florida Panthers are heading to Quebec City. Relax, Panthers fans. It's just for an NHL exhibition game next year.
Montreal: Montreal Canadiens forward Brendan Gallagher was calling out referee Pierre Lambert for what he viewed to be a questionable call during a 2-1 loss to Calgary.
Boston: Will Boston Bruins GM Don Sweeney make another run at acquiring Calgary Flames D Noah Hanifin?
Toronto: Toronto Maple Leafs forward Max Domi says that former Leafs captain Mats Sundin is like family to him.
Tim Stützle taking questions. Says the jet lag isn't a big issue for him. He just sleeps a lot. He is used to flying back and forth all the time. pic.twitter.com/m3G4Vn0PzY

— TSN 1200 (@TSN1200) November 15, 2023
Ottawa: While the NHL Global Series is about about Sweden, two German buddies – Ottawa forward Tim Stutzle and Red Wings defenseman Moritz Seider – could wind up stealing the show.
Buffalo: Buffalo Sabres scoring sensation Tage Thompson will be missing at least a month after taking a shot off the left wrist.
Hockey Now Network
Carolina: The Carolina Hurricanes lost their first home game of the 2023-24 NHL season.
Islanders: The result of Bo Horvat's return to Vancouver was a sixth straight loss for the New York Islanders.
New Jersey: Captain Nico Hischier is the latest New Jersey Devils star to find himself on the injured list.
Philadelphia: Returning to action for the first time since suffering a lower-body injury, Philadelphia Flyers goalie Carter Hart would make 31 saves during a 3-1 win over Carolina.
Pittsburgh: Despite not scoring a goal through the first 14 games of the season, Pittsburgh Penguins forward Rickard Rakell insists he's the same player he was last season when he scored 28 goals.
Washington: Washington Capitals goalie Charlie Lindgren shutout the reigning Stanley Cup champion Vegas Golden Knights.
Chicago: Comparing the rebuild of the 2023-24 Chicago Blackhawks to that of the 2005-06 Pittsburgh Penguins.
Colorado: Flipping the recent script, the Colorado Avalanche were blasting eight goals past the Anaheim Ducks.
Nashville: Who scored that goal? Was it Nashville Predators forward Filip Forsberg, or was that Ichiro?
San Jose: Whoever was increasing the valuation of the San Jose Sharks franchise by 40% evidently has been watching the team play.
Vegas: The Vegas Golden Knights go their road trip off to a dreadful start, losing 3-0 at Washington.