Red Wings Legend Lidstrom Honored With Award Named For His Idol
Lidstrom cracks joke at expense of Alfredsson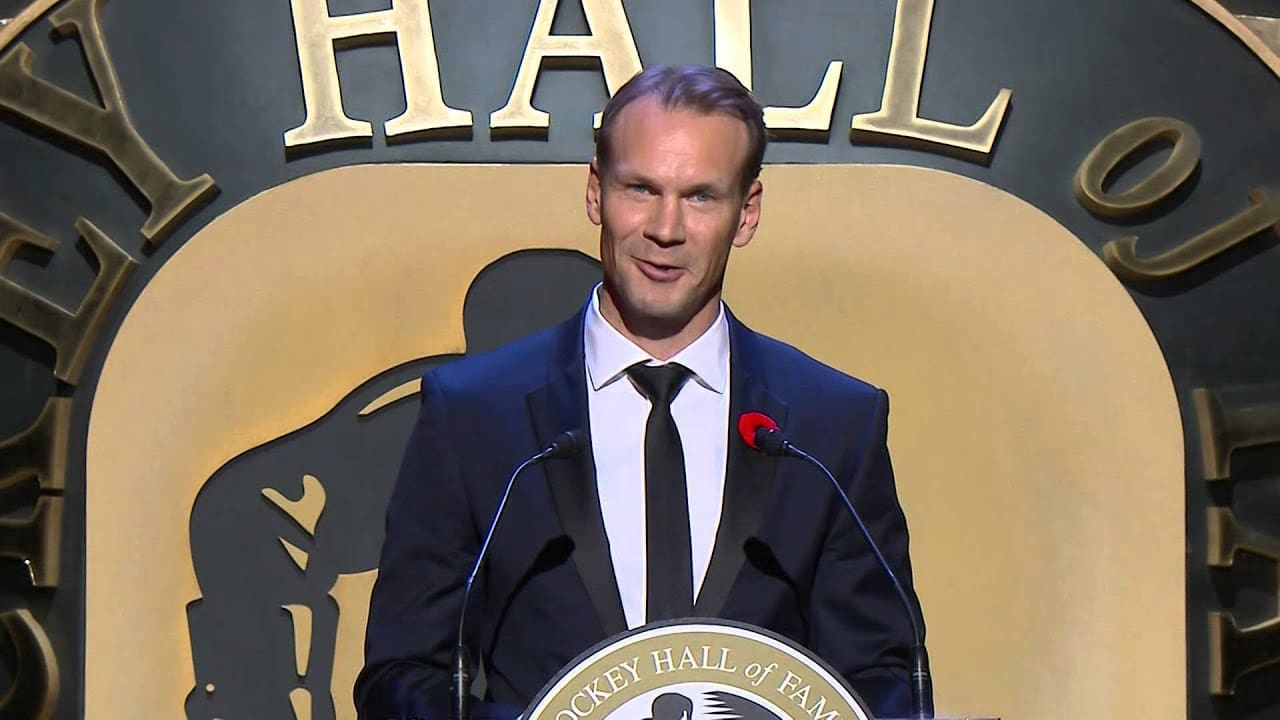 Nicklas Lidstrom was worthy of many accolades over his Hall of Fame career with the Detroit Red Wings, but no one ever suggested that his sense of humor was as world class as his hockey sense.
It turns out that the Perfect Human is capable of delivering the perfect punch line.
Speaking at a media confererence in Stockholm at the NHL Global Series alongside former Red Wings forward Daniel Alfredsson, the final question of the gab session was going in the direction of Alfredsson in Swedish.
Now a member of the Ottawa Senators front office, the team with which Alfredsson fashioned the majority of his Hall of Fame career, Ottawa players were recently noting that Alfredsson, 50, was looking as though he could still be playing.
Pia Salming, wife of the late Borje Salming, and Hall of Famer Nicklas Lidstrom, recipient of the inaugural Borje Salming Courage Award here in Stockholm. #redwings #leafsforever pic.twitter.com/zppwHgYBds

— Mike Zeisberger (@Zeisberger) November 16, 2023
That's what the Swedish journalist was asking him about and Lidstrom sought to ensure that nothing was lost in translation.
"I can translate," Lisdtrom told reporters, according to Swedish website Expressen.se. "Alfie was asked if he could still play, and he replied "I might put the stuff on tonight."
Salming Award To Lidstrom
It was Lidstrom who given the task of dropping the puck for the ceremnial faceoff at Avicii Arena prior to the Red Wings vs Senators game on Thursday. He was also receiving recognition from the NHL Alumni as the inaugural recipient of the Borje Salming Courage Award. The award recognizes a European NHL Alumni member who has been a positive influence in their community and best embodies Salming's lasting bravery, courage, and dedication both on and off the ice.
Icon, trailblazer, pioneer, each of these words come to mind when thinking of Borje Salming.

To honour his legacy, the NHL Alumni Association is proud to present the 'Borje Salming Courage Award', an award that recognizes a European NHL Alumni member who has been a positive… pic.twitter.com/LBOncq8o9g

— NHL Alumni (@NHLAlumni) November 16, 2023
Salming, who died of ALS last summer, was Lidstrom's childhood idol. The two Hall of Famers skated as a defense pairing for Sweden in the 1991 Canada Cup. just prior to Lidstrom joining the Red Wings. Salming played the final season of his NHL career with the Red Wings in 1989-90.
Red Wings Yzerman Praising Lidstrom's Work
As captain of the Red Wings, Steve Yzerman won three Stanley Cups playing alongside Lidstrom. He's witnessing the same level of commitment and natural ability since Detroit GM Yzerman last year was adding Lidstrom to his staff as vice president of hockey operations.
We in the organization are not only excited to have him but also how committed he is," Yzerman told Swedish website Aftonbladet.se. "This applies to all aspects, regardless of whether he is in Sweden looking at our prospects or whether he is on site checking SHL or junior hockey.
"He's been in Detroit a long time, he knows how our organization works and both players and managers value him highly. His view on things has been very valuable."