Raymond Goal Triggers Rally to Earn Red Wings a Point in Sweden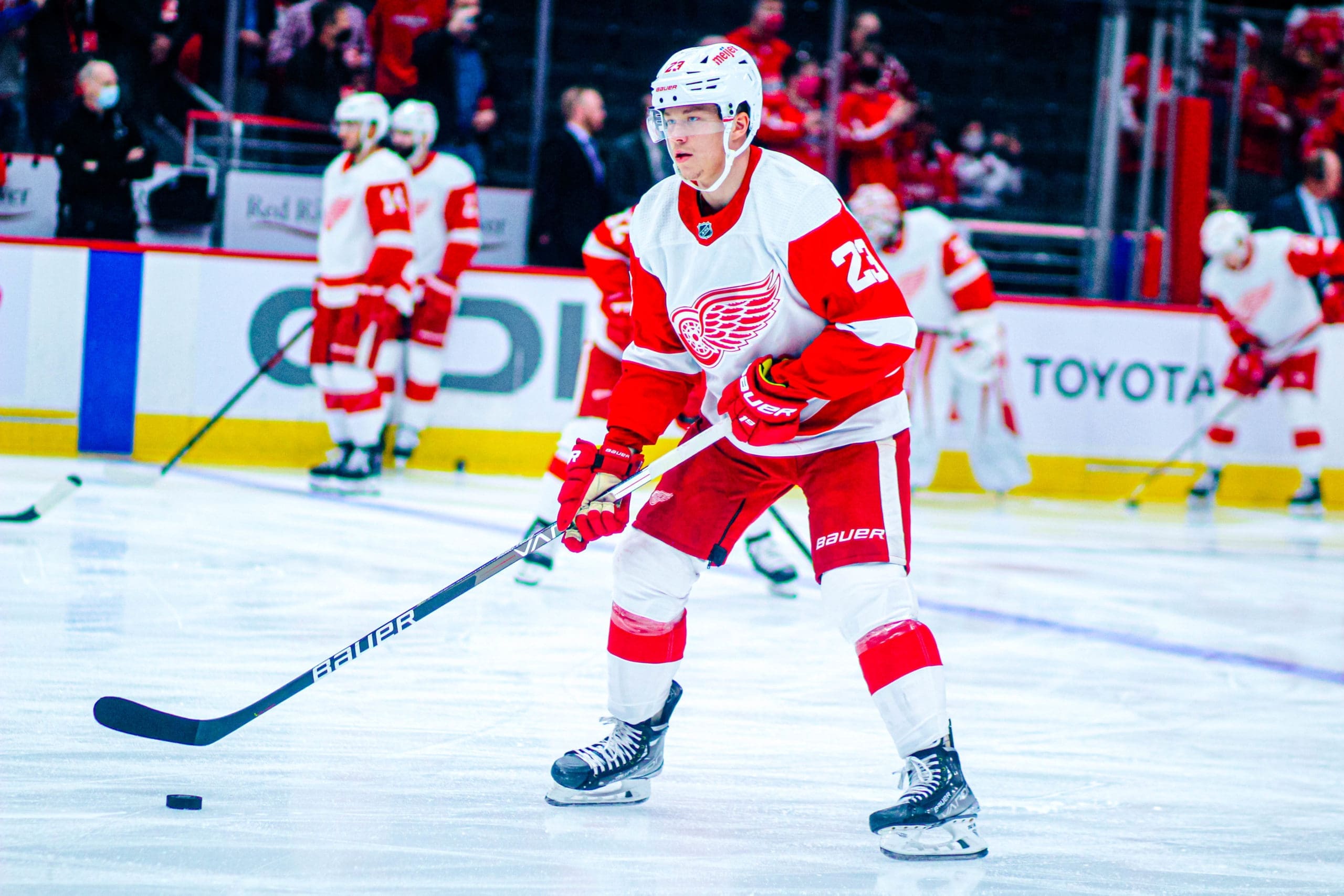 When Lucas Raymond scored a second period goal against the Ottawa Senators in Stockholm Thursday, it seem like it was a feel-good tally for a young player in front of his friends and family in his home country.
His Detroit Red Wings were losing 4-0 when Raymond netted his sixth goal of the season on a two-on-one break. It seemed like a goal that would be meaningful for him and less so for his team. But the goal ended up being a launch point for a Red Wings rally that allowed them to earn a point in a 5-4 overtime loss to their Atlantic Division rival.
"Point is obviously huge, especially in this league," Raymond said. " It stings coming back from 4-0, we're feeling really good, spent a lot of time in the penalty box, which hurts a lot, but like I said we away parts and get a new chance tomorrow to gain two points."
Detroit captain Dylan Larkin called Raymond's goal "really special." Raymond has five goals and five assists for 10 points in his past 11 games. "You could feel it coming and one I'll remember for a long time and I'm sure he will as well," Larkin said of the goal.
Play Toronto Friday
The Red Wings continue their Swedish trip Friday with a game against the Toronto Maple Leafs (2 p.m. ET, Bally Sports). The Red Wings are now one point ahead of the Maple Leafs for third-place in the Atlantic Division.
As thankful as the Red Wings are for the point, disappointment was probably the majority sentiment because the Detroit group felt like it played well enough to win. The Senators beat Detroit on Tim Stutzle's goal with two seconds left in overtime. Stutzle batted the puck into the net.
"Obviously when you're down four goals and to get a point, you'll take the point," Detroit coach Derek Lalonde said. "It just feels like with how well we were playing 5-on-5, we could've got more out of the night."
The 'good' for the Red Wings are four even-strength goals. Even with a struggling power play, the Red Wings have scored 19 goals in their last five games.
Chiarot, Petry Struggle
The 'bad' is the fact that they were 0-for-3 on the power play, meaning they are two-for-37 on the power play since Game 8. That ranks 31st in the NHL over that period. Meanwhile, they continue to take penalties in critical times of games. The Senators received  six power play opportunities and scored one goal. The Red Wings took four third-period penalties, including a too-many-men-on-the-ice call at 14:36 and a puck-over-the-glass penalty by Ben Chiarot at 18:29
The Chiarot and Jeff Petry defensive pairing was on the ice for four of the goals and both players ended up at -3.
"I'd have to watch (the video) back," Lalonde said. "I think there's some plays they probably want back. Maybe a little bit of credit, two of their goals were world-class plays by Stutzle. He bats the one out of the air and obviously the back-door tap in. For sure we could've defended it much better but it was a pretty big-time play."