Red Wings Notebook: Larkin Recovers; Detroit Heading Outdoors?
Perron honors memory of fallen friend with goal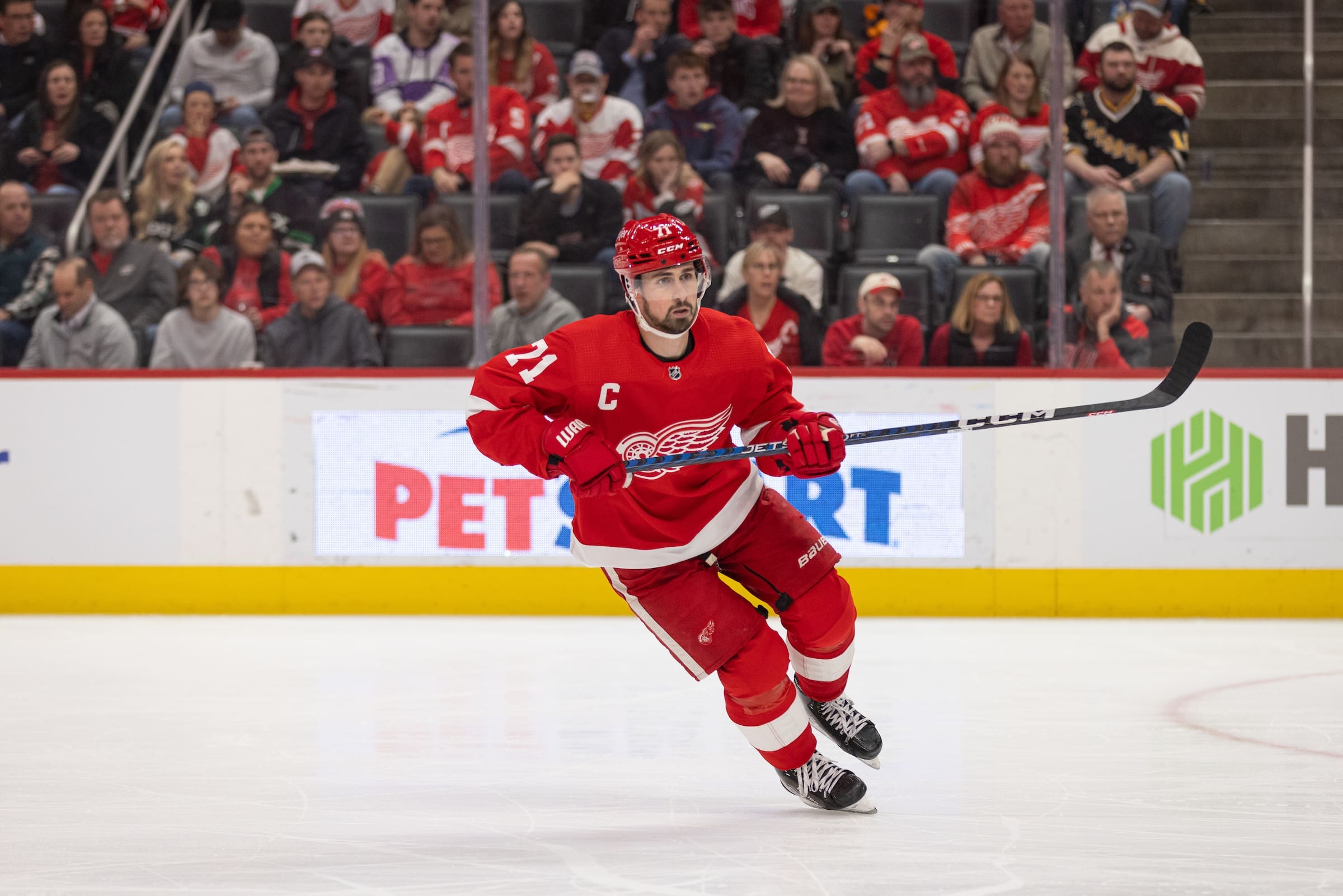 For the second time in recent games, an injury was forcing Detroit Red Wings captain Dylan Larkin to leave briefly in order to seek medical attention.
In Thursday's 5-4 overtime loss to the Ottawa Senators in the opener of the NHL Global Series, Larkin left the game after being hurt while taking a defensive zone faceoff.
"I hit my head there," Larkin explained to Bally Sports Detroit. "They kicked the first guy out (of the faceoff), the second guy's coming in, there's sometimes they got to be a little bit more careful going in.
"I got put in a headlock. I'm all right. Obviously, I came back and played."
Red Wings Playing Outdoors Again?
First reported by TSN's Darren Dreger, the NHL was recently in Columbus to assess the ability of Ohio Stadium, home to the Ohio State Buckeyes, to play host to a Winter Classic game. Dreger cautioned that all of this was still in the exploratory stage.
👀 As @DarrenDreger first reported the @NHL site visit to the Shoe @OhioStateFB Stadium 🏟️, I'm told among the potential concepts being discussed is @DetroitRedWings at @BlueJacketsNHL featuring a @UMich and @OhioState @NCAA theme. #HockeyTwitter pic.twitter.com/S8VR02gDz7

— Kevin Weekes (@KevinWeekes) November 16, 2023
Kevin Weekes of ESPN, TSN and the NHL Network took the speculation a step further. He's reporting that the concept would be a Winter Classic game between the Blue Jackets and Red Wings.
Columbus is among four NHL teams yet to play in an outdoor game. The Red Wings have appeared in four of them.
Perron Honors Fallen Friend
Prior to Thursday's game against the Senators, Red Wings forward David Perron wrote the initials KT on the shaft of his hockey stick. They were for Karl Tremblay. The lead singer for the Quebec folk rock group Les Cowboys Fringants died Wednesday at the age of 47 from prostate cancer.
When Perron scored his goal to narrow Ottawa's lead to 4-2, the puck bounced off his stick near Tremblay's initials and into the net.
Lors de mon but, la rondelle a dévié sur mon gant/baton faisant une marque sur mon baton a 1/2 pouces près de la où j'ai écrit KT et la rondelle a monté comme un étoile filante avant de rentrer dans le but. La vie est bien faite, ca donne des frissons! https://t.co/ON1Z5sscns

— David Perron (@DP_57) November 17, 2023
"On my goal, the puck deflected off my glove/stick making a mark on my stick 1/2 inch near where I wrote KT and the puck rose like a shooting star before entering the goal," Perron posted on X. "Life is good, it gives you chills!"
The Red Wings were announcing on Thursday the recall of goaltender John Lethemon from the ECHL Toledo Walleye and his reassignment to the AHL Grand Rapids Griffins. Last season, Lethemon was earning the Nick Vitucci Award as the ECHL's top goalie.
Meanwhile, the Griffins were issuing forward Riley Sawchuk reassignment to the Walleye.