The Daily: Red Wings' Prospect Will Help Lead Canada at WJC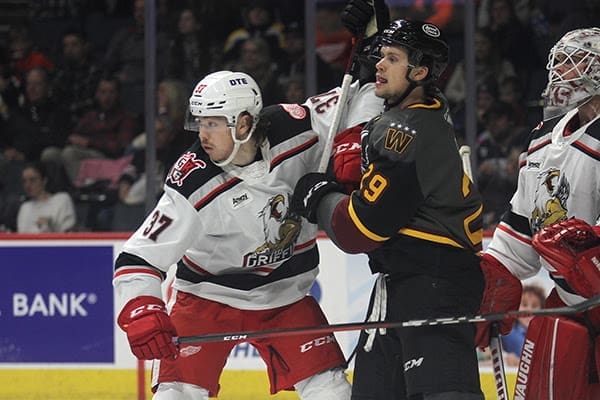 The Detroit Red Wings have plenty of reasons to appreciate the intangibles prospect defenseman Donovan Sebrango offers. Now they have another one.
Team Canada named Sebrango as an alternate captain for the rescheduled World Junior Championships. Mason McTavish (Anaheim Ducks) is the team captain and former Michigan player Kent Johnson (Columbus Blue Jackets) is the other alternate.
Goalie Sebastian Cossa will also play for Canada. He wasn't the starter when the tournament started in December. But he had a strong second half and playoff run. Will he play now for Canada?
Sebrango, 20, will be playing his third season with the Grand Rapids Griffins because COVID-19 wiped out one of his junior seasons. He seems to have benefitted from that. He's not an elite prospect, but the Red Wings like his commitment to being a shutdown defenseman, leader and a player who is difficult to play against.
Rescheduled Tournament
"It's pretty obvious that I'm not gonna be an offensive guy at the next level," Sebrango said. "I think being gritty is something I really pride myself on and being a shutdown guy, being able to shut down their top players. The AHL is a good league and it got better from my first year to my second year. As the year goes on, you kind of learn more and just kind of learn little tricks to kind of help you along the way."
The WJC, scheduled for August 9-20 in Alberta, is the makeup event for last season's WJC. It was cancelled after it started because of COVID-19 issues.
The Red Wings have nine prospects in the tournament if projections hold true. In addition to Sebrango and Cossa, the Detroit group includes:
USA: Carter Mazur, Red Savage; Sweden: William Wallinder, Theodor Niederbach, Simon Edvinsson; Finland: Eemil Viro;  Czechia: Jan Bednar.
(Marco Kasper was on Austria's team in December, but the latest roster didn't show him on the team. He said in Detroit last month he wasn't sure whether he would play or not.)
Captains for #WorldJuniors… 🇨🇦

C: Mason McTavish (@HEOhockey)
A: Kent Johnson (@BCHockey_Source)
A: Donovan Sebrango (@OHFHockey)

Hear from Captain Canada! 🗣️👇 pic.twitter.com/OXvrPsNRmj

— Hockey Canada (@HockeyCanada) August 2, 2022
In Case You Missed It
The Detroit Red Wings will celebrate the 25th anniversary of both the 1997 and 1998 Stanley Cup teams at games in November this season.
North Dakota-bound Red Wings prospect Dylan James (40th overall in 2022) already has a professional attitude about his game.
Former Red Wings player Anthony Mantha admits that he is still trying to figure out how to win.
Hockey Now Network
Boston:  Boston Bruins lose long-time scout Scott Fitzgerald to the San Jose Sharks
Calgary: The Calgary Flames gave Andrew Mangiapane a three-year deal for $5.8 million per season.
BetMGM Sportsbook
States: All States Where Legal
GET THE APP
SIGNUP BONUS
UP TO $1,000!


Up To $1000 Paid Back in Bonus Bets
BET NOW
Colorado:  Adrian Dater of Colorado Hockey Now asks: What about Jonathan Toews as a Nazem Kadri replacement for the Colorado Avalanche?
Florida: Florida Panthers prospect Justin Sourdif isn't on Canada's roster for the rescheduled WJC.
Montreal:  Two Montreal Canadiens prospects were added Canada's roster for the upcoming World Junior Championships.
New York:  A change in Oliver Wahlstrom's Instagram account causes New York Islanders fans to panic for nothing. The Islanders are not trying to trade him.
Philadelphia:  Statistics show that Flyers goalie Carter Hart has plenty of work to do to become the player the Philadelphia Flyers need him to be.
Pittsburgh:  Dan Kingerski of Pittsburgh Hockey Now lays out three different ways the Pittsburgh Penguins can get under the NHL salary cap ceiling.
San Jose: Former Sharks goalie Steve Shields and current prospect goalie Strauss Mann were involved in calling out alleged discriminatory and abusive practices  in the University of Michigan hockey program.
Vancouver:  The Vancouver Canucks hired an elite Finnish goalie coach.
Vegas: Owen Krepps of Vegas Hockey Now analyzes the Vegas Golden Knights' goaltending depth.
Washington: Believe it or not, Alex Ovechkin can sing. In fact, he's been known to sing Brittany Spears songs in the back of the team bus. Washington Hockey Now's Sammi Silber has the scoop.