The Daily: Amadeus Heads to Game 7; Crosby Posts 1500th NHL Point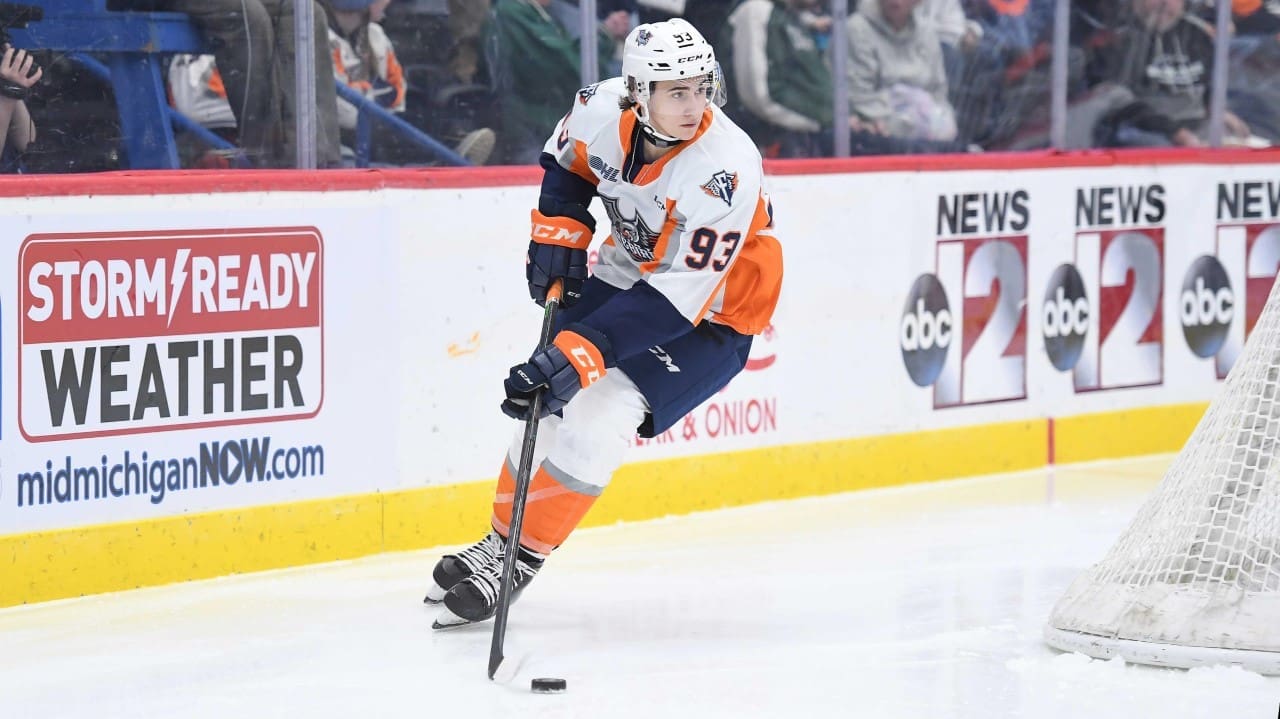 Intriguing Detroit Red Wings prospect Amadeus Lombardi is headed to a Game 7 with the Flint Firebirds in the Ontario Hockey League playoffs
The Firebirds came from behind Saturday night to defeat Saginaw and force Monday's deciding game. Amadeus Lombardi picked up an assist in Game 6, giving him points in five of the six games. He scored a goal in the three previous games. Lombardi totaled 45 goals and 102 points in the regular season.
The Red Wings have already signed Amadeus (drafted 113th overall in 2022). They have been watching throughout the series.
WE'VE GOT GAME SEVEN ON MONDAY NIGHT! 😱#NHLDraft prospect Coulson Pitre completes the comeback for the @FlintFirebirds in overtime and there will be a Game 7 Monday night in Saginaw to decide the series!#OHLPlayoffs | #SAGvsFLNT pic.twitter.com/gu3z0y5chX

— Ontario Hockey League (@OHLHockey) April 9, 2023
Fitting Crosby Gets 1,500th Point in Detroit?
Detroit Red Wings fans have no love for Sidney Crosby. This goes back to the 2008 and 2009 NHL playoff battles between the Red Wings a Penguins. A dirty hit. Snub in the handshake line. Even the Red Wings players didn't care for Crosby's attitude back then.
But no matter how they feel about him, Detroit fans know Crosby has been a great player. Maybe it was meant to be that he would pick up his 1,500th NHL point in the Motor City Saturday as he racked up a three-point night.
"This is something only 15 players have ever done, and he's the sixth fastest of all of them," Pittsburgh coach Mike Sullivan said. "I think that company speaks to this milestone and to the impact he's had on the game. Not only is he one of the greatest players of his generation, he's one of the greatest players in history."
Red Wings In Case You Missed It
The Pittsburgh Penguins showed the Red Wings what true desperation looks like in their Saturday triumph at Joe Louis Arena.
Nate Brown writes his Red Wings Stock Index about how Detroit's youth movement is starting to bear fruit.
David Perron feels lost without being in the playoffs this spring.
Red Wings' Next Game
The Red Wings (35-34-10) will be home Monday to face the Dallas Stars at Little Caesars Arena.  With three games to play, the Red Wings rank 10th in the Connor Bedard lottery. Staying in 10th would give the team a 3.5% chance of picking No. 1 overall a 3.8% shot of drafting in the No. 2 slot. The No. 2 pick will be University of Michigan forward Adam Fantilli who recently won the Hobey Baker as college hockey's top player.
Hockey Now Network
Boston: Hockey Now: The Bruins recorded their 62nd win to tie the NHL record for most team victories in a season. The 195-96 Red Wings have a share of that record
Colorado: Goalie Alexandar Georgiev stole a game from the Los Angeles Kings. This game defines winning ugly. Colorado Avalanche
FanDuel Sportsbook Promo #1
ALL STATES WHERE LEGAL
GET THE APP
SIGNUP BONUS
$1000 No Sweat Bet


$1000 No Sweat Bet
BET NOW
Florida: Matthew Tkachuk was front and center of the Panthers' sixth consecutive win. The Panthers are playing as if they will not be denied a playoff spot. Florida Panthers.
Montreal: The Canadiens lost and the Coyotes won. That means Montreal's NHL draft lottery odds improved Saturday night. Montreal Canadiens.
Philadelphia: Goalie Carter Hart was pulled in the Flyers' sixth consecutive loss. Philadelphia Flyers. 
Pittsburgh: The Penguins did what they needed to do by beating the Minnesota Wild. But is this too little too late? This wild card race is wickedly harsh. Pittsburgh Penguins
San Jose: The Sharks are not moving Erik Karlsson to forward. He still needs two points to be the first 100-point defenseman in more than 30 years. San Jose Sharks