Red Wings Draftee Johansson Off to Strong Start at Junior Showcase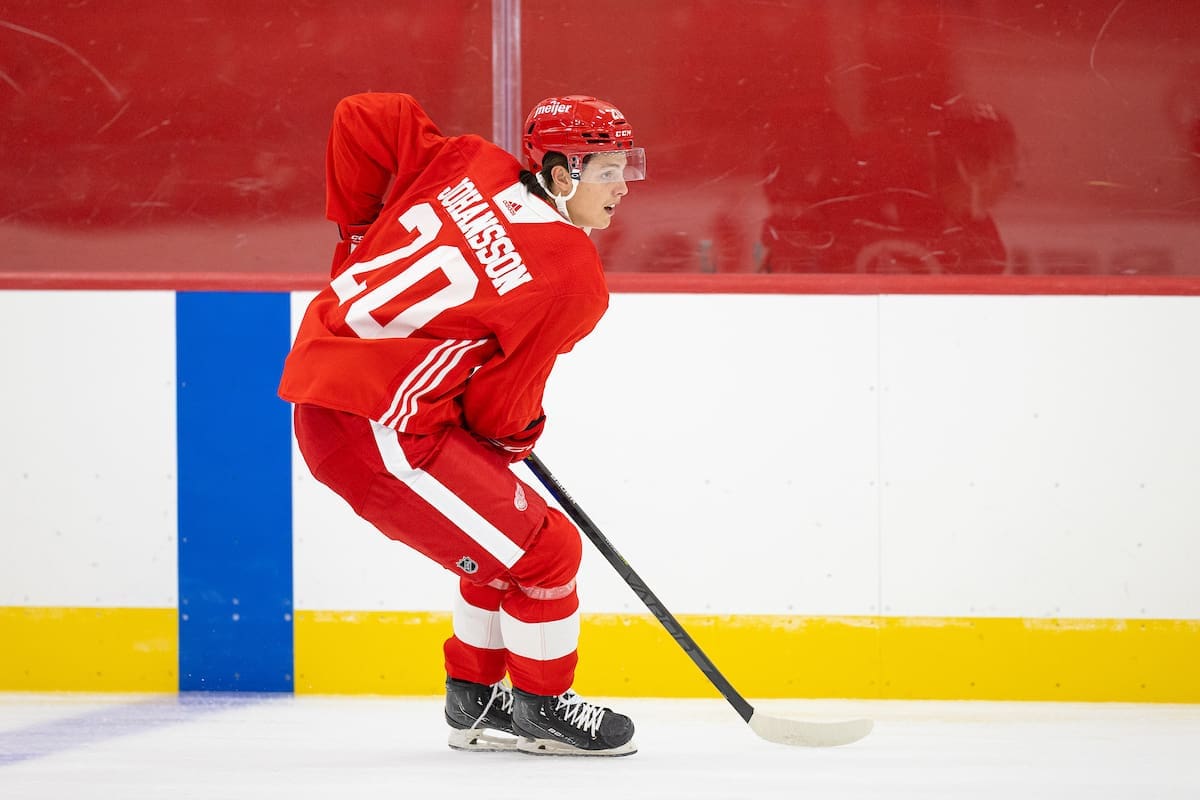 PLYMOUTH, Mich. — Prospect Anton Johansson checks all of the boxes for what the Detroit Red Wings want in their prospect defensemen these days. He's 6-foot-4, a right shot and Swedish.
But Johansson made himself stand out even more Saturday when he scored Sweden's first goal in a 7-0 blanking of Team USA Blue in the opening game at the 2023 World Junior Summer Showcase at USA Hockey Arena.
"I think that was my best game,"said the 188-pound Johansson, a fourth-round pick from 2022. "It's good to have a start like this."
His coach, Magnus Havelid, was more conservative with his assessment.
"It's just the first game," he said, chuckling. "We're going to wait and see as a coaching staff. Let's see what we say after the fourth game."
This tournament brings together the top American, Swedish and Finnish candidates for the next World Junior Championships. The Americans break up their prospect pool into two teams.
Last game of the season?

What better time to get your 1st SHL goal (and 1st point!) 🚨🚨

Anton Johansson finally gets his name on the scoresheet, a well deserved tally for the Red Wings 2022 4th round pick #LGRW pic.twitter.com/uvbHP4IoQt

— IcehockeyGifs (@IcehockeyG) March 9, 2023
Fast Start
That is certainly true, but every game for Johansson is important as he tries to carve out his place among Detroit's strong collection of defensive prospects. The Red Wings already have three Swedish older defensemen (Simon Edvinsson, Albert Johansson, William Wallinder) ahead of him on the prospect list.  Plus, Swedish defenseman Axel Sandin Pellikka is ahead of him based on the fact he was drafted in the first round.
Johannson had a total of seven goals playing in 53 games at two levels last season. He had one goal in 21 games with Leksand IF in the Swedish Hockey League. In junior hockey he had six goals and seven assists for the Lekland IF Junior squad.
"It's a lot tougher with the men (in the Swedish Hockey League)," Johansson said. "In juniors, the pace is faster, and in the men's game there are more tactics."
Working With Kronwall
Johansson has been in contact with the Red Wings the last two seasons, mostly with former defenseman Niklas Kronwall.
"We had a lot of video last year," Johansson said. "I always listen to that guy. He's a good guy."
His first goal is to make a good impression in Plymouth and improve his chances to be on the Swedish team in the world juniors next winter.
"I'm always working to improve. I don't want to become a deficit," Johansson said. "I know what I've got on offense. Just want to work on defense."
FanDuel Sportsbook Promo #1
ALL STATES WHERE LEGAL
GET THE APP
SIGNUP BONUS
$1000 No Sweat Bet


$1000 No Sweat Bet
BET NOW
Sandin-Pellikka is at the Summer Showcase, but did not dress for the opening game.  "We're rotating players in the lineup," Havelid said. "Everyone will play at least three games. Those who don't play are in the gym."
As for Johansson, "I'm really looking forward to following him these four games," Havelid said. "He has a lot of potential."
Meanwhile, Johansson will continue to work on his defensive poise this season.
"I'm trying to be effective on offense and calm on defense," he said. "Just want to be stronger and put more weight on me."