Early Check In: How Red Wings 2019 Draft Class Looks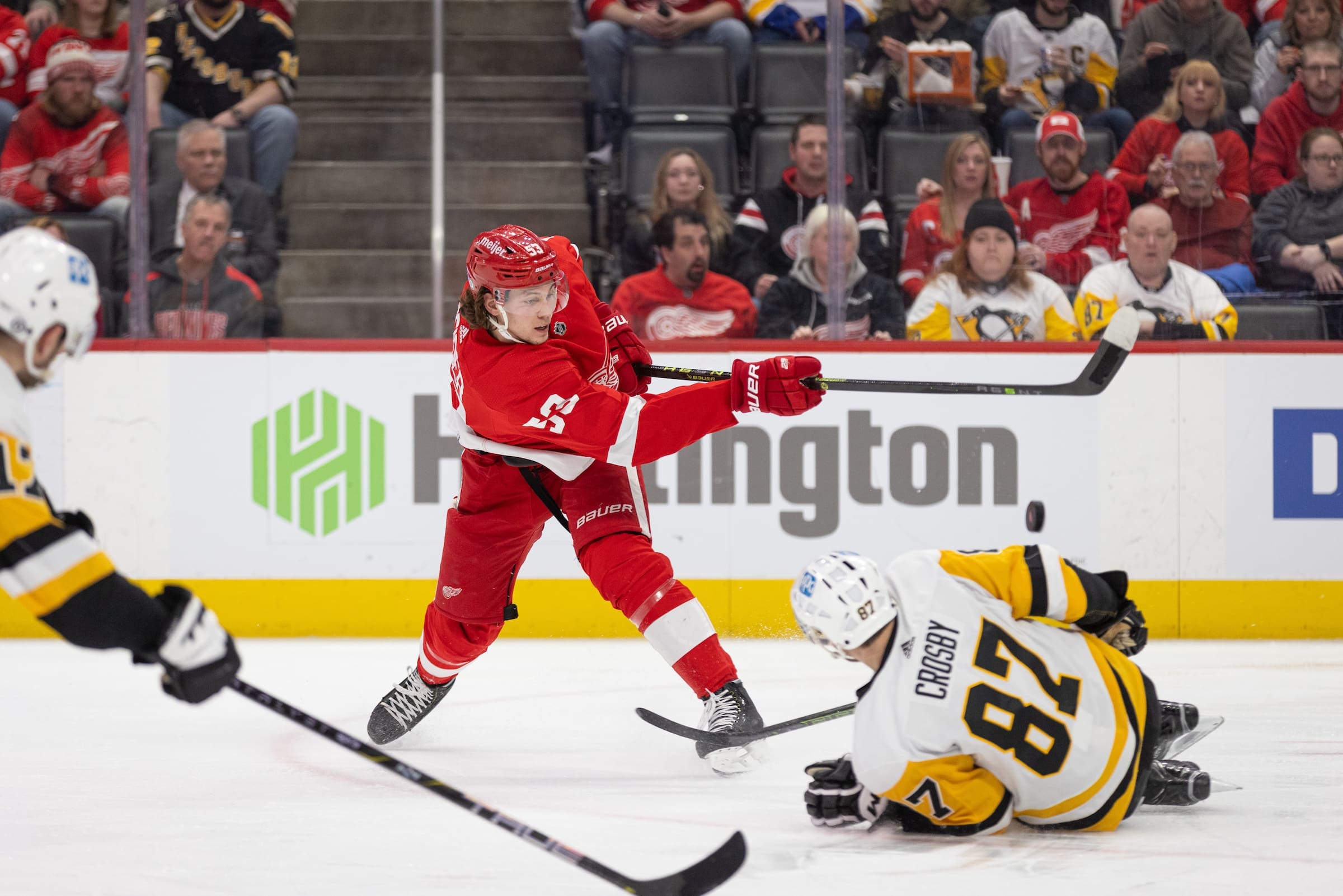 (Editor's Note: It's too early to know for sure how GM Steve Yzerman's draft classes will turn out. His first Detroit Red Wings draft class was 2019. But four years later, draft picks from that class are still arriving in the NHL.  Going into the 2023-24 season, only 13 first rounders and two second rounders have played 100 or more games in the NHL. Moritz Seider is one of those first rounders. But even though results are still coming in,  we can have an early check-in to see how the Red Wings' 2019 class is shaping up.)
NHL general managers operate with the idea that they will, on average, harvest two regulars out of every NHL draft class. That's what statistics tell them, although GMs have differing perspectives about what constitutes a regular.
But Steve Yzerman's drafting of Moritz Seider at No. 6 in 2019, by itself, is enough for Detroit Hockey Now to say the Red Wings had good results in Yzerman's first draft as Detroit's general manager.
Top pairing defensemen are difficult to find. You have to draft them. If we redrafted the 2019 NHL draft, Seider would probably go No. 2 behind Jack Hughes. The two-way German-born defensemen Seider is already one of the league's best all-around defensemen.
Per Tradition, Swedes Are Key
But even beyond Seider, the Red Wings boast left wing Elmer Soderblom (Drafted 159th overall in 2019) who has already played in the NHL and Albert Johansson who would have likely made his NHL debut last season had he not suffered an undisclosed injury.
The 6-foot-8, 248-pound Soderblom netted five goals in 21 games. That's close to a pace for a 20-goal NHL season. The Swedish giant also had five goals in 20 games for the Grand Rapids Griffins.  Soderblom is not guaranteed a place on the Red Wings' roster in October, but he's part of the Red Wings' plans.
His selection is an enormous win for the Red Wings. He is one of only four players drafted after pick No. 100 in 2019 to already have played 20 or more games in the NHL.
Johansson can't offer as much as Simon Edvinsson, but he's probably been the more consistent performer of the two. Johansson might already be NHL-ready. It seems likely he will play in the NHL this season.  If both players become impact performers for the Red Wings, the 2019 draft crop will be a strong one.
Defenseman Antti Tuomisto (Drafted 35th overall in 2019) took a step in his development last season playing in the Finnish League. He's less proven than Johansson's and Soderblom. But he's a 6-foot-5 defenseman with a good first pass. The Red Wings have a healthy curiosity about what he might do this season.
Those four 2019 Red Wings' picks have the best chance of becoming regulars.
Not All Swedes Work For Detroit
Clearly, there are already Detroit misses in the 2019 draft . Robert Mastrosimone (Drafted 54th overall in 2019) didn't pan out. The Red Wings liked his motor and his hands, but he didn't reach the level the Red Wings thought he would in three seasons at Boston University and one at Arizona State. He recently signed an American Hockey League contract with the Toronto Marlies.
Likewise, scrappy Swedish forward Albin Grewe (Drafted 66th overall in 2019) isn't in Detroit's plans.  He is currently playing in Sweden's second tier league.
Western Michigan transfer forward Ethan Phillips (Drafted 97th overall) and North Dakota defenseman Cooper Moore (Drafted 128th overall) are still playing college hockey.  Gustav Berglund (Drafted 175th) is completely off Detroit's radar.
The Red Wings drafted two players in the seventh round that still offer some hope. Kirill Tyutyayev (190th overall in 2019) is still in Detroit's sphere of influence because he has signed with the Toledo Walleye. The Red Wings still have some interest in goalie Carter Gylander (191st overall) who will be a senior at Colgate this fall. He has had a strong college career.
Current Detroit 2019 Draft Scoreboard
Players drafted: 11
Played in the NHL: 2
Clear NHL potential: 4
Clear washout: 3
In College: 3
Darkhorses: 2