Edvinsson Putting Bad Attitude Aside in Effort to Make Red Wings
Defenseman felt his compete level wasn't sufficient in last year's NHL preseason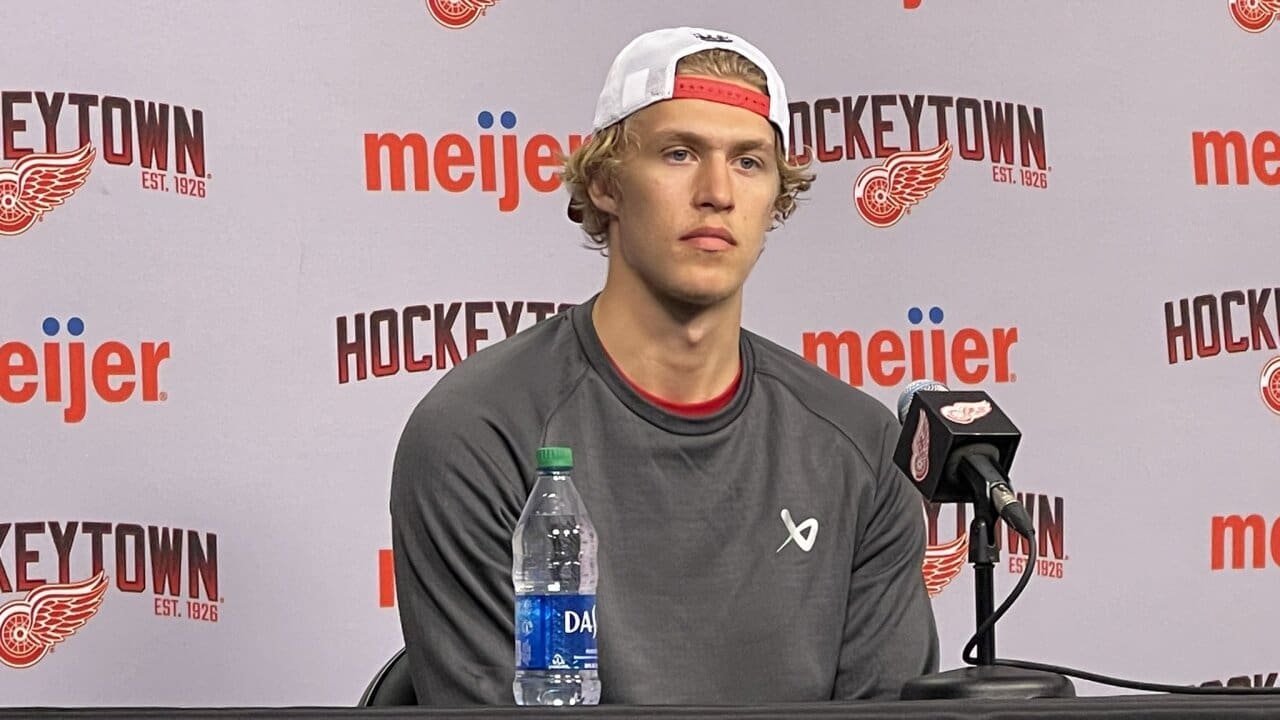 When Simon Edvinsson is seeking someone to blame for his failure to make the Detroit Red Wings out of training camp a year ago, he points to the guy in the mirror.
"I think from last year I came with a bad attitude," Edvinsson explained. "I didn't compete."
Chalk it up as a lesson learned for the 20-year-old defenseman. And if he is in requirement of any reinforcement to remind him of those shortcomings, there's plenty of leaders inside the walls of the Detroit locker room ready to step up and offer Edvinsson a reminder that he's needing to stay at the top of his game every day he's in training camp.
Simon. 🔐#DRWTC pic.twitter.com/94VpT4tFXz

— Detroit Red Wings (@DetroitRedWings) September 23, 2023
"They've been on me," Edvinsson said, pointing specifically to captain Dylan Larkin and Calder Trophy-winning defenseman Moritz Seider as two Red Wings keeping in his ear about keeping up the intensity.
"I hear that. This year I want to compete with them. I see what they do. I try to learn from that. I want to compete against them. I want to compete against everybody. It's really good players on the roster of the Red Wings overall."
Edvinsson Assesses What Wrong Wrong
The big Swedish rearguard, Detroit's top pick in the 2021 NHL entry draft, doesn't shy away from self-analysis when it comes to his demotion to AHL Grand Rapids as one of the last training camp cuts in the fall of 2022.
My sister and incredibly talented photographer @jenaephotos took the single most amazing photo of the season. For your viewing pleasure, Edvinsson laughing at itty bitty Fix-Wolansky. pic.twitter.com/mFACRXHVEh

— Access Hockey MI (@accesshockeymi) February 11, 2023
"I think everything is just new," Edvinsson said of the 2022-23 season, his first as a pro in North America. "You try to get over to American hockey, it's different than Swedish hockey. It's different kind of plays.
"In Sweden everything goes a little slower, you have more time with the puck. You really know what to do before you get the puck."
Yzerman Won't Be Handing Spots To Young Players
If Edvinsson wants to still be in Detroit when the preseason reaches a conclusion, he'll need to earn it. Red Wings GM Steve Yzerman isn't in the habit of handing out spots on his team.
"Anytime I've gone into a season leaving a spot open, hoping a player's ready to take it over, it's a dangerous spot to be in," Yzerman said.
Edvinsson is also working against the clock. He's been in a rehab situation following shoulder surgery for the majority of the offseason.
"The tough thing with Simon is he did not have a true summer," Detroit coach Derek Lalonde said. "He literally was just cleared just before camp. Obviously, he's trained, he's done his work because he's in great shape."
Lalonde Says Simon Will Play A Lot In Preseason
While Edvinsson won't be given a spot on the team, he'll be given every chance to grab one during the NHL preseason. A year ago, he was seeing action in six exhibition tilts. Lalonde is anticipating a similar workload coming Edvinsson's way this fall.
"We'll look to play him a lot," Lalonde said. "It's a little tough with the exhibition matrix, considering we have those three games in a row and there's some (NHL)PA rules to that. But we would love to see him a lot like last year."
With nine NHL regular-season games under his belt, Edvinsson certainly has a much better grasp of what it's going to take to be a regular in the league. If he doesn't come out of the preseason with an NHL job this year, it won't be because of his approach.
"The mindset I went in with is way different than last year," he says of this camp. "That's the biggest difference, how I grow as a person from last year."